25 June 2013
Libya hopes to revive a stalled $12bn railway scheme originally split between Chinese and Russian companies but warns work would have to restart under former contract prices.
The China Railway Construction Corporation (CRCC) won contracts in 2008 for various sections of the railway including a line starting at Libyan capital Tripoli to the Tunisian border.
The railways project went off track after the civil war began in 2011 but earlier this month the Libya Rail Implementation Authority met with CRCC with the aim of getting the scheme going again, reports the Libya Herald.
Transport Minister Abdel-Qader Ahmed has also talked with Russian Railways about restarting their contracts.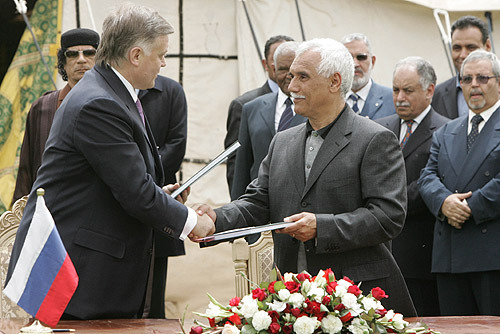 Libya signs a deal with Russian Railways in 2008. Libya would like Russia and China to restart work under original contract terms (Credit: www.kremlin.ru/Wikimedia)
However, Ahmed warned both countries not to claim for compensation for the two-year delay, offering to pay 50% of the original price upfront if work restarts under former contract terms, with the rest of the fees being paid later.
Costs for construction materials have increased significantly since the original tenders and Libya's offer has been refused by most companies involved in various national construction projects.
If all else fails, Ahmed has implied that Italy might step in, using funds from a $5bn compensation deal for the Italian colonialisation of Libya struck between the countries in 2006.
Source: Libyaherald.com