UK construction manager Mace has been appointed project and cost developer for the 40,000 sqm Oman Cultural Complex in Muscat. The centre will bring together the country's national library, national archive and national theatre under a vast, rippling musharabieh canopy.
The architect for the project, the Parisian firm Architecture Studio, describes its design as an "oasis made up of palms and mineral columns under a canopy that filters sunbeams" in a reference to traditional Omani architecture.
The Ministry of Heritage and Culture has said it want the complex to be a national centre that promotes cultural and artistic innovations; Qaboos bin Said al Said, the Sultan of Oman, said he wants it to be an international landmark.
The National Library will contain 5 million volumes, the National Archives which will act as a four-storey exhibition, public event area and a research and administration wing, and the National Theatre will be able to accommodate more than a thousand people.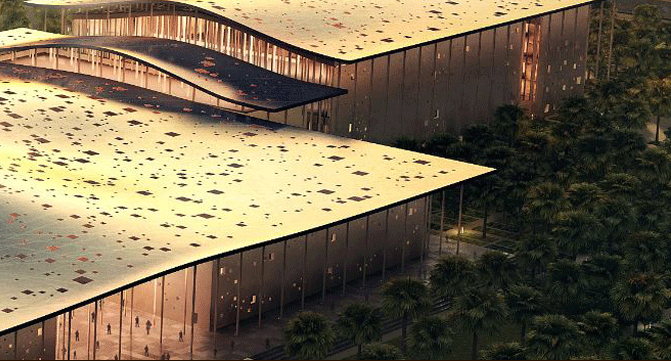 Artists depictions of the Oman Cultural Complex in Muscat
There will also be four facility buildings that will host a children's library, a cinema, a gallery and workshop, a literary society headquarters, lecture hall and retail area.
Around the complex there will be an "Oasis Fruit Garden". This will accommodate 1,100 palm trees, 750 fruit trees and 32,500 smaller trees and shrubs.
The centre aims to be a hub that will link local and international knowledge and cultural industries to help develop Oman's cultural scene.
The design team for the project is predominantly French: engineering is by Setec Bâtiment and the environmental consultant is Eco-Cités.