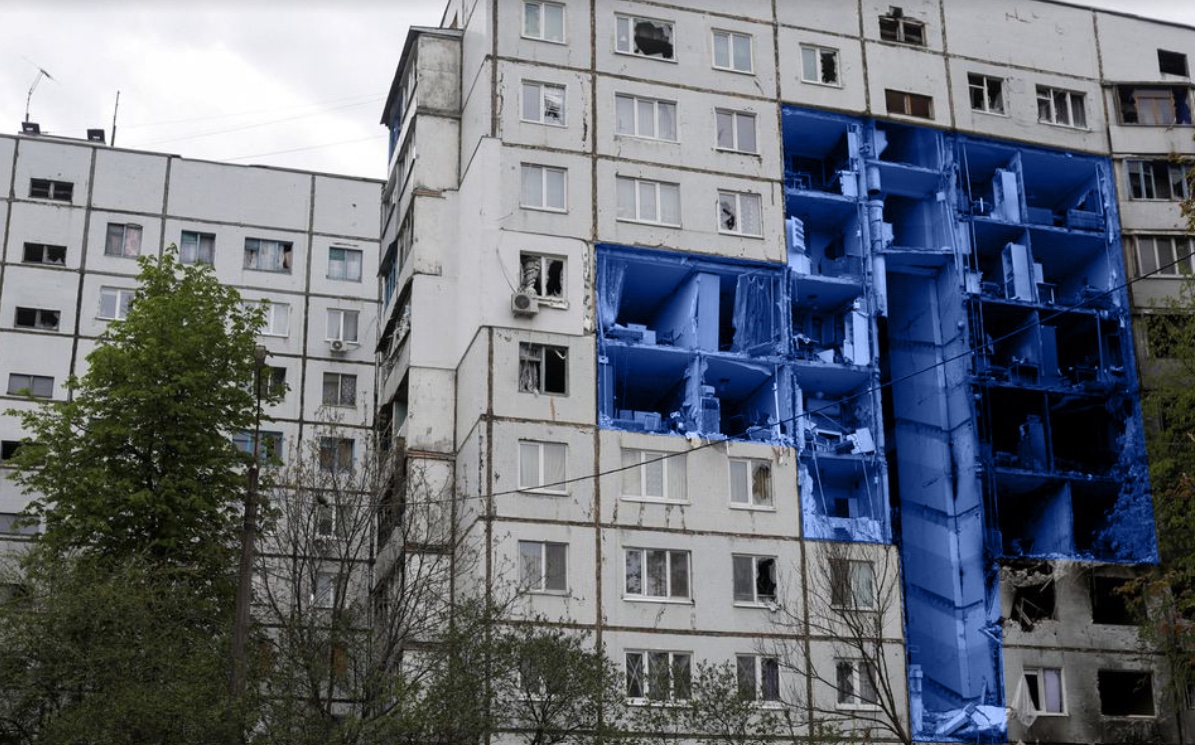 Principal of WZMH Architects, Zenon Radewych, is spearheading a drive in Ukraine to use its system of stackable concrete modules to rebuild apartment blocks damaged by invading Russian forces.
He believes the Speedstac system, developed with WZMH's innovation lab, Sparkbird, can help Ukrainian cities rebuild faster and make better use of damaged structures by adding modules to them.
As of March this year, the cost of rebuilding Ukraine was estimated to be $411bn, according to a joint assessment by the government of Ukraine, the World Bank, the European Commission, and the UN.
Housing is a big part of that. Last year, the Kyiv School of Economics calculated that as of September 2022 some 136,0000 residential buildings had been damaged or destroyed, among them nearly 16,000 apartment buildings. Within Ukraine, some 5.4 million people have been displaced and 8.1 million have fled abroad.
Following an endorsement by the Ukrainian embassy in Canada last year, officials in Kyiv and Irpin have requested proposals from WZMH on using Speedstac to restore specific buildings, and will use these proposals to seek international funding, with help from WZMH.
"There's a lot of interest from Ukrainian government officials reaching out to us," Radewych told GCR. "We say show us where you want to rebuild, give us a letter of support saying that yes, you want a building here with 'x' amount of units, that you'll support us on the ground in terms of approvals etcetera, and we'll do the concept and go knocking on doors to get some funding."
At the same time, WZMH is engaging with architects, universities, and students in Ukraine to encourage them to design with the Speedstac concept. It sponsors four paid design internships at two Ukrainian universities, and has organised "hackathons" among architecture and IT students.
The modules are self-contained rooms with built-in electrical and plumbing services, which Sparkbird says can be "transplanted" by crane into damaged buildings. A locking mechanism allows modules to be added or removed as needed.
Radewych, a Canadian of Ukrainian heritage, first came up with the Speedstac idea for residential schemes in North America. But after the February 2022 invasion, many Ukrainians fleeing it went to Canada. Among them were architects, seven of whom Toronto-based WZMH would go on to hire. Amid that influx, the idea of applying Speedstac to support the Herculean task of rebuilding Ukraine took root.
An early idea was to slot individual Speedstac modules into spaces left by damaged individual apartments, but after speaking to Ukrainian structural engineers and getting to know the 1950s and 1960s-built towers, themselves built with prefabricated concrete panels, Radewych's team now think it will be better to replace whole building sections.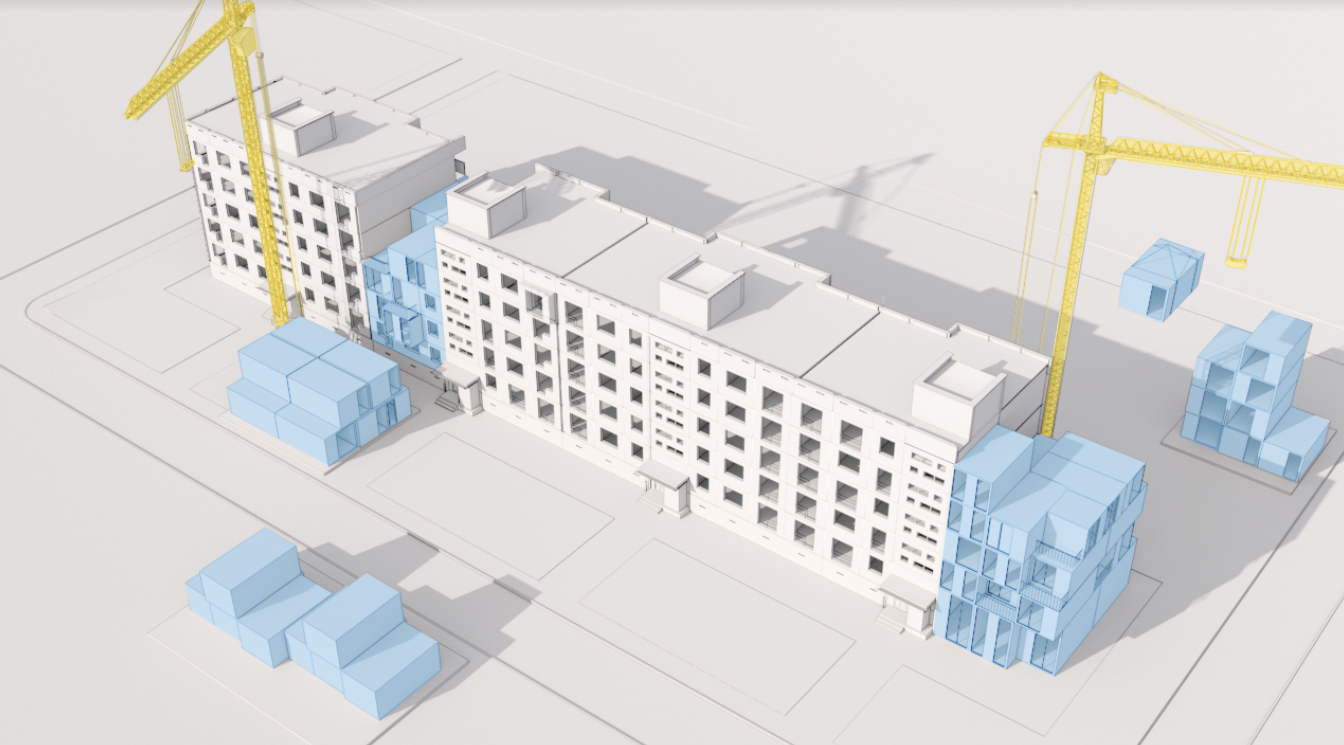 "If the end of the building's been hit, slice off that end and rebuild with Speedstac," Radewych said. "If the top of the building's been damaged, slice that off and add Speedstac. If the middle is damaged, rip out that portion and rebuild. The fact that they're prefabricated makes it easier to slice things off, unlike with whole, concrete poured structures. Inserting things into an existing carcass is a challenge. So we're kind of saying it doesn't make as much sense."
The first Speedstack presentation Radewych's team made was to the Ukrainian Embassy in Canada in August 2022, where it was received warmly. The diplomats called their contacts back home, leading to a flurry of requests for information from Ukrainian local authorities.
The big issue, though, was money.
"They're very open and honest about that," said Radewych. "They're like, hey Zenon, we love this idea, we want to use it, but we can only help so much and we can't provide the funding. If you can get the funding we'll help you on the ground with approvals, permits, fast-tracking, all of that."
Radewych's strategy has been to be extremely useful. When officials in Irpin, in northern Ukraine, asked for help with a damaged building there, WZMH hired a local engineer to assess it. But the engineer concluded that it could be salvaged cheaply enough without Speedstac. That was fine with WZMH.
"We did some concepts to fix it not using Speedstac, and gave those documents to the local authority who was already chasing funding. A few weeks ago we heard that the authority had sourced international funding to do it."
In another instance, local authorities want to use Speedstac to rebuild a plot of land in a suburb of Kyiv, so the WZMH team will develop a concept for that, which it will use to find international donors.
Too dangerous to start a pilot
Finding donors will be difficult because the international effort to fund Ukraine's reconstruction is still in its infancy. In November last year, EU Commission president Ursula von der Leyen said the EU could seize €300bn of Russian Central Bank reserves and use it to rebuild Ukraine but, with war still raging, that appears still to be at the idea stage.
In the meantime, WZMH has partnered with consultant Heimdall Risk of London UK to explore ways of getting a pilot built, including securing international funding.
Radewych said they nearly started a pilot Speedstack building in Ukraine in September 2022 with the help of a private concrete specialist, but called it off when Russia intensified its bombing of civilian infrastructure in the aftermath of Ukraine's battlefield advances that autumn.
"That's when missiles really started flying into Ukraine and the guys at the concrete plant said right now is probably not a good time," Radewych said.
Since then, they've focussed on working with universities.
Route to market goes through ivory towers
As well as the four paid design internships, WZMH initiated two "hackathon" design competitions for architecture and IT students, offering $5,000 in prize money for the first one and $7,000 for the second. A third is now underway to design a Speedstac building in Kharkiv. Kingspan, the insulation and panel manufacturer, and Autodesk, are sponsoring it.
"One of the professors we know is an architect, but teaches an industrial design course," said Radewych. "I said hey, Sasha, ask your students if they want to play with this idea of what their vision would be of a building designed with Speedstac units. We'll give each one $50 for one sketch. Five or six students came back with really simple, cool sketches, one page each, and we publish those."
There is a tactical element to WZMH's engagement with universities, Radewych said.
"The way it works in Ukraine is a lot of endorsements behind new solutions actually come from the universities," he said. "So, in other parts of the world like Canada, US, UK, you go to standards associations to get your products approved. In Ukraine it's very much the universities. If you have their endorsement, and their engineers are behind it, then it's a lot easier for the government to say, okay, that's fine, it's good, you can use it."
Bigging up Ukrainian architects
A second prong of the charm offensive targets architects.
"We have architects working for us now in Ukraine, and we've reached out to a whole bunch of Ukrainian architects and we actually give them a small sum of money to create concepts out of Speedstac. That's to promote Speedstac but also to promote Ukrainian architects. We publish their designs on social media. We're up to eight designs by Ukrainian architects, so we're doing a lot of things to promote Ukrainian architects and showcase them to the world.
"We feed them a few bucks. It's not a lot but we know things aren't great there, economically."
A physical pilot remains the goal, however.
"We'll fund a portion ourselves, but we've got to get some funding to actually pay for this," said Radewych, "so we're kind of moving towards that, but we were rushing before so we said wait a minute, it's probably too early right now."