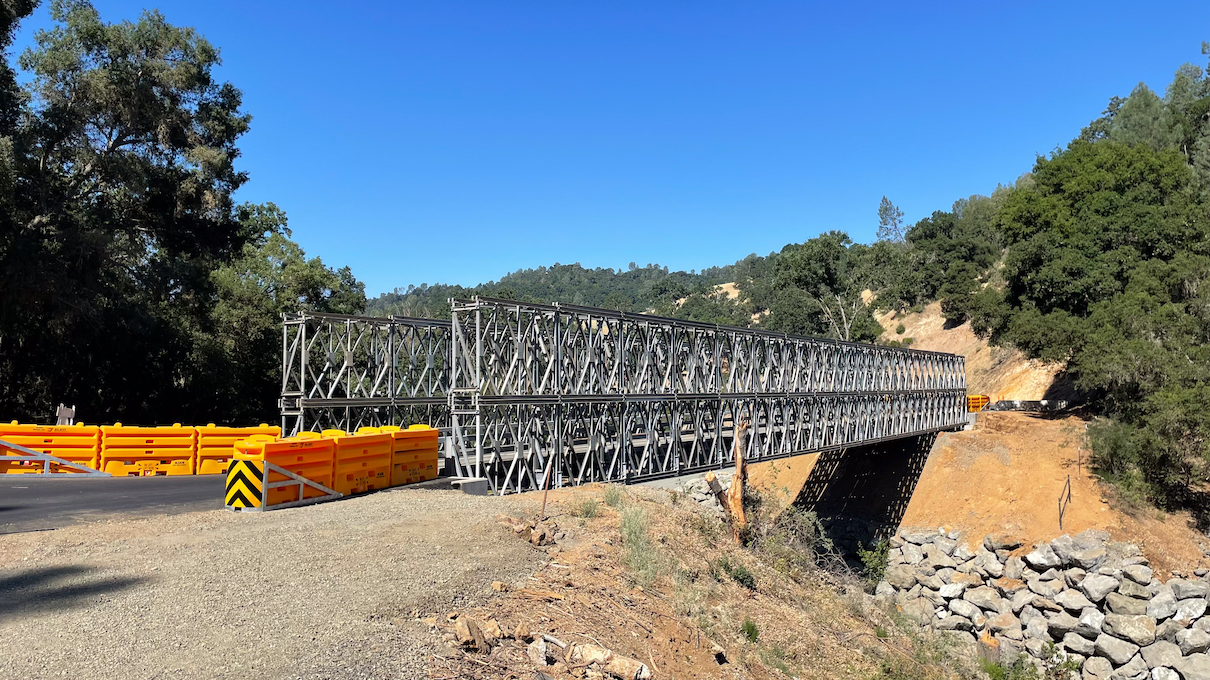 California's San Luis Obispo County has installed two modular steel bridges to restore traffic on remote roads washed out by rainstorms in January and March this year.
The bridges were rented to Souza Construction, the installation contractor hired by the county on both projects.
One is near the city of Paso Robles in the north of the county, where stormwaters in March washed out three culverts under Chimney Rock Road, resulting in an 80-foot-long, 50-foot-deep canyon bisecting the road.
The county built a temporary access road, but needed a longer-term detour solution.
During June, Souza excavated one of the banks to prepare for a crane-assisted launch of the 170-foot-long bridge. The road opened to traffic at the end of June and is expected to be in place for several years until a permanent crossing is designed and built.
The second installation took place in the small community of Huasna in the south of the county, where the 70-year-old bridge over the Arroyo Grande Creek on Huasna Townsite Road was snapped in half by floodwaters in January.
Assembly of Acrow's modular steel bridge began in early July. The 180-foot-long bridge was installed with a full cantilever launch and opened to traffic in early August. The structure will be in service for at least three while a permanent bridge is designed and built.
Both are single-lane bridges designed to AASHTO HL-93 loading, with epoxy aggregate decks.
Acrow said delivering the bridge components to the sites was was difficult owing to narrow, winding, and sometimes damaged roads.