Billed as an "inspiring feat of precision engineering", the 550-tonne steel-trellis crown of the landmark dome marking the heart of Expo 2020 Dubai was successfully raised into place for welding earlier this month.
Eighteen hydraulic jacks aided by steel lifting ropes connected to 18 freestanding temporary columns were used to inch the structure into place on top of the vertical trellis already erected to 45 metres in height.
Working through the night, 800 engineers and construction technicians monitored the lift using GPS indicators to keep the alignment exact to within 3mm.
The crown will be welded permanently into place over the next 25 days, completing the striking profile of Al Wasl Plaza (meaning "connection" in Arabic), which was designed by US-based architects Adrian Smith + Gordon Gill Architecture to be the physical and thematic heart of the Expo.
"It was the most exhilarating day of my entire career. We had one chance to get this right," said Ahmed Al Khatib, chief development and delivery officer for Expo 2020 Dubai.
The dome's crowning was the culmination of 14 months of planning and preparation overseen by Expo 2020's official programme delivery management provider, a partnership of Jacobs and Mace, with help from companies from the US, Canada, China, France, Japan and Mexico.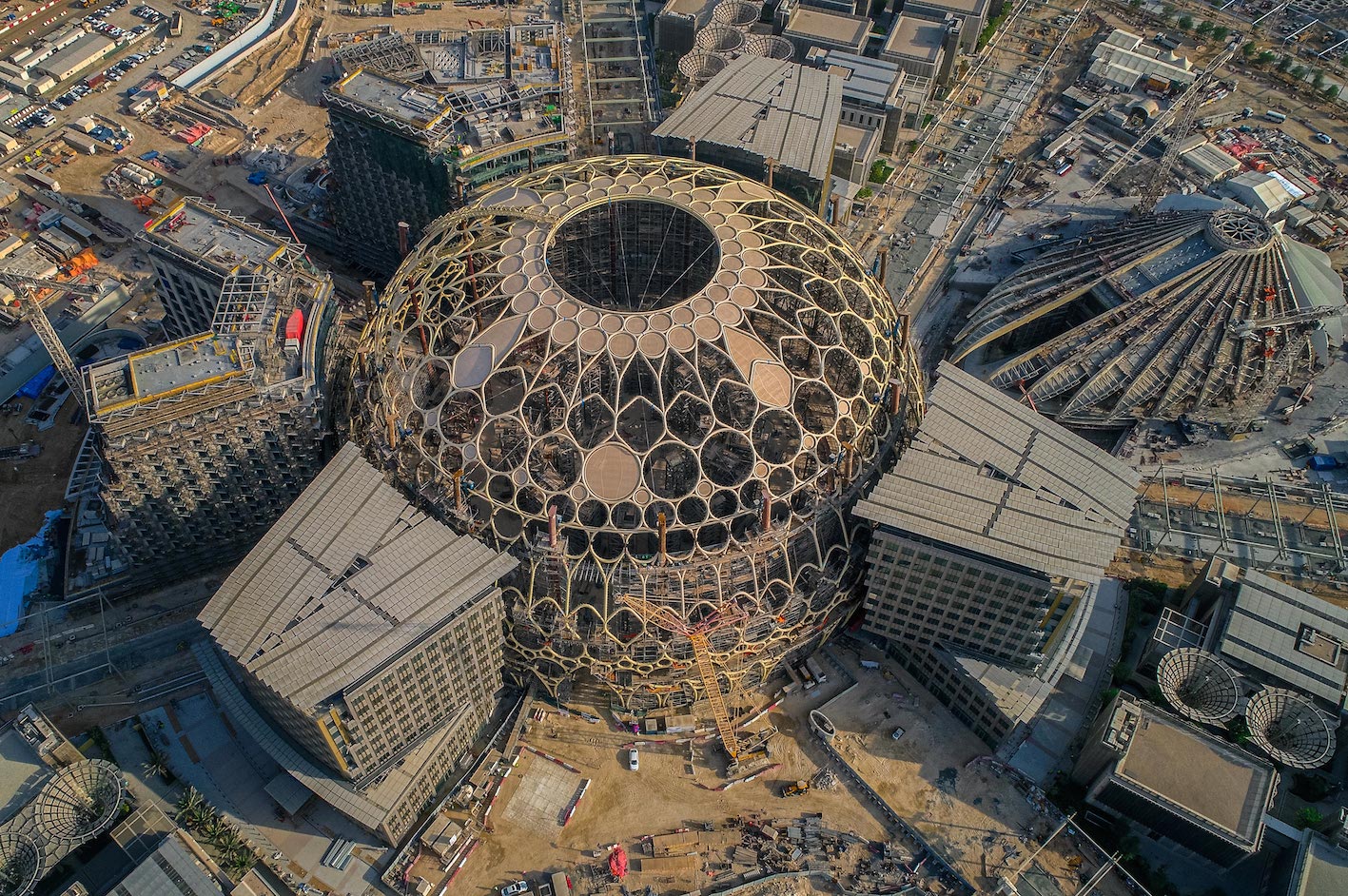 The 550-tonne crown comprises about a third of the trellis-dome's entire height (Expo 2020 Dubai)
Steel from the Czech Republic, Hungary and Poland was shaped into flowing curves by companies in Belgium, Germany and Spain before being moulded into intricate latticed sections in Italy by Cimolai Rimond, and then shipped in batches for assembly in Dubai.
Sections of the trellis began arriving on site in July 2018. The crown, comprising about a third of structure's full height, was assembled at ground level before being raised into place on 18 September.
In all, the 130-metre-diameter steel trellis dome encloses a space of 724,000 cubic metres in Al Wasl Plaza. At 67.5m in height, it is taller than the Leaning Tower of Pisa.
Chairman of the Expo Dubai 2020 Higher Committee, His Highness Sheikh Ahmed Bin Saeed Al Maktoum said: "The crowning of the Al Wasl dome is a significant landmark not just for Expo 2020 Dubai but for the whole of Dubai and the UAE. This new architectural marvel joins a long list of inspiring designs that our country has created through collaboration, sheer hard work and the unending, ambitious vision of our leadership and people. It is another example of what the nation can do when it combines all its talents to such formidable purpose."
During Expo 2020, Al Wasl dome will be the largest 360-degree projection surface in the world.
 
Construction of Al Wasl Plaza, promoted as Dubai's newest landmark, first began in December 2017.
 
To erect the dome, construction teams employed laser surveying and scanning equipment to ensure precision in each of 873 on-site welds.
More than 1,200 tonnes of temporary steel columns and 520 cubic metres of concrete foundations were required to support the trellis dome during construction. The temporary supporting works will be recycled.
Twenty-five million visits are expected during the six months of the Expo from 20 October 2020 to 10 April 2021.
Top image: Steel members were shaped in various countries and welded into lattice sections in Italy before being shipped in batches to Dubai (Expo 2020 Dubai)