Arup has completed the structural engineering of what may be the strangest project in its 68-year history: a building made out of mushrooms. 
The Hy-Fi tower was designed by an architect called The Living, and has been erected in the courtyard of MoMA PS1, which is the Long Island branch of the Museum of Modern Art in Manhattan.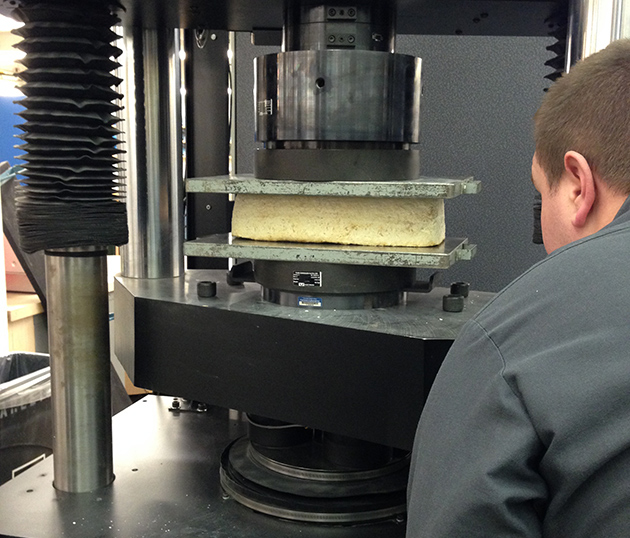 A mushroom brick being tested at Columbia University. The tests demonstrated that single bricks could carry weights equivalent to 50 cars, but were 200,000 times more flexible than steel
The structure, which took first place in PS1's Young Architects Programme, is made entirely from fungus and agricultural by-products. This means that that its embodied materials are carbon neutral, that it produces no waste, and when the structure is taken down at the end of the summer, it can be composted and turned into fertilizer.
According to Arup, the "bricks" that it is made from can be grown in five days from a mixture of microscopic fungus and corn stalks. Despite the organic nature of their material, they possess extraordinary compressive strength: single blocks can bear the weight of 50 cars.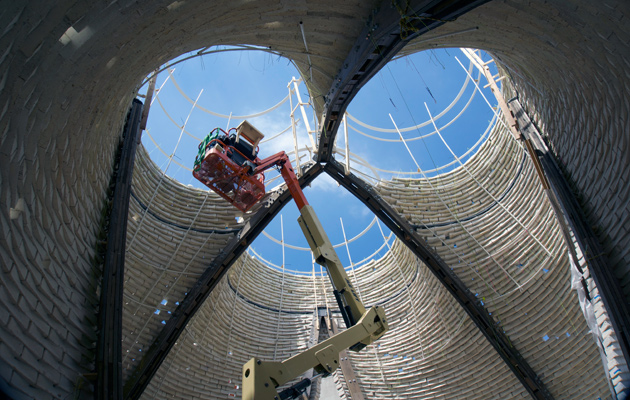 The tower nearing completion
Structurally, Hy-Fi is one tower woven out of three chimneys, which gives it the ability to resist wind gusts of more than 65mph.
David Benjamin, The Living's principal, was inspired by Ecovative, a manufacturing company founded to develop alternate uses for that part of a mushroom known as its mycelium, which is the bit a fungus uses to absorb nutrients.
It has long been know that mycelia have extraordinary properties: one growth of the material in eastern Oregon formed a mat extending over almost 10 square kilometres. However, it turns out, when bound to agricultural waste, it also creates a resilient matrix that can be moulded into any shape. So far, this is the first time that anyone has tried to build a structure out of it.