Dutch architect MVRDV has released a proposed design for a 19th-century listed building on Słodowa Island in Wrocław, southwest Poland.
The Wyspa SÅ'odowa 7 tenement building on the Oder River is one of the few original structures remaining on SÅ'odowa Island, which was used as an artillery base by the German army during the Second World War.
SÅ'odowa now acts as a public park at the heart of the city, and hosts festivals and other cultural events.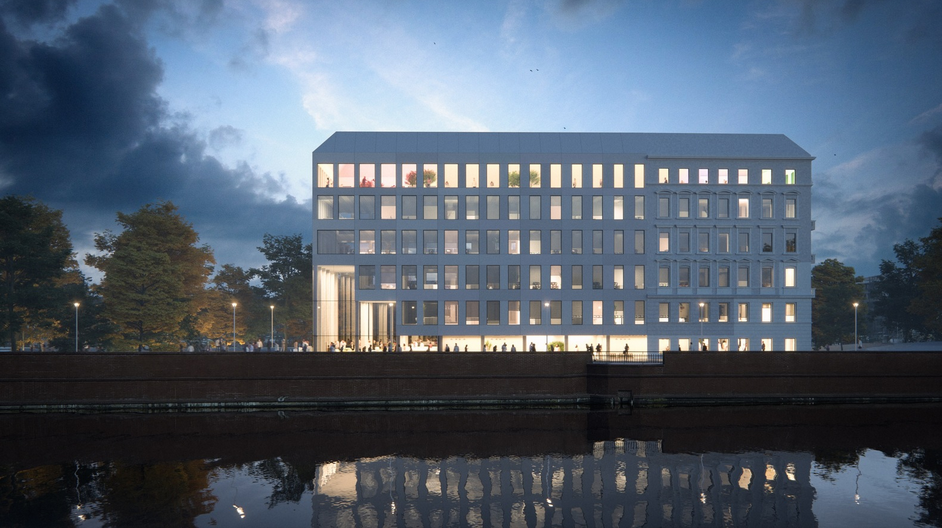 MVRDV worked with local architect Q2 to turn the apartment block into "Concordia Hub" for Poznan-based company Pro Design. The plan is to retain the existing building and add an extension to the rear.
Nathalie de Vries, MVRDV co-founder, said: "The location of the Concordia Hub is truly special. It's a privilege to renovate this historic building in one of WrocÅ'aw's cultural and leisure hotspots.
"It's important to recognise and respect the city's existing heritage, but our design is also about looking to the future and adding a new piece of well-appreciated architecture to SÅ'odowa Island."
The design is influenced by the Roman deity Janus, the God of beginnings, duality, time and transition.

The current façade of the structure is described by MVRDV as the "formal side" of the building, whereas the extension will contain a transparent façade and will face the park.
At both ends of the building, MVRDV envisages additional tall structures which will house a food hall and an art installation. The rest of the building will contain start-up incubators co-working office spaces and the top floor will house an open-air terrace with views of the city.
The proposals have met resistance from local groups, who have launched a petition against the scheme.
Images courtesy of MVRDV