A New York City commission has put forward a plan to turn the notorious Rikers Island jail complex into a multibillion dollar development opportunity.
The proposal is unusual in that it was not recommended by a politician or a developer, but by a judge.
Jonathan Lippman, of the New York Family Court, chairs an independent commission on reforming the city's criminal justice and incarceration system.
The headline recommendation in his 148-page report released 31 March was to shut down Rikers, a 413-acre island in the East River.
Home to a complex of prisons accumulating since the 1930s it currently has just under 10,000 inmates, most of whom are serving short sentences or are awaiting trial or transfer.
Characterising it as a violent, dysfunctional and inhumane place, Lippman called it a "stain on our great City" that "leaves its mark on everyone it touches", including families, correctional staff, inmates and their attorneys.
Citing research suggesting that jail fuels criminal activity, Lippman called it a "de facto penal colony" for the poor and the mentally ill, and brought down his gavel, insisting, "we must close the jail complex on Rikers Island. Period."
In its place would be "state-of-the-art facilities" located closer to where the courts are operated in each borough.
$7.5bn a year?
Then Lippman strayed from jurisprudence to master planning, putting forward two possible, multi-billion-dollar options for what to do with the island, which lies close to La Guardia airport.
Magnusson Architecture's concept of an "Interborough Island"
His first proposal is a $22bn plan to use the island as the site of the third runway and new terminal for La Guardia – an old, cramped airport that has been described as "the worst in the country". This plan would also involve major new wastewater treatment facilities, a large-scale composting facility, a 20-acre solar field, and a public greenway and memorial.
His second proposal was for a research campus, also with waste, water and solar facilities.
The first proposal would cost more ($22bn as opposed to $15bn) but would have exponentially greater economic benefits, generating annual revenues of $7.5bn (compared to just $340m for the second concept) and creating 52,000 permanent jobs.
A blank canvas
However, these are not the only options.
"Rikers is a waterfront property with spectacular views of the Manhattan skyline," Lippman wrote elsewhere. "If the 10 jails it houses were no longer in use, it would represent a rare commodity in a dense, heavily-developed city: a relatively blank canvas."
He added that the commission would call on architects, environmentalists, city planners, land-use experts and others to examine what could replace the prison. "This includes exploring a wide range of possible uses including housing, manufacturing, parks, entertainment and transportation (among others)."
Some architects have already put forward redesigns for the island, including Magnusson Architecture's "interborough island" and Perkins + Wilf's "Bikers Island".
Other proposals include building 25,000 apartments together with a park to act as a buffer between them and La Guardia to the southeast.
Bill de Blasio, the mayor of New York, announced earlier this month that the city would develop a plan to shut Rikers over the next 10 years, and move its population to smaller jails in the five boroughs.
Give it to La Guardia?
Lippman's proposal to turn Rikers into part of La Guardia has created a lively debate in the US press.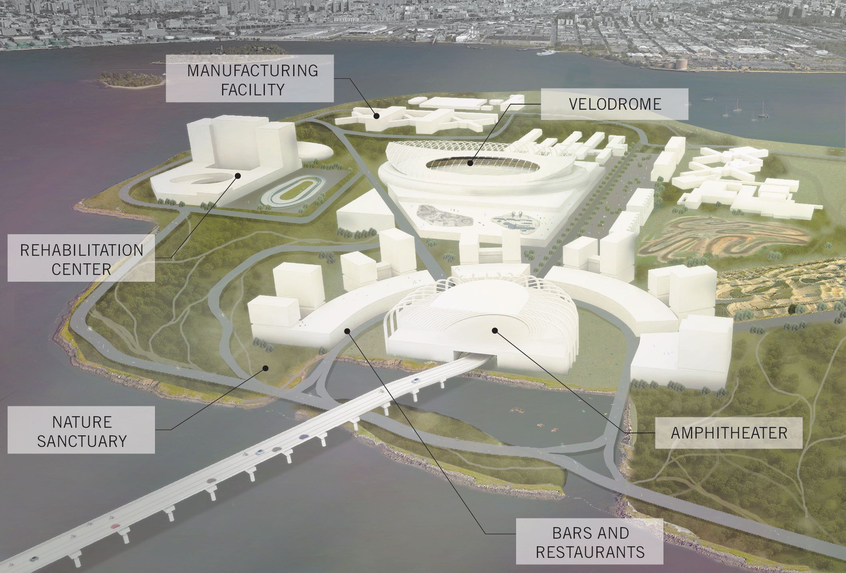 Perkins + Wilf's "Bikers Island"
Some commentators have backed the scheme, pointing out that La Guardia has the greatest number of late-arriving flights in the US, and quoting former Vice President Joe Biden's remark that travellers who did not know better would assume they had arrived in a "third-world country".
The plan would, it is said, increase the airport's capacity by 12 million passengers a year.
Other commentators point out that $22bn price tag would be hard to meet, particularly given that La Guardia is already undergoing a $4bn overhaul – one of the flagship projects of state governor Andrew Cuomo.
They also say it would increase noise over nearby neighbourhoods and would not solve the bigger problem of New York's congested airspace.
However, the Commission points out that the $22bn cost includes the expense of demolishing the jails and conducting soil remediation. If no airport were built, but other infrastructure, such as solar farm or a wastewater treatment plant, and if the park were installed, the cost would still come to about $15bn.
Governor Cuomo expressed interest in the Commission's ideas. In September he told a civic group that he was "very intrigued" by the possibilities of replacing Rikers Island with something more user friendly.
Inmates and their families may well agree.
Top image: The island of the lost (Doc Searls/Flickr)
Further Reading: