The UK drew a record 25% of its electricity from renewable sources in the second quarter of 2015, according to government statistics. Wind, solar and biomass energy also overtook coal-generated energy for the first time.
Over the past year there has been a 65% growth in electricity generated by wind turbines, a 50% growth in solar output and a 26% increase in bioenergy.
The UK still relies mainly on gas power, which accounts for 30% of the total. Nuclear power is in third place with 22% and coal is in fourth with 21%.
According to a Department of Energy & Climate Change press release the rise was due to "increased renewable capacity and more favourable weather conditions for renewable generation (higher wind speeds, rainfall and sun hours)".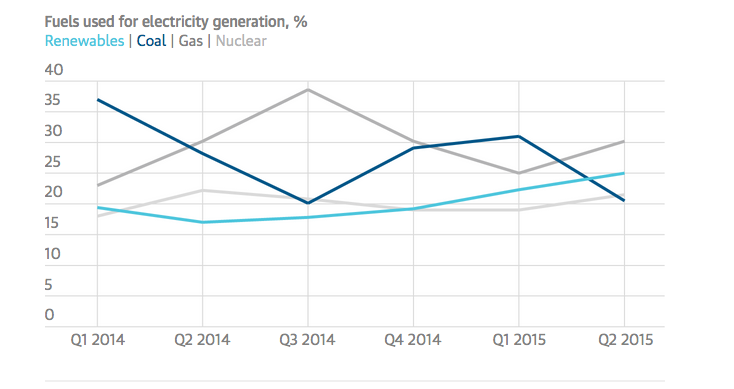 Maria McCaffery, the chief executive of Renewable UK, the trade association for the green energy sector, said: "The new statistics show that the UK is relying increasingly on dependable renewable sources to keep the country powered up, with onshore and offshore wind playing the leading roles in our clean energy mix.
She added: "We've had a series of disappointing announcements from ministers since May which betray a lack of positive ambition at the heart of government. If ministers want to see good statistics like we've had today continuing into the years ahead, they have to knuckle down, listen to the high level of public support we enjoy, and start making positive announcements."
This was a reference to the restrictions on renewable subsidies that were announced in June.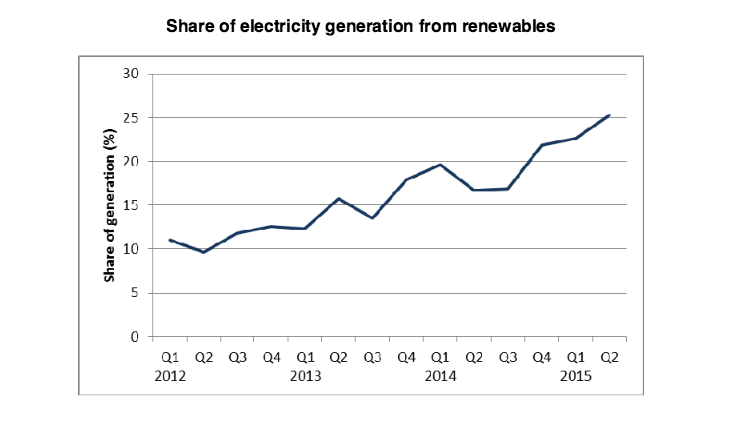 Energy minister Andrea Leadsom, said: "We need to meet the UK's rising demand for energy, using clean and low carbon energy sources if we are to continue to combat climate change and grow the economy."
Image: Royd Moor Wind Farm, South Yorkshire, England (Barry Hurst/geograph.org.uk/Wikimedia Commons)