A development in south-east London has been branded the UK's worst building of the year, with judges calling it "oppressive", "overtly militaristic" and "inept".
Woolwich Central, a 17-storey development containing 189 flats above a supermarket, has been awarded this year's "Carbuncle Cup" prize by architecture magazine Building Design for being the worst building completed in the country in the last 12 months.
Designed by London architecture firm Sheppard Robson, the complex is made up of six interconnected blocks, featuring a multi-coloured facade of grey, yellow and green striped panels.
The judging panel included Building Design (BD) editor Thomas Lane, architectural correspondent Ike Ijeh, BD columnist Hank Dittmar and architect and former RIBA president Owen Luder.
There was a near unanimous choice of winner, BD said, with Broadway Malyan's Vauxhall Tower coming runner-up.
"A classic case of gross overdevelopment, the scheme is lumpen and oppressive and towers over its predominantly low-rise neighbours," wrote Thomas Lane. "It even manages to make its immediate neighbour, Greenwich council's none-too-insubstantial town hall, and former Carbuncle Cup nominee, look like a pimple on the face of a morbidly obese bully."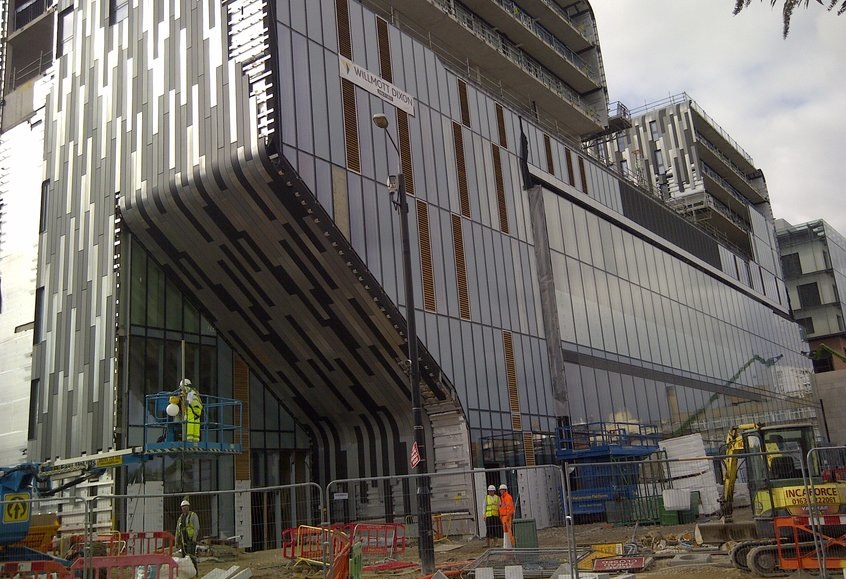 Woolwich Central under construction
Owen Luder described it as "oppressive in terms of shape, size and colour and a negative contribution to the overall environment of the area". Ike Ijeh described it as "overtly militaristic, defensive, arrogant and inept".
In an extraordinary mea culpa, the very man who gave the scheme planning approval has accepted responsibility.
Alex Grant, former chairman of the local authority's planning board, today wrote on his blog: "And who is to blame for this carbuncle? Er me actually…"
Grant said the architect wasn't entirely to blame: "The scheme's intrinsic faults were magnified by a welter of cost-cutting changes in the four years between planning consent being granted in 2007 and the Tesco opening its doors in 2012."
Judge Hank Dittmar also blamed developers for creating "carbuncles" (a term that refers to Prince Charles' 1984 condemnation of modern architecture). 
"If there is one common theme this year," he said, "it is that of over development, and Woolwich Central is a prime example of too much for the site, for the area and for the eye."
The Woolwich Central developer was Spenhill.