A Canadian company has been granted a United States patent for the design of a 20-km-high tower that would act as a launch pad for space flight.
The freestanding space tower concept, developed by Thoth Technology Inc., is held rigid by pressurized gas and would allow spacecraft and people to be lifted to a level in the atmosphere requiring less force to launch.
Reaching 20km above Earth, it would stand more than 20 times higher than the world's current tallest building, the 829-metre-high Burj Khalifa in Dubai.
While Outer Space proper is considered to begin around 100km out, 20km is just beyond the 19-km "Armstrong Limit", the point at which atmospheric pressure is so low that your bodily fluids would boil off without a protective suit.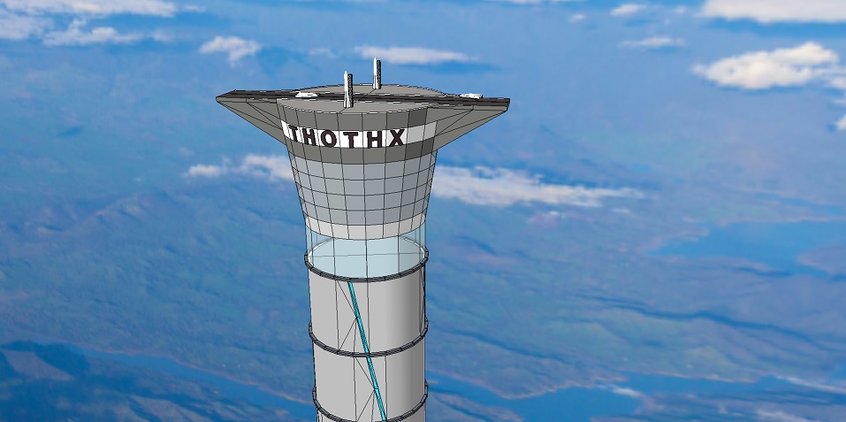 Thoth Technology, named after an Egyptian god associated with the moon, says the tower would offer "an exciting new way to access space, using completely reusable hardware and saving more than 30% of the fuel of a conventional rocket."
Astronauts would ascend to 20km by electrical elevator.
"From the top of the tower, space planes will launch in a single stage to orbit, returning to the top of the tower for refueling and reflight," said the design's inventor Dr. Brendan Quine, who is also Professor of Space Engineering and Planetary Physics at York University, Toronto.
Thoth President and CEO, Caroline Roberts, believes the space tower, coupled with self-landing rocket technologies being developed by others, will herald a new era of space transportation.
"Landing on a barge at sea level is a great demonstration, but landing at 12 miles above sea level will make space flight more like taking a passenger jet," she said.
An image from the patent (http://www.uspto.gov/web/patents/patog/week29/OG/patent.html)
The space elevator concept is capturing imaginations around the world.
Last year Japanese construction giant Obayashi announced long-term plans to work toward a far more ambitious one, 96,000km high, in cooperation with space technology leaders.
And last month there was a Space Elevator Conference in Seattle.
Images via Thoth Technology