UK headquartered architect Perkins + Will has designed the Suzhou Science & Technology Museum, the potential centerpiece of a new cultural district in Shishan Park, 100km northwest of Shanghai.
The design of the 55,700 sq m is inspired by the Chinese expression of "shan sui", which roughly translates as "the union of mountain and lake".
The museum will be located at the foot of Lion Mountain and next to Shishan Lake and will twist upward before turning back on itself, creating a loop.
The lake itself will include several man-made, teardrop-shaped "eco islands" connected by walkway to the museum.
The museum itself will include a 6,200 sq m industrial exhibition hall, a three-storey atrium, a sunken water-filled courtyard and a "Lion Mountain Terrace" on the third floor.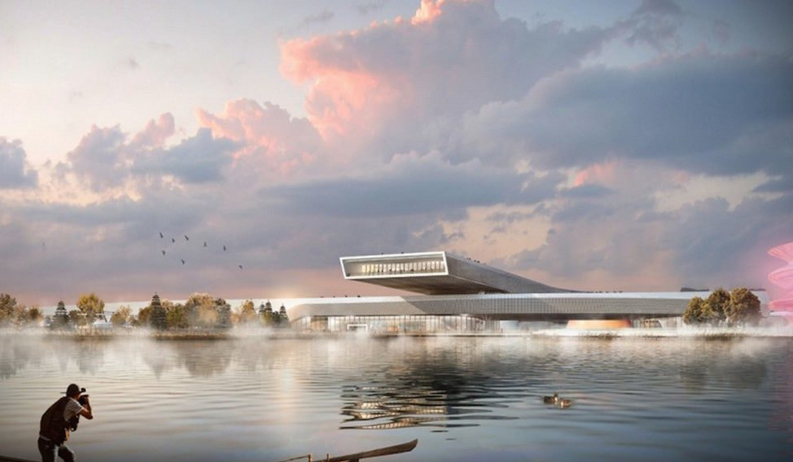 The project will also contain sustainable features such as a "Life-Giving Forest" providing an air filtration buffer to the city and respite from the sun and a 3D metal-mesh skin that transitions from opaque to transparent to control daylight and protect exhibits.
Ralph Johnson, Perkins + Will's global design director, said: "Our design recognises the importance of Suzhou in China's commercial history, and underscores its role at the forefront of China's emergence as a technology leader and innovator. The museum also draws inspiration from the natural environment surrounding it."
It is unclear when construction on the project will begin.
Perkins + Will has previously designed the Shanghai Natural History Museum which opened in 2015.
Images courtesy of Perkins+Will