Thanks to millions of dollars donated by philanthropists, an ambitious 10-acre public space will be designed and built under the huge elevated expressway cutting through the waterfront heart of downtown Toronto, Canada.
The CAN$25m gift will see museums, an aquarium, performance spaces, a cycle path and more along a 2-km stretch of Toronto's Gardiner Expressway, built along the shore of Lake Ontario in the 1950s.
Philanthropists Judy and Wil Matthews are behind the scheme, called 'Under Gardiner', which aims to knit communities together with "innovative programmable spaces that will showcase Toronto's unique cultural and related offerings."
Events are planned to take place all-year-round in the new space, which is currently seen by many residents as a dispiriting, concrete wasteland.
The development will be split into three sections:
West will be a "creative action hub" containing an adventure playground, urban theatre and open air hall;
Fort Central a "programmed landscape and passive hub" housing a water garden and skating in the winter, and
East, dubbed as "community link" with amenities, containing a fitness park and a "future community centre."
Ken Greenberg will lead the design team, working with Adam Nicklin and Marc Ryan of Public Works. Waterfront Toronto will also lead public engagement and consultation.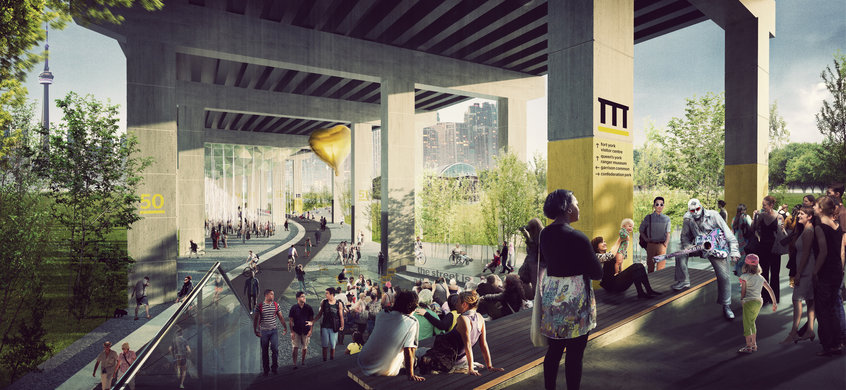 Construction is to start in the summer of 2016, with the initial phase due for completion in 2017.
Images via Public Works