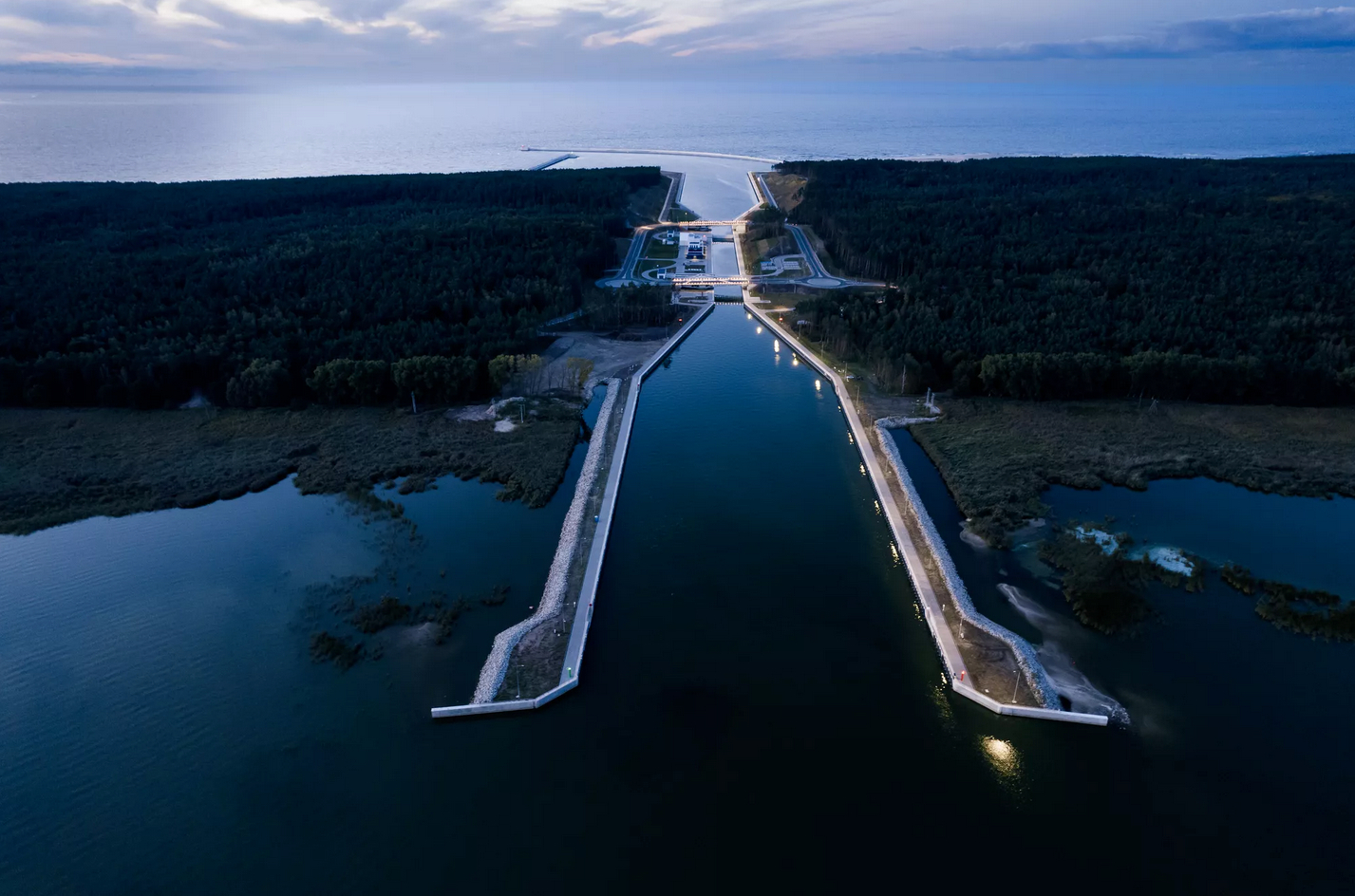 Poland has opened a new canal that lets ships get to one of its Baltic Sea ports without passing through Russian territorial waters.
Belgian contractor Besix and Poland's NDI Group started digging the 1.3km canal in 2019. It opened to shipping on 17 September, the anniversary of the Soviet Union's 1939 invasion of Poland.
The Vistula Canal cuts through a narrow, 70-km-long sand barrier known as the Vistula Spit, which almost completely separates the Vistula Lagoon from Gdansk Bay in the open Baltic.
The spit starts in the southwest as Polish territory and ends to the northeast as Russian territory, part of Moscow's Kaliningrad enclave.
Before the canal, ships heading for the port of Elblag in the southwestern part of the lagoon had to proceed some 50km northeast along the spit to its only opening, the Strait of Baltiysk, in Kaliningrad.
The canal cuts out this 100km detour and lets shippers avoid paying Russia to use the strait.
"The opening of this investment is a great victory for Poland, for patriots, for those who understand the word sovereignty," said Polish President Andrzej Duda at the opening ceremony, Business Insider Polska reported.
Watch the canal take shape from 2019 to now
The cost of the work was originally estimated to be €190m, but it ended up costing nearly 2 billion Polish zlotys, or €420m.
Some commentators questioned the cost given the canal's relatively small width and depth. It will accommodate boats with a draught of up to 4.5m, a length of up to 100m, and a width of up to 20m. Barges up to 180m long can also ply the canal, according to Besix.
But President Duda dismissed these concerns. "The question is not whether the largest ships will be able to pass; we have other ports for this," he said. "The point is that symbolically this path should be open, so we do not have to ask for the consent of a country that is not friendly towards us, whose authorities do not hesitate to attack and enslave others."
As well as digging and building the channel, Besix and NDI built two breakwaters, 1,014m and 568m long, two rotating steel bridges, a new road system, and buildings.
They also made a 180-hectare artificial island from the earth dug from the canal route, which will be a shelter for birds.
To reinforce the breakwaters, the contractors used interlocking XblocPlus blocks, designed to encourage marine life. Besix said their use was a first for Poland.