A project called "Nordic Light" has won a competition for a high-rise building and station in the centre of Oslo.
The winning team is led by Oslo firm Reiulf Ramstad Arkitekter, with Danish company CF Møller Architects, Germany's Bollinger + Grohmann Ingenieure, Baugrundinstitut Franke-Meißner und Partner and Transsolar Climate Engineering.
The team beat three other finalists including Bjarke Ingels Group, Ingenhoven Architects and Sauerbruch Hutton.
Nordic Light contains four main features, the multistorey tower, a wooden pergola outside Oslo station, a street level space used for business and cultural events and a public area outside the station.
The modular tower will contain hotels and offices and is made from timber and glass, referencing Oslo's history when the city was built from wood.
The tower will contain a public vantage point and what CF Møller describes as "green lungs", vertical atriums across multiple levels and terraces with vegetation.
The wooden pergola will act as the station's main entrance and spacious "sitting steps" connect the area to the Østbanehallen's food market.
The project was by organised by Norwegian State Railways subsidiary Bane NOR, which aims to "improve the public transport hub, facilitate property development and effective land use to support the hub and the development of the travel service and commercial offers".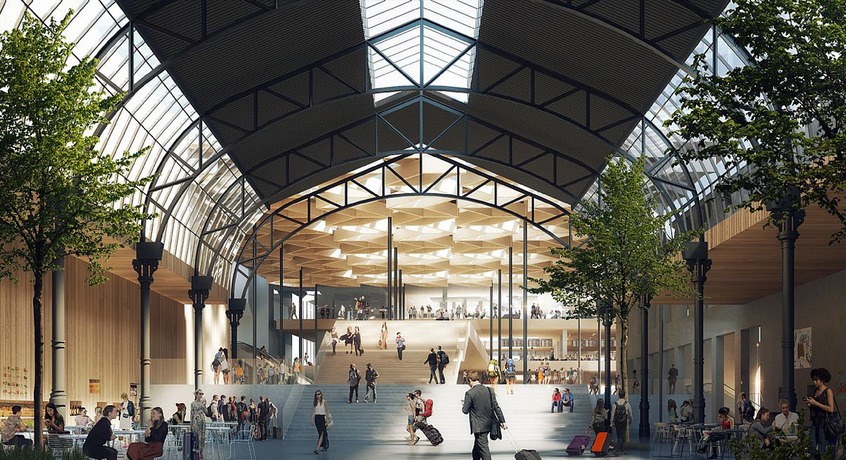 The competition jury said: "The project's proposed integration with the station areas and the design's holistic approach will contribute to further developing Oslo S as the country's largest public transport hub, and will give travellers wonderful new spatial qualities to appreciate.
"The project presents good solutions for the cohesive design of the adjoining urban spaces."
Images courtesy of CF Møller Architects