Planning permission has been granted for a new district on San Francisco's waterfront comprising four buildings, each designed by an internationally renowned architect.
The concept for the 28-acre site, currently a windswept expanse of parking lots, is being called an "anti-master-plan master plan" because each building is so unique.
The buildings have been designed by Dutch architect MVRDV, Jeanne Gang's Studio Gang, Danish headquartered Henning Larsen Architects and New York's WORKac.
The developers of the scheme, which is called Mission Rock, are real estate firm Tishman Speyer, the Port of San Francisco and the San Francisco Giants baseball team.
The four buildings comprise phase one of Mission Rock. They will include two residential buildings combining 540 units, two commercial buildings with 51,000 sq m of floor space, a five acre China Basin Park designed by SCAPE, and a retail and restaurant space of over 8,000 sq m.
MVRDV describes an "anti-master-plan master plan" for the four buildings, with each having a distinct but complementary look and feel, connected by public spaces.
"It is a rare opportunity to collaborate with world-class architects as a team from the very onset of a project to create more than just eye-catching architecture, but also to push the design and development principles to construct a welcoming community for all," the Mission Rock Project Team said.
The four architects' designs for the mixed use Mission Rock project are:
Image courtesy of MVRDV
MVRDV: A 23-storey, 73m-tall building inspired by Californian rock formations, with the facade echoing layers of carved rock. Called The Annex, it will hold office space and residential units.
Image courtesy of WORKac
WORKac: An eight-floor office complex containing a ground floor with retail and shop space, with a jutting square facade giving each floor an outside garden space.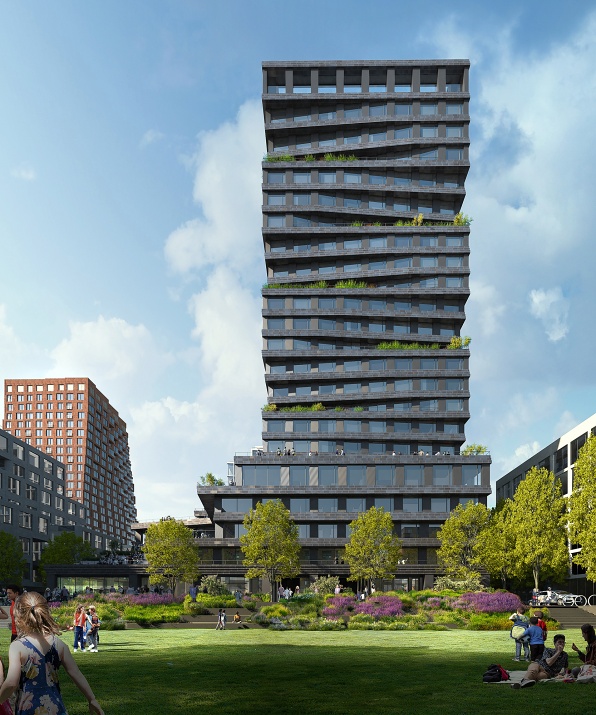 Image courtesy of Studio Gang
Studio Gang: A 23-floor residential project containing 225 units, the development will contain terraces splayed at odd angles maximising outside space, and a rooftop garden to offer residents views across San Francisco and Oracle Park.
Image courtesy of Henning Larsen Architects
Henning Larsen Architects: A 13-storey office building will be cased in a sand-coloured stepped facade, and contain a lobby with retail space on its ground floor.
The China Basin Park, a new 5-acre waterfront area designed by SCAPE, is described as having a series of carved tidal shelves. It is built entirely on fill from San Francisco's 1906 earthquake.
Construction of phase one of the project is due to begin in 2020, and be completed between 2022 and 2023.
Top image: The four buildings together (Binyan Studios)