10 May 2013
Iraq is reported to be preparing for floods it fears might result from the collapse of the Al-Tabqa hydroelectric dam in the Syrian Euphrates Valley following explosions caused by government-rebel fighting.
The website of Iraqi radio station Shafaq said Iraqi officials had begun to take precautionary measures to protect people and farmland from flooding along the river, which flows into Iraq, should the dam break.
In February Syrian rebel forces claimed they had taken the dam. Located in Raqqa province and completed in the early 1973 with help from the Soviet Union, the Al-Tabqa dam is a crucial source of electricity for the country.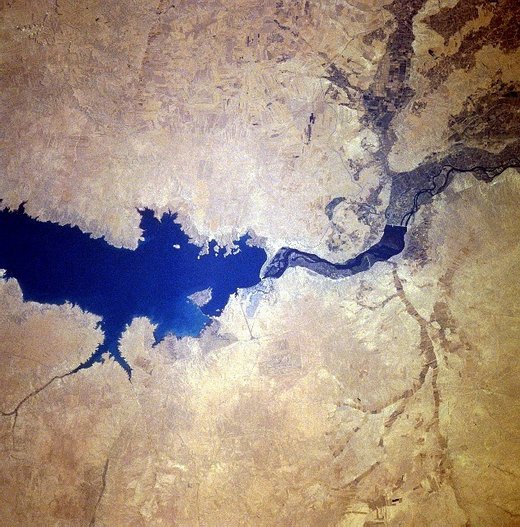 Satellite image of Lake Assad, created by the Tabqa dam in Syria, which controls water flowing into the Euphrates. (Credit: Nasa)
Shafaq News said the Syrian government forces had bombed nearby Al-Thawrah city "with all kinds of heavy weapons which raised fears of the collapse of the dam and flooding some areas with water."
"The plan included preparing Habbaniyah Lake in Fallujah and al-Qadisiya Lake in Haditha areas as well as water bodies scattered in Anbar province to accommodate the floods if the dam collapses," an official Iraqi source said, according to Shafaq News.
"This plan will be capable of absorbing the water wave coming from Syria and prevent damaging the houses and agricultural land," the source added.
But Shafaq News reported that the Iraqi Ministry of Water Resources had denied reports of the possible collapse of the dam.