Californian designer Emerging Objects has created a 3D printed brick (pictured) that can cool and ventilate the buildings that are made from it. 
The brick is formed from of a porous ceramic material that absorbs moisture at night, when the air is cooler and more humid. During the day the brick releases the liquid, thereby cooling itself through evaporation, and as the water leaves the internal lattice, air flows through in its place.
They have a modular, interlocking form, and can be stacked together to make a screen. As a bonus, the internal lattice helps to strengthen the bond when set in mortar.  
The shape of the brick also aids cooling by creating a shaded surface on the wall, thereby keeping a large percentage of its surface protected from direct sunlight. 
They were conceived by Virginia San Fratello and Ronald Rael, both former professors of architecture, who co-founded Emerging Objects. 
Rael said: "We look for ways in which traditional systems can be incorporated into contemporary lifestyles." In this case it was the "cooling window" (pictured), a traditional feature of buildings in Muscat, the capital of Oman, which inspired the design. This combines a wood screen, or mashrabiya, and a ceramic vessel filled with water.  
Rael's idea was to develop ways to create a water screen out of ceramic instead of wood.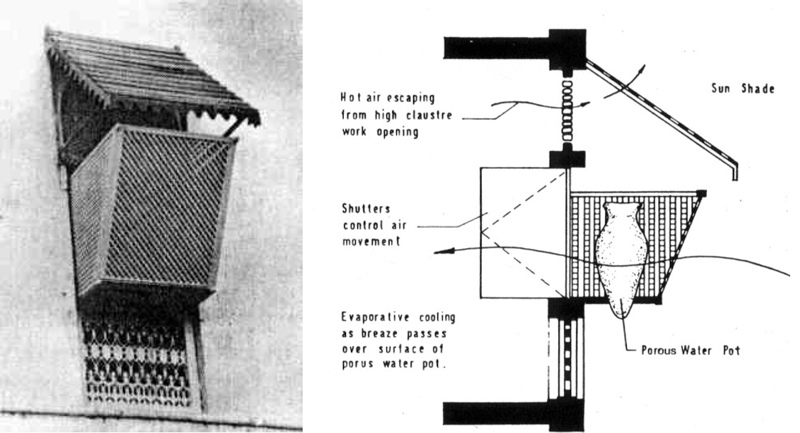 The printing was undertaken by a company called Tethon3D based in Omaha, Nebraska, which specialises in 3D ceramic printing. The bricks are fashioned by a printer that is loaded with dry clay powder and a liquid binder in the shape of the desired model. 
Images via Emerging Objects