11 April 2014
Russia has given Turkey $1.39bn so far toward the construction of its first nuclear power plant, reports say.
Akkuyu NGS, the Turkish subsidiary of Russia's state-run nuclear company, Rosatom, made the investments in the first quarter of 2014, Turkey's Hurriyet Daily News reported.
The company has also submitted a second environmental evaluation report to the Turkish government, after a first was rejected. If it is approved, the company would begin groundworks and associated infrastructure.
The Akkuyu nuclear power plant, proposed for a site near the city of Mersin on the Mediterranean coast, is estimated to cost around $20bn.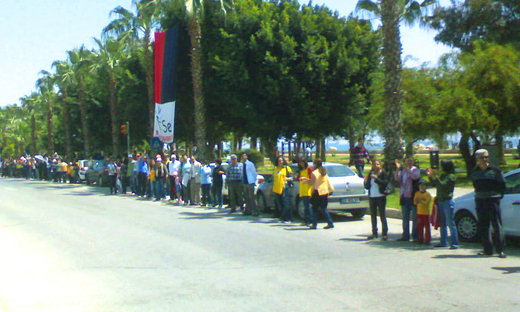 Protesters formed a human chain to voice their objection to the Akkuyu nuclear plant in 2011 (Nedim ArdoÄŸa/Wikimedia Commons)
Funds received from Russia are expected to be used in building the infrastructure for the plant, including roads, power lines, water pipelines, temporary housing and cranes.
If the project license is approved, the reactor's construction is estimated to begin in 2016, and to be operational by 2020 with the entire plant being fully operational by 2023.
The project is opposed by the Mersin Anti-Nuclear Platform, which filed a lawsuit in February to revoke a license approved last year for the plant.
In January Greenpeace accused the Russian company of having already started construction of the plant without the required permits.