The developer behind Saudi Arabia's ambitious Red Sea tourism project has released pictures of the new village that will house up to 10,000 workers building 50 hotels and more than a thousand villas on the country's pristine west coast between now and 2030.
The Red Sea Development Company (TRSDC) said the "Construction Village" at the remote site exceeds International Finance Corporation guidelines for comfort and safety.
Rooms have partitions between beds for privacy, bathrooms and showers in the same building, personal safes and total Wi-Fi coverage.
 
There will be cricket and football pitches, volleyball and basketball courts, gyms and cinemas, a supermarket, barber shop and a 24/7 helpdesk.
TRSDC, owned by the country's Public Investment Fund, made the announcement yesterday after awarding contracts to two Saudi firms to run the village.
The two, Red Sea International and the Facilities Management Company (FMCO), will each be responsible for looking after up to 5,000 workers, providing maintenance, security, catering, administrative and laundry services.
"Our Construction Village is an important element of the Phase One development. In order to continue with the rate of progress we've seen to date, we must first and foremost ensure that our workers are healthy, happy and safe," said TRSDC's chief executive, John Pagano.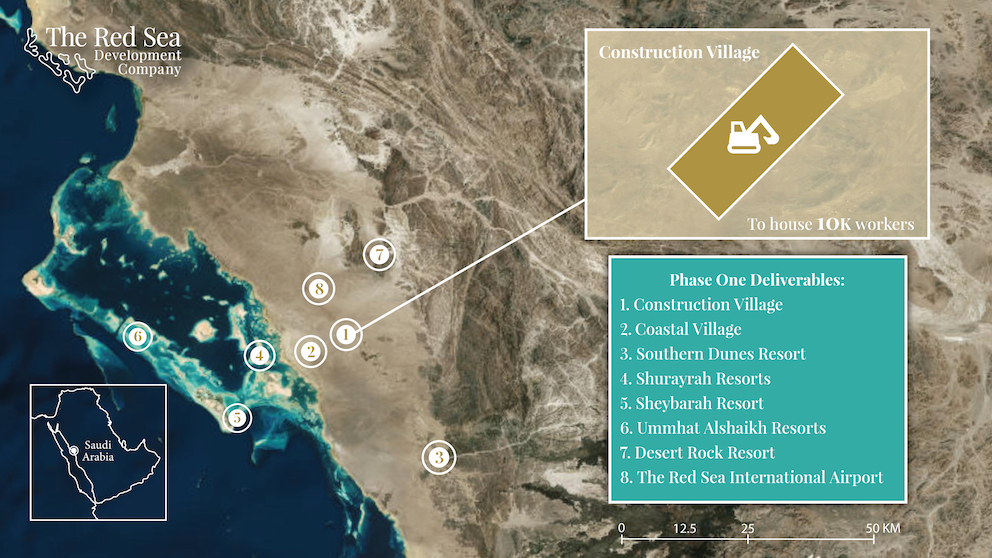 Map showing the Construction Village location and Phase One projects scheduled for 2023 (Courtesy of The Red Sea Development Company)
Tareq Telmesani, Group CEO, Red Sea International said: "It is our goal to make the project site a safe and enjoyable place to work, and to create a sense of community through the delivery of reliable services and engaging events."
The Red Sea Project was unveiled in 2017 as a bold plan to put Saudi Arabia on the global tourism map.
 
By 2030, it will comprise 50 hotels and around 1,300 residential properties on 22 islands and six inland sites, encompassing a total area of some 28,000 sq km.
Attractions include beaches, mountain canyons, dormant volcanoes, and ancient cultural and heritage sites.
TRSDC said it recently passed the milestone of signing more than 500 contracts, together worth some $3.3bn (SAR 12.5 billion).
 
Phase One is due to complete in 2023 with 16 hotels and 3,000 rooms on five islands and two inland resorts, as well as commercial, retail and leisure facilities and other infrastructure.
The mega resort will also have its own international airport, designed by UK architect Foster + Partners. This week US construction giant Aecom announced a contract to provide airside construction supervision and quality control services for it.
A marine infrastructure contract awarded in July 2019 includes the construction of a 3.3 km crossing to Shurayrah (the main hub) and development has begun at the Coastal Village, which will be home to around 14,000 people who will work at the destination.
Top image: The newly-built Construction Village for Saudi Arabia's Red Sea Project will house up to 10,000 workers (Courtesy of The Red Sea Development Company)
Further reading: