A flagship distillery and visitor centre designed by Rogers Stirk Harbour + Partners (RSHP) for the famous Macallan brand of malt whisky has been completed in Speyside, in Scotland's far northeast.
The £140m facility, built by Scottish contractor Robertson, is sited on the Easter Elchies estate, an area of outstanding natural beauty, and the home of the Macallan distillery since 1824.
Partly cut into the slope of a hill, it was built using natural materials, including local stone, timber and grass for the living meadow roof.
Landscaping evokes both the environment and the ingredients of whisky.
The design used local wood and stone and grass
Its vaulted interior, under Lord Rogers' trademark wavy roof, is meant to give visitors a sense of entering a cathedral.
"The visitor enters the new building via a link beneath the ground that compresses the experience before releasing and emerging into the cathedral like volume within," RSHP said.
The project's complexity and setting led Bill Robertson, the contractor's founder and chairman, to call it a "once-in-a-lifetime project".
"The complexity of the construction work required a huge effort from the teams within our business, and their passion and dedication for the project is clear when you see the completed distillery and visitor experience," he said.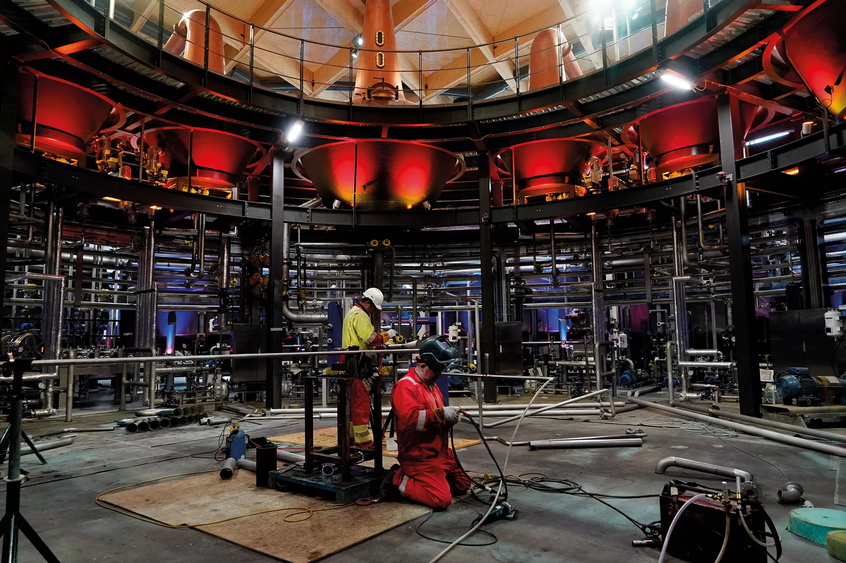 Altogether, some 25 specialist contractors worked on the project
Its roof comprises 1,750 glulam timber beams, arranged in a 3m by 3m grid and including 2,500 cassettes. It took almost 12 months of work, using collaborative design and bespoke parametric modelling software, to define the complex geometry.
Timber elements were manufactured in Austria by specialist fabricator Wiehag using computer-aided manufacturing. There were over 5,000 lifts, using four mobile cranes, to install the roof structure.
The substructure is formed from 20,000 cubic metres of concrete and 700 tonnes of steel beams, which were fabricated by SH Structures. The structural engineer was Arup.
The living roof is placed on a structure made of glulam beams. Altogether there are more than 380,000 individual components
The project was announced in 2012 and the build began in December 2014. The first whisky ran through the stills in December last year and the visitor experience will open its doors to the public on 2 June.
The client for the scheme was spirits company Edrington. Graham Hutcheon, managing director of operations, commented: "Our partners Robertson, Forsyths, and Rogers Stirk Harbour + Partners have been with us every step of the journey and the success of the project has been due to their dedication, professionalism and unwavering commitment to excellence."
Top image: Blending in…. (All photos courtesy of Robinson)
Further reading: