Joe Kaeser, the president and chief executive of Siemens, has risked billions of dollars worth of business by pulling out of a major investment forum in Saudi Arabia, saying business leaders should recall the rise of Nazism in Germany and speak out.
In an extraordinary explanation of his decision yesterday, on the eve of the Future Investment Initiative (FII) that opened in Riyadh today, Kaeser (pictured in 2016) rejected the notion that company bosses should consider business interests first – to "make your numbers and stay out of trouble", as he put it.
"But what would happen if all international leaders did that? Yes, they'd stay out of trouble," Kaeser wrote on Linkedin.
"But wouldn't trouble further escalate because no one would be there to speak up to address and solve the issues? We in Germany should know from our history what it can lead to if people stay out of trouble and don't speak up till it is too late."
His decision and comments will jeopardise billions of dollars in sales to the kingdom if the de facto Saudi ruler, Crown Prince Mohammed bin Salman, maintains his grip on power amid the escalating fallout from the murder of Saudi dissident journalist Jamal Khashoggi.
Europe's biggest engineering company, Siemens is deeply embedded in Saudi Arabia, with 2,000 staff there.
It has supplied everything from gas turbines and smart building systems to airfreight logistics systems at King Abdulaziz International Airport in Jeddah and a driverless metro system in Riyadh.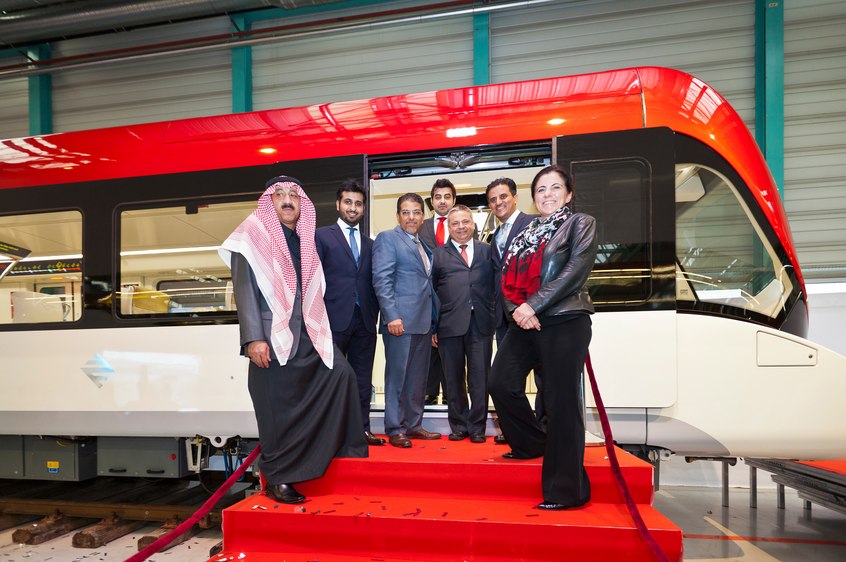 Siemens executives present their Inspiro trains for Riyadh's 175-km metro project, in February 2016 (Siemens)
Two years ago, Kaeser predicted sales in Saudi Arabia would reach $5bn by 2020, and last year he said he wanted Siemens to be involved in the $500bn business and industrial new city, "Neom", a flagship scheme of the crown prince's vaulting Vision 2030 plan to transform the Saudi economy from oil exporter to high-tech hub.
That seems unlikely after his statement. It dismissed the official Saudi explanations for Khashoggi's disappearance, and insisted Khashoggi's "barbaric" murder did not reflect the Saudi people, or the companies and state agencies who are Siemens' customers, but instead was the "crime of the few".
It said the Saudi political leadership's stance on Khashoggi's murder went against the interests of the Saudi people.
"Siemens has been a reliable partner to Saudi Arabia for decades and supports its great Vision 2030," Kaeser wrote. "But for now, the truth must be found and justice must be served. Going forward, this should be the underlying principle in developing the Kingdom for the greater good of its people and the whole region."
Calling for "clarity, transparency, and justice sooner rather than later", Kaeser concluded: "It's the task of the authorities to find out what really happened; they have the means to do so."
He said he deliberated for a long time before making his decision, weighing whether to drop out of the conference, send more junior representatives, or attend and speak out against the situation.
Option one, he said, was "the cleanest decision but not the most courageous one".
Top image: Siemens president and chief executive Joe Kaeser being announced as speaker for Mohammed bin Salman's 2016 MISK Global Forum (Siemens Saudi Arabia via Twitter)
More on how the Khashoggi crisis is affecting Saudi Arabia's development plans: