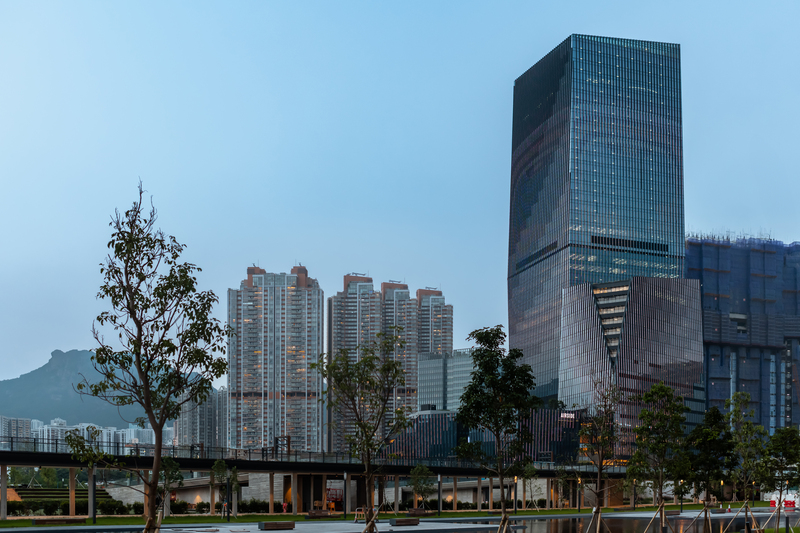 The 213m-tall, mixed-use Airside Tower has opened in Hong Kong. It was designed by Norwegian architect Snøhetta and located on top of the Kai Tak MTR station on the site of the former Kai Tak airport.
With a gross floor area of 177,670 sq m, the project contains offices, cultural, public and retail space, as well as a smaller second tower.
The design concept for the project pays homage to the legacy of the textile industry, with a gently curved fluted glass façade that simulates the drapes and folds of fabric.
The interior massing of the building contains chamfered slices, much like tearing and cutting in textile manufacturing and there is a weaving pattern extended across the lobby ceiling. An elevated garden crowns the podium containing the building's central atrium.
The project is certified platinum by LEED and contains green features such as 1,350 sq m of photovoltaic panels, the largest of any Hong Kong commercial building. There is also a link to the Kai Tak District Cooling System and an underground bike park.
Robert Greenwood, Snøhetta's Asia–Pacific director, said: "The building negotiates scales ranging from the urban to the human: it shapes a meaningful, inviting, and vibrant public realm for the thousands of people that will pass through it each day while bringing a new icon to the skyline and a focal point for the district.
"The building heralds the reinvention of this storied part of Hong Kong's cityscape into a dynamic new neighbourhood."