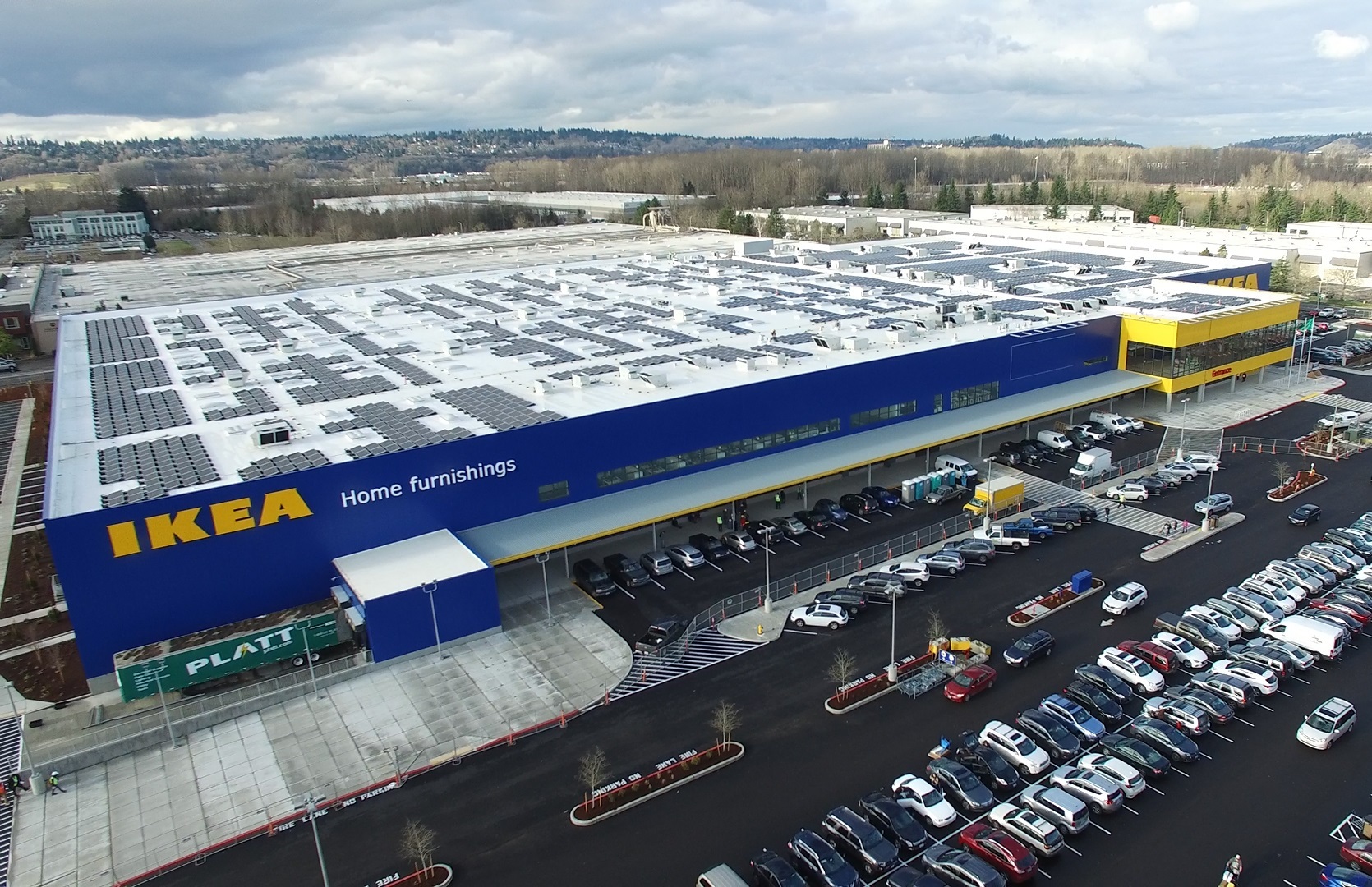 If retailers and developers in the US put photovoltaic panels on the roofs of some 100,000 thousand existing malls and superstores across the country, it could generate 84.4 terawatt-hours (TWh) of clean electricity a year, enough to power nearly 8 million homes.
That was the conclusion of a study published at the start of the year by environmental think tanks Frontier Group and Environment America, who said such a move would prevent more than 52 million metric tons of CO2 entering the atmosphere each year.
Retailers could go even further by installing solar-panneled canopies in their vast parking lots, giving customers protection from rain and sun.
The study said it's just one example of how the US is failing to exploit its vast solar resources; it has the technical potential to produce 78 times as much electricity as it used in 2020 just with solar energy, the study said.
Retailers have made a start. According to the Solar Energy Industries Association, as of 2019, Apple, Amazon, Walmart and Target had solar installations totalling almost 1.4 gigawatts of capacity, around 11% of the total commercial solar capacity installed in the US that year.
As of February 2021, Ikea had 54 solar arrays installed across 90% of its US locations, CNN reported in March.
But that's still a drop in the ocean compared to the potential afforded by nearly 700 sq km of retail roofscape in the US, an untapped area equivalent to nearly eight Manhattans.
CNN asked five big retailers – Walmart, Kroger, Home Depot, Costco and Target – what prevented them from embracing rooftop solar.
Walmart, Target and Costco didn't answer that question, but Craig D'Arcy, director of energy management at Home Depot, which has 75 rooftop solar arrays among its approximately 2,300 stores and more planned, said ageing roofs were the biggest barrier. Some may not be capable of supporting a solar array.
If a roof needs to be replaced in the coming 10 to 15 years, it didn't make financial sense to add solar systems now, he told CNN.
Home Depot considers rooftop solar "where the economics are attractive", he added.
Edwin Cowen, professor of civil and environmental engineering at Cornell University, told CNN that labour costs, a lack of incentives and layers of regulation could also be preventing retailers from harnessing the sun.
Make it attractive and easy
In their study, Frontier Group and Environment America, urged all levels of government to implement policies that incentivise solar investments.
They include expanding federal investment tax credit for solar power; making it pay for retailers through feed-in tariffs; enabling clean energy financing tools; and streamlining solar permitting and interconnection to make going solar easier and faster.