26 June 2013
A four-year investigation into collusion over contracts in South Africa has finally ended with 15 construction companies agreeing settlement fines totalling $140m.
South Africa's antitrust body, the Competition Commission, looked into 140 projects including the building or expansion of stadiums for the 2010 Soccer World Cup, and identified 300 cases of illegal or irregular behaviour by firms, reports Bloomberg.
These cases involved contracts worth a combined $4.7bn from both the public and private sector.
The regulators fined major South African companies such as Murray & Roberts Holding, Aveng and Stefanutti Stocks Holdings over $30m each, and Group Five, the company which allegedly first alerted the commission to the price fixing scandal, just $1.5m.
According to Shan Ramburuth, head of the commission, the $140m total figure was "the biggest collective fine" given to companies in South Africa.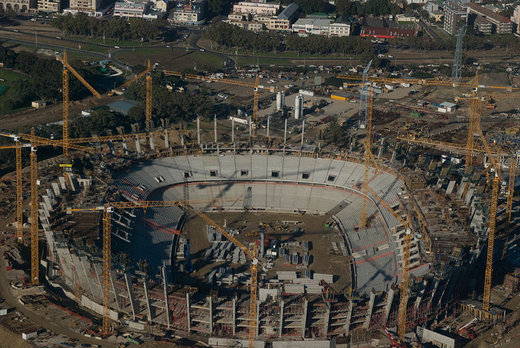 Cape Town's Green Point stadium, built for the 2010 World Cup, was also under investigation (Credit: Owais Zaidi/Wikimedia)
An analyst at Stanlib Asset Management told Bloomberg the fine was a bit lower than the market was expecting but admitted the commission's verdict had been an "overhang on the sector for a while."
Shadow minister of economic development, Kenneth Mubu, said in a press release that the penalties should serve as a warning to any companies considering engaging in anti-competitive behaviour.
"This type of collusion results in public funding that could otherwise be used for service delivery being diverted to the pockets of private companies, robbing the poor of much needed services," he stated.
The African National Congress has called for the antitrust body to widen its bid-rigging investigation into other industries.
Source: Bloomberg