Artificial surf specialist Wavegarden has announced plans to build the world's largest surf park in Turtle Island, South Korea.
The Spanish developer is building "the Cove" as part of a €2.1bn waterside development planned for reclaimed land by developer Daewon Plus Construction, one of Korea's largest real estate and theme park developers.
A formal signing for the project took place this week in the presence of the governor of the Province and the secretary general of the Spanish Chamber of Commerce in Korea. Both parties have been planning the artificial wave lagoon for the past year, and the project is expected to open to the public in 2020.
The lagoon will be the centrepiece of island, and will be surrounded by hotels, convention centers, and marinas.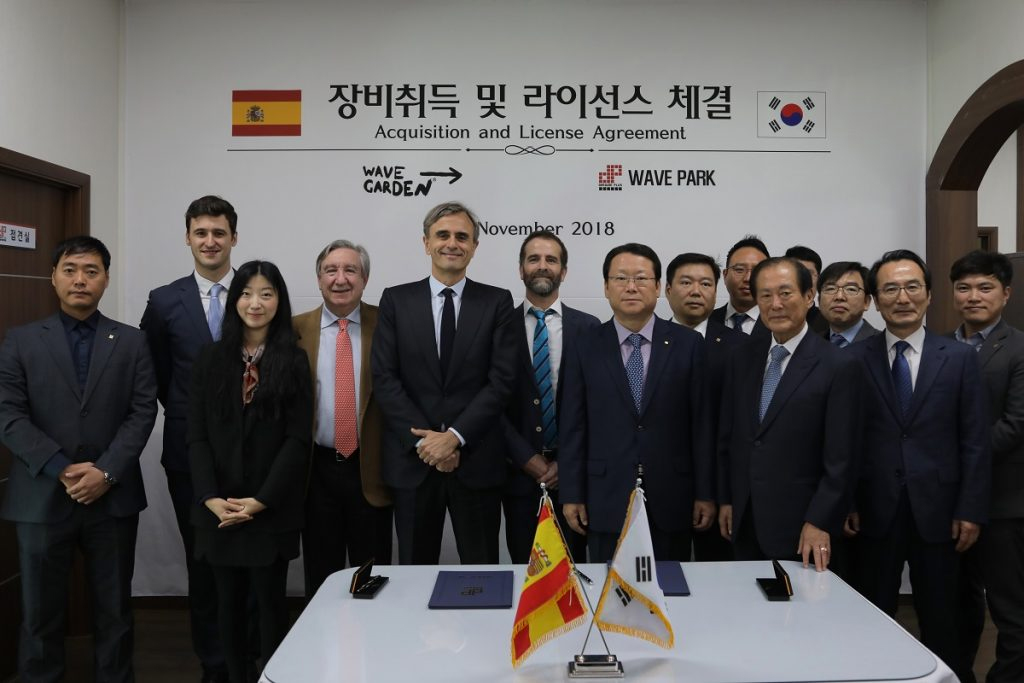 Korean and Spanish officials attended the signing ceremony (Wavegarden)
Fernando Odriozola, chief commercial officer of Wavegarden, said in a press statement: "We are delighted to be working with Daewon and to bring the incredible sport of surfing and beach lifestyle to South Korea. With consistent waves of different sizes and shapes, Turtle Island is going to be the new beach of Seoul and the place to surf for families, professional surfers, and everyone in between."
The Cove will be able to produce up to 1,000 waves an hour, tailored for different skill levels "from professional surfers to newcomers picking up a surfboard for the first time".
Two other Wavegarden facilities are being built in Melbourne and Bristol with another 28 contracts signed and in various stages of development in five continents around the world.
Top image: Wavegarden's rendering of the attraction
Further reading: