The Inga 3 Basse-Chute hydropower project on the Congo river will be entirely funded by the Chinese-Spanish consortium building it, authorities in the Democratic Republic of the Congo (DRC) have said.
An estimated $18bn will be "mobilised" by ACS, Spain's largest contractor and seventh largest construction firm in the world, and Chinese firms Three Gorges and Sinohydro.
"Congo won't borrow a dollar. It's the concessionaire company that will take on debt," said Bruno Kapandji, director of the agency responsible for the scheme in a news conference in the capital Kinshasa last week.
He added that the DRC would have a stake in the special purpose vehicle running Inga 3.
Inga 3 is the current phase of the bigger Grand Inga scheme, which, if realised, would be the largest infrastructure project in African history.
Kapandji's statement was aimed at concerns that the DRC would take on unsustainable debt to build Inga 3, an emerging theme in African infrastructure development.
Expected to produce 11GW of electricity, almost triple the country's present installed generating capacity, Inga 3 would be the DRC's third dam in the Inga Falls complex.
The business model of Inga 3 depends on exporting power to neighbouring countries – a deal with South Africa was concluded in 2013 – and supplying power to the mining companies hoping to capitalise on the DRC's vast mineral wealth.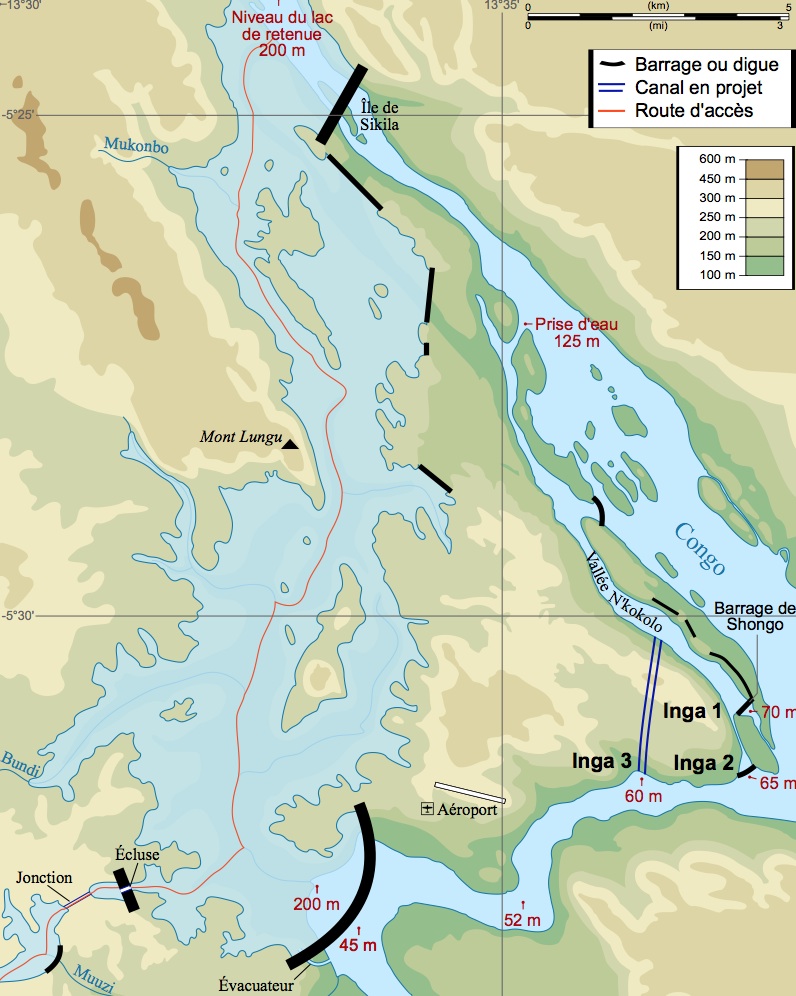 The location of the Inga 3 showing the "basse-chute" tunnel that the water will flow down (Wikimedia Commons)
The DRC suffers from a calamitous electricity shortfall: only 19% of urban households, and 1% of rural ones, have access to mains power.
Companies mining copper and cobalt also need power to run and expand their mines.
The dams are expected to cost $14bn, with a further $4bn needed for transmission lines.
If the entire Grand Inga plan goes ahead – a big "if" given the DRC's chronic political instability – it would generate as much as 50GW, becoming a power source for the continent.
However, it has been opposed by Congolese civil society groups and international NGOs concerned about the scheme's environmental impact.
Kapandji said the protesters had declined invitations to meet him.
He said the project would have "mild negative impacts on ecosystem and populations compared to hydroelectric plants of the same scale" in China and South America, estimating it will displace 37,000 people.
Last June the DRC asked two competing consortiums to merge and "optimise" their bids, a decision that increased the funding capacity of the builders.
Image: The Inga falls on the lower Congo: the most potent hydroelectric site on Earth (Wikimedia Commons)
Further reading: