Tom Lee park in Memphis, designed by Chicago firm Studio Gang and New York landscape architect Scape, has opened to the public.
The 12.5ha green area is named after an African-American riverworker who saved the lives of 32 passengers after a steamboat sunk in 1925. Appropriately enough, it is situated on the shore of the Mississippi and its form is intended to mimic the river's riffles, pools and micro-deltas.
The site occupies a former industrial area, and the construction process required the remediation of the area's soil and the planting of more than a thousand trees and plants.
In terms of layout, the park is divided into a civic gateway to the north and an active core that offers open space for multiple activities. There is also the "Community Batture", a lush forested area with elevated views of the Big River. Finally, there are the "Habitat Terraces", towards the south of the park, which have more intimate spaces.
Generally, the park is able to accommodate sports, fitness, outdoor education, community dinners and concerts. The Point Bar Pavilions, made from reclaimed materials, also provide food and beverage options as well as toilets and storage space.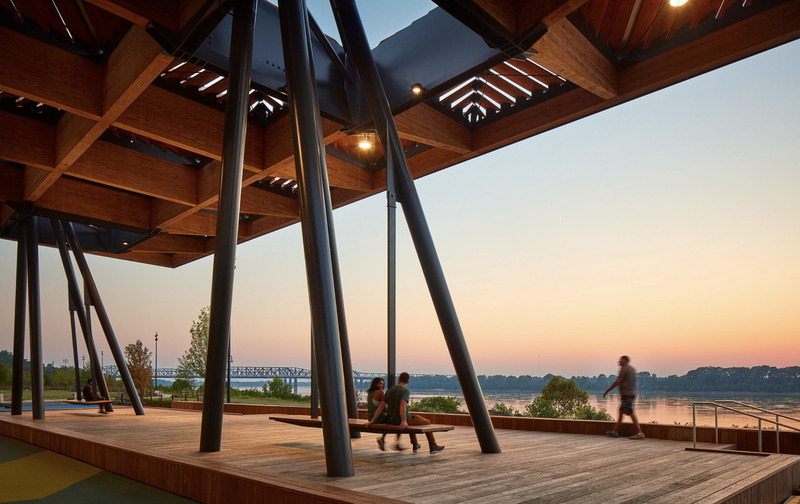 The park also nods to Memphis' troubled racial history – at its centre is Monument to Listening – a $1.4m permanent installation by the artist Theaster Gates. The park is located three blocks north of the National Civil Rights Museum, with which it has links, and will be the home of the Memphis Brooks Museum of Art, the oldest and largest museum of its kind in Tennessee.
The project was announced in 2017 after 4,500 survey responses from local inhabitants.