In what's being hailed as a world first and a feat of creative urban densification, a 151-room, modular timber hotel is now being craned onto the unused upper floor of a multi-storey car park at Berlin's Ring-Center 2 shopping mall, on Frankfurter Avenue.
It is "uncharted territory" for specialist start-up hotel developer MQ Real Estate, of Berlin, which aims to build more such hotels on car parks, and requires one of Germany's biggest revolving tower cranes, manufactured by Linden Comansa.
"We are the first team in the world that consistently specialises in the modular extension of existing buildings, mainly on parking garages," said Dr. Nikolai Jäger, founder of MQ Real Estate, when the scheme was announced in February. "Therefore, we are now entering unchartered territory in many respects."
Artist's impression of the completed hotel (MQ Real Estate)
Putting modular structures on existing buildings is something of a trend in Europe. As GCR reported last month, a renovation project near Paris sees 33 apartments being lifted onto an existing residential block.
Among the logistical challenges to be resolved before lifting the 151 modules was the fact that the car-park roof was too weak for Linden Comansa's 750-tonne 21LC750 crane.
So, MQ Real Estate teamed up with the supplier, local crane specialist BKL Hannover, and a steel constructor, to design a 16.5m-by-16.5m steel substructure to distribute the crane's load on the top floor.
And, to assemble the big crane on the car park, the team had to use a smaller mobile crane on the ground and plan carefully to minimise disruption on the busy road.
Each module must be plucked from 75m away (BKL)
Comansa said in a press release today that the team managed to build the rooftop substructure and assemble the big crane in five days.
It is now using its 80-m-long jib to pluck the 7.5-tonne modules from a staging post 75m away and place them on the car park, 20m up.
All modules, which are built in Germany to German KfW 55 energy efficiency standards, are expected to be in place in August, Comansa said.
The one-storey hotel, due to open in the autumn of this year, will be operated by Novum Hospitality, under its new brand, "niu".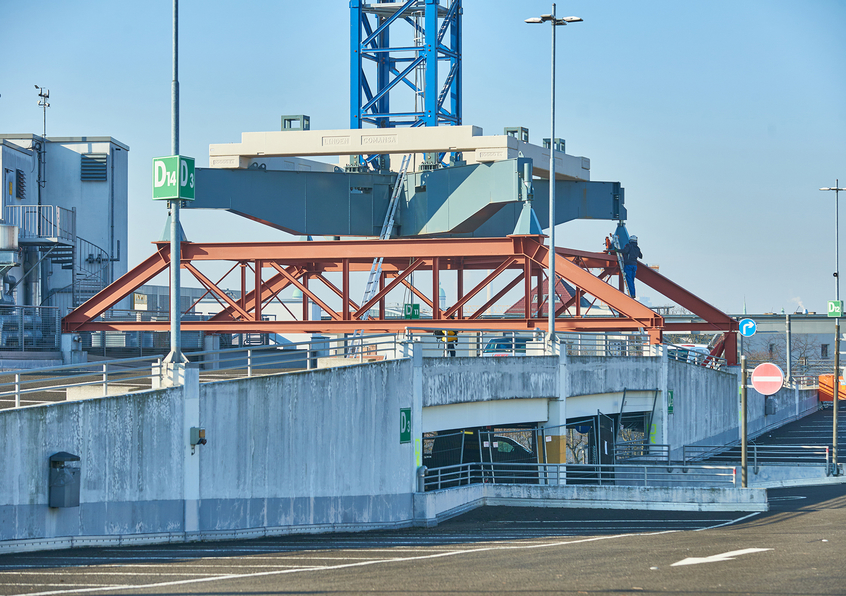 A special steel substructure had to be built to distribute the crane's load on the top floor (BKL)
Novum chief executive David Etmenan hailed MQ's approach, called Skypark, as the way forward. Car parks, he said, "are located close to the hotspots of a city and they suit our business strategy".
According to the Skypark team, Germany's Federal Parking Association calculates that many urban parking garages are used to 60% capacity, at most. And since they fill from the bottom up, the top levels are often empty.
Top image: The crane, model 21LC750, located at the shopping centre's rooftop, is building a hotel with modules of more than 7.5 tonnes in weight (BKL)