University College Dublin (UCD) and Malcolm Reading Consultants (MRC) have announced six shortlisted designs for a new campus at Ireland's largest university. 
The winner will see its vision brought to life for an entrance precinct and an 8,000-sq-m Centre for Creative Design across a 29ha site.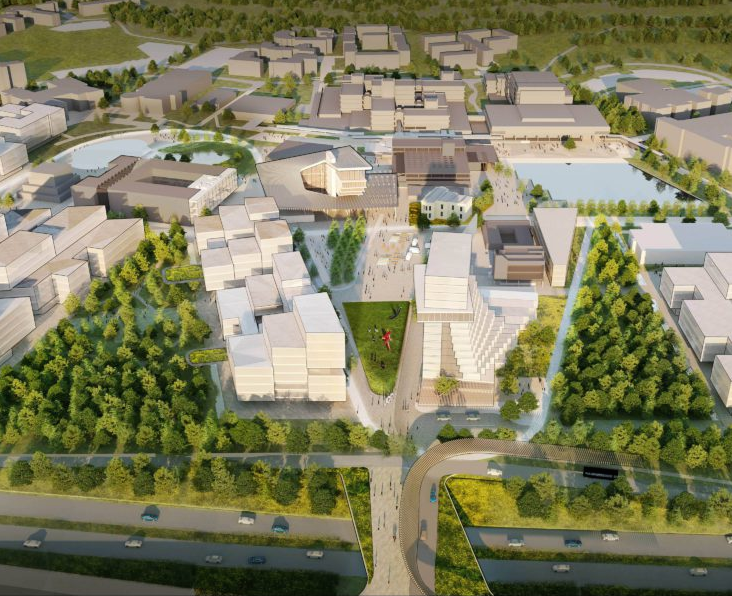 Diller Scofidio + Renfro's rendering
The shortlisted teams are:
Diller Scofidio + Renfro (US): The plan would involves connecting the campus' woodland walks to form a public park.
John Ronan Architects (US): This would create a pedestrianised campus and a 10-storey Centre for Creative Design.
O'Donnell + Tuomey (Ireland): This plan reimagines UCD as an ecological campus "engaged with its context and in dialogue with the wider world".
Steven Holl Architects (US): This design focuses on "Place and Space", reflecting on the history of the university.
Studio Libeskind (US): A design inspired by the nine muses, referred to satirically in James Joyce's Ulysses. Joyce was a former student.
UNStudio (Netherlands): It describes its design as a "Marketplace of Innovation".
Steven Holl Architects' design
Ninety-eight teams from 28 countries entered the competition. Each finalist will be awarded €40,000.
Professor Andrew Deeks, the president of the university, said: "The competition affords us a rare moment, to transform the campus in a way that promotes a strong sense of community and inspires students and faculty, visitors and local innovators to explore new ways of learning and thinking."
UNStudio's project
The winning team will be announced in August 2018.
Top image: Rendering of Studio Libeskind's design