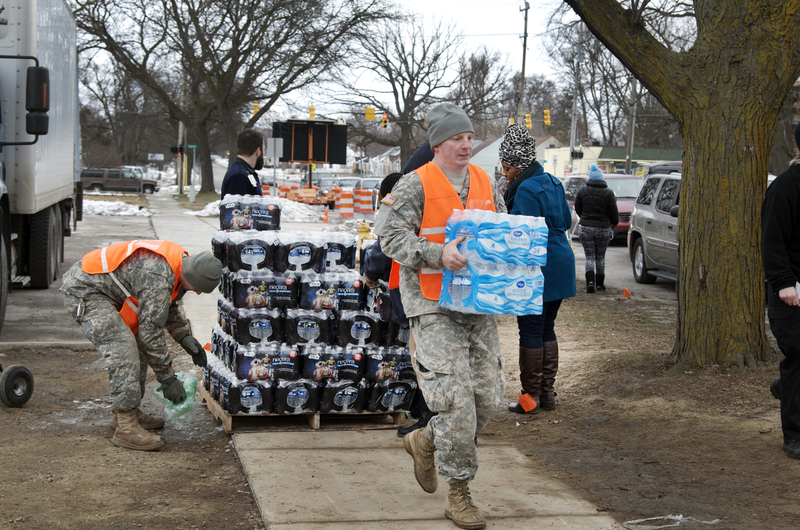 The Biden administration announced last week that the first priority for its infrastructure renewal effort would be the replacement of lead pipes that have contaminated drinking water in a number of states.
The Environmental Protection Agency (EPA) will distribute $7.4bn to states, tribes and territories over the course of 2022, and a further $42.6bn in the following four years. Some $2.9bn from the first tranche is earmarked for replacing lead pipes, following a promise by President Biden that every lead pipe in the nation would be eliminated.
Another $866m will be used to deal with PFAS "forever chemicals" and other water contaminants.
Michael Regan, the administrator of the EPA, told NBC News that this was the "single largest investment in water infrastructure" in the history of the federal government.
"This law's investment in water is nothing short of transformational," he said. "We're less than three weeks post the president signing this, and we're hitting the ground running."
To underline the urgency of the spending, Regan pointed to raw sewage backups in Detroit and hundreds of thousands of lead pipe servicing homes and schools in Chicago. It comes seven years after the water crisis in Flint, Michigan, when a switch in water supply caused widespread lead poisoning in children.
"When I think about communities like Jackson, Mississippi, and I'm having conversations with 8 and 9-year-olds who are frustrated that they have to evacuate their school because their schools' water infrastructure is inadequate, obviously, your heart goes out," said Regan.
The spending is part of the $1.2 trillion infrastructure deal that was signed into law last month to speed up America's recovery from the Covid-19 pandemic and renew its crumbling public assets.
Many of the spending decisions will be taken at the state level, however Regan sent a letter to governors on Thursday asking them to focus on low-income, disadvantaged and minority communities.
He wrote: "The agency strongly urges states to maximise the potential to remove barriers and prioritise the distribution of grant funds to disadvantaged communities. It is a top priority for the EPA to ensure communities that have historically struggled to access SRF funding are prioritised."
SRF is the "Single Resolution Fund", a federal resource that can be called on in times of crisis.