Construction work on the second stage of Ottawa's light rail extension will cost US$750m more than estimated and will be completed two years later than scheduled, according to a briefing by a city council official on Friday, 22 February.
Chris Swail, director of O-Train Planning for the City of Ottawa, said the total cost of the extension of the system would be $3.5bn rather than $2.75bn, and that it would be completed in 2025 rather than 2023.
Swail described the original deadline as "aggressive". He said: "We were hopeful, but we weren't going to bet the house on it. Since then we brought on a lot of additional scope, so the extension from Bayshore to Moodie, the Limebank extension that goes from Bowesville all the way to the west side of Limebank, that came into the programme late, so we were playing catch-up."
Another factor was cost inflation, which Swail said had added $460m to the cost over two years.
He also announced the preferred contractors for the design, build, finance and maintain project.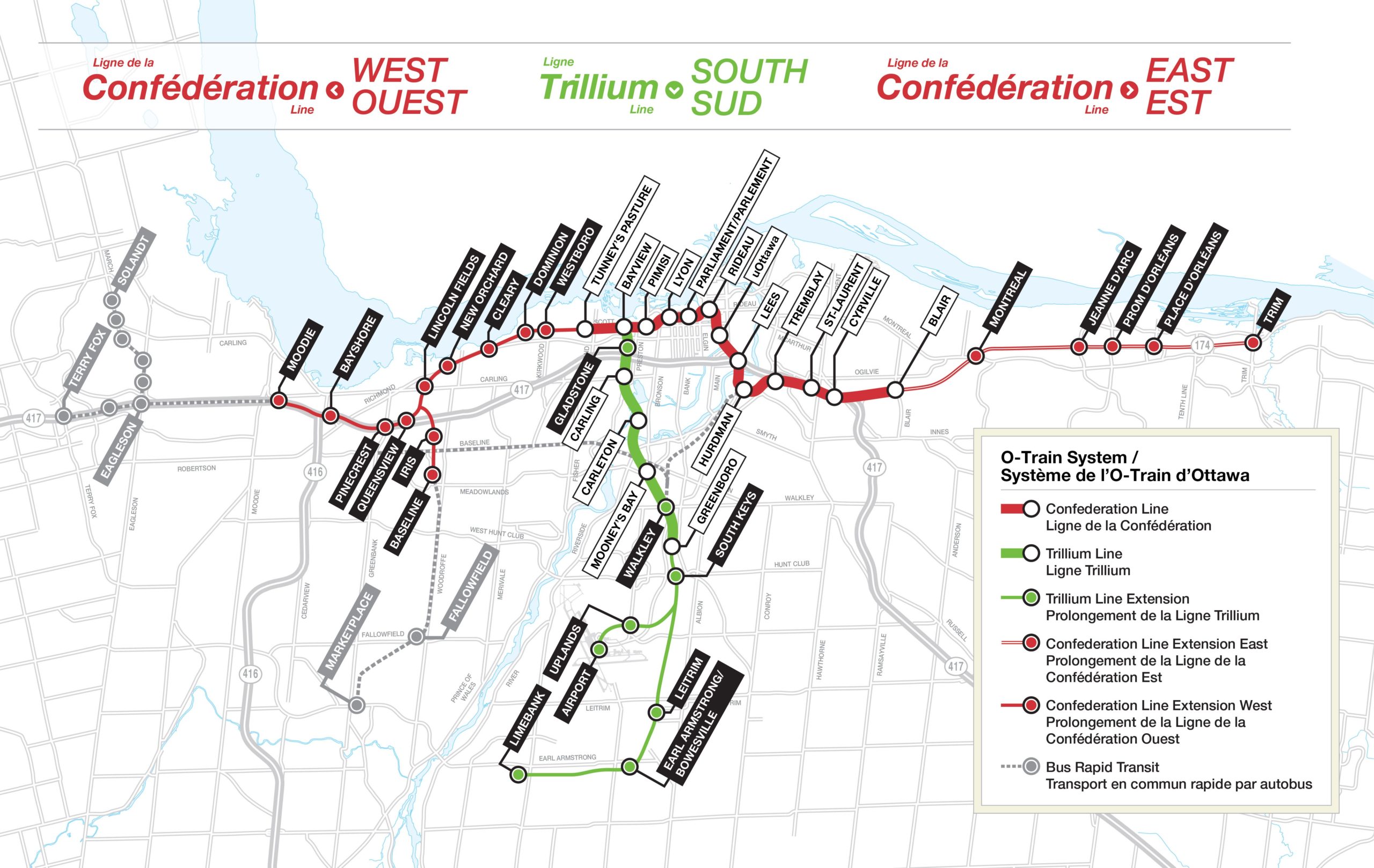 Stage 2's map of the extensions
The stage two plan, approved by Ottawa council in November 2013, envisages 24 stations and 44km of track. Sixteen of the stations and 28km of rail would be on the Confederation line, with 11 stations to the west and six to the east. The north-south Trillium line extension will consist of 16km of rail and eight stations (see map).
Swail said East-West Connectors, made up of the Kiewit Corporation and Vinci Construction, had been recommended for the Confederation line, and TransitNEXT, a consortium led by SNC-Lavalin, had been chosen for the Trillium work.
The winning consortiums' plans will involve staggered completion dates, with the Trillium Line extension completed in 2022, and the Confederation Line opening in 2024 in the east and 2025 in the west, respectively.
The project is to be jointly funded by the Canadian federal government, the Province of Ontario and the City of Ottawa. Work on the ground is expected to start this summer.
Image: An O-train leaving St Laurent Station (Saboteurest/CC BY-SA 4.0)
Further reading: