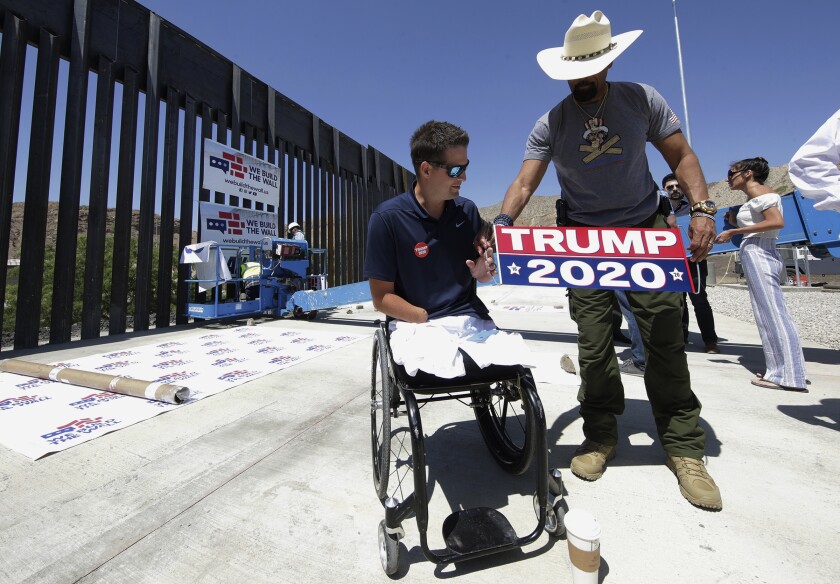 A disabled veteran of the US air force has been sentenced to more than four years in prison after pleading guilty to misappropriating donations to a private initiative to build a border wall on the Mexican border.
Brian Kolfage, 41, co-founded a public fundraising campaign known as "We Build the Wall". Another man associated with the drive, Andrew Badolato, was sentenced to three years in prison, and a third associate, Thomas Shea, will be sentenced in June.
Damian Williams, US attorney for the Southern District of New York, said on Wednesday: "Brian Kolfage and Andrew Badolato abused the trust of donors to We Build the Wall and stole hundreds of thousands of dollars in donations to line their own pockets. The defendants have now been held accountable for their criminal conduct."
Kolfage was wounded while serving in Iraq in 2004, losing both legs and a hand. In December 2018, he and Shea began soliciting donations on the fundraising platform GoFundMe for the wall, eventually raising over $25m from more than 320,000 people.
In February 2019, Kolfage announced that all donations would be re-routed to a non-profit organisation called We Build the Wall, Inc., run by Kolfage, Badolato, and Steve Bannon, a former adviser to Donald Trump.
Kolfage made public assurances that he would "not take a penny in salary or compensation", and that the money raised would "be used in the execution of our mission and purpose".
However, Kolfage then spent more than $350,000 on items such as a 40-foot fishing boat, home renovations, a luxury SUV, a golf cart, jewellery, cosmetic surgery and credit card repayment. The money was routed to Kolfage through what the Justice Department called "fake invoices and sham contracts".
Bannon was accused of taking more than $1m from the non-profit. He was pardoned by Trump in 2021, although he is currently awaiting trial in New York for fraud related to We Build the Wall, Inc.
The sentences were imposed by Analisa Torres, a US district judge. She noted that "this was no ordinary financial fraud" because when victims donated to We Build the Wall, "they were expressing their views about a political issue that was important to them".
She added that the offence cast doubt on the efficacy of political involvement and that the scheme would "undoubtedly have a chilling effect" on political donations, which she said would "hurt us all".
At his sentencing, Kolfage told Judge Torres that he was "remorseful, disgusted, humiliated".
In addition to his prison sentence, Kolfage and Badolato will have to repay $25m as restitution.