Architects HOK and Practice for Architecture Urbanism (PAU) have unveiled their design for a $6bn transformation of New York's Penn Station, the United States' busiest rail hub.
The plan calls for two main train halls accessed by a grand Eighth Avenue entrance with 55ft-high ceilings, and a mid-block hall with 105ft-high ceilings flooded with natural light.
A stone-clad exterior is inspired by the neoclassical McKim, Mead & White-designed Moynihan Train Hall on Eighth Avenue.
A single-level passenger concourse will be added to Seventh Avenue entrances at West 31st and West 32nd streets. A new entrance will also be created at the site where the former Hulu Theater currently sits.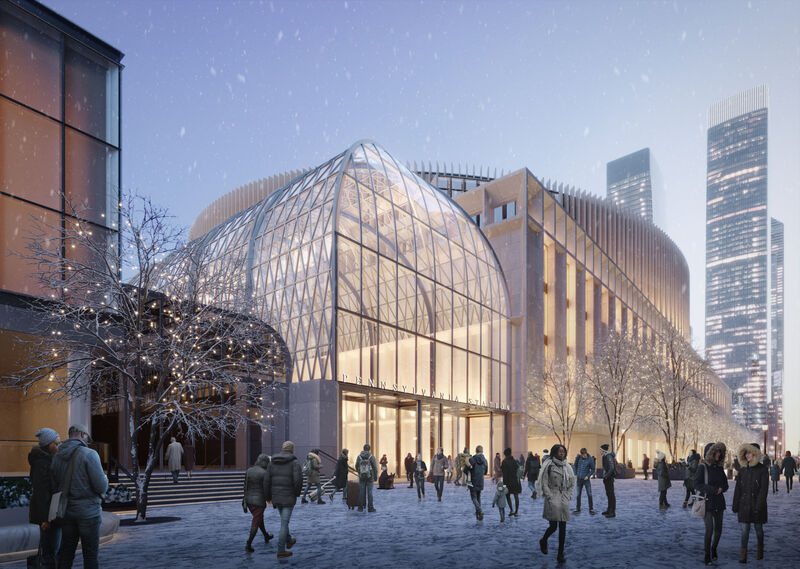 The overall 835,000-sq-ft design aims to improve pedestrian flow, add needed entrances, wider corridors, accessibility, open-air terraces and a new exterior plaza.
Unlike previous plans, the design does not require the relocation of Madison Square Garden.
The $6bn comes from a mixture of federal loans and grants, existing committed funds for Penn Station, and a $1bn investment from ASTM North America.
Hok and Pau are working alongside HNTB, Lendlease, Severud, Halmar International and ME Engineers, for client ASTM North America.
The team's work expands upon New York State's existing plans for a new light-filled and airy midblock trainhall between 31st and 33rd streets and improve subway passenger connectivity from Seventh Avenue.
If approved by New York State, construction on the project could be completed in six years.
Pat Foye, ASTM North America's chief executive, said: "ASTM's plan will solve the litany of issues that have long plagued Penn Station and is the full realisation of Governor Hochul's own vision.
"We are confident that this is the plan that New Yorkers deserve, not only because of its innovative design but because our public-private partnership model will lower the financial risk for taxpayers and more effectively deliver a modernised Penn Station in its entirety."
In 2022, it was announced that a team led by UK-headquartered Arup had won a $73m contract to design an expansion project at Penn Station, adding new tracks, platforms and concourses.