Construction work on a long-discussed dam funded and built by Brazilian concerns in the southern African country of Mozambique is expected to start in May.
Mozambican authorities said construction of the 4.5-km-long dam in the Incomati River Basin, intended to bring water and power to the southern province of Maputo, should be finished by 2019, APA news agency reported.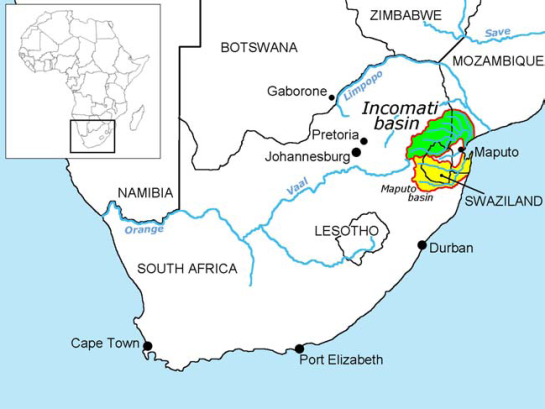 Map of the Incomati River Basin surrounding Maputo, in Mozambique and South Africa (Waterwiki.net)
Project director Elias Paulo said the $500m Moamba Major Dam scheme includes a $48m resettlement programme of 1,600 people in the affected area on the border with South Africa.
Work will be carried out by a consortium led by the Brazilian multinational, Andrade Gutieres.
In 2013 Mozambique began negotiating a loan to finance the project from the Bank of Brazil, which has financed a feasibility study for the scheme.
Paulo said the project includes the building of two health posts, five schools and treatment and supply centres of drinking water and irrigation systems.
"We expect to have all the quotas and levels of the dam defined in 60 days," he said.
"The construction should be complete by 2018 to allow us to carry out laboratory experiments and fill up the dam with water. By this period the area upstream the dam must be free and clean. Also, by 2018, all local people should have been placed in their definitive resettlement centre."
Photograph: Aerial view of Maputo, Mozambique (Wikimedia Commons)