30 April 2014
Long considered (by non-gamers) to be a largely bedroom-based activity, video gaming is about to get a dedicated arena on an island off Macau in China.
The world's first "e-sports" arena will seat 15,000 people as part of a new video game theme park called "V-Zone" on Hengqin Island in the Pearl River Delta.
Part of the city of Zhuhai, Hengqin Island is planned as a special economic and tourist zone, with just under $3bn earmarked to create a "Creative Culture City".
V-Zone itself is expected to cost around $480m, according to Major League Gaming (MLG), a North American video-game broadcaster that is developing the arena with Hong Kong-listed property firm Lai Fung Holdings and investment firm eSun Holdings, both part of the Lai Sun Group.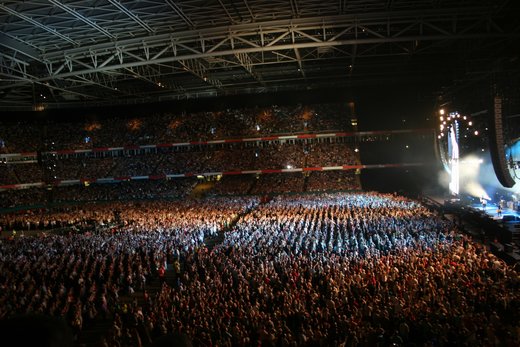 Concert at Millennium Stadium, Cardiff (Andrew King/Wikimedia Commons)
MLG president Mike Sepso said the arena is part of his plan to make e-sports part of mainstream culture worldwide.
"MLG has been at the forefront of the global eSports phenomenon for over a decade and we're taking our leadership position to new heights with this expansion into the world's fastest growing eSports market – China," he said.
MLG will use the the arena, scheduled to be ready by 2017, to showcase its professional gaming tournaments, which will be broadcast globally via its MLG.tv network.
The V-Zone will include an expo area for game developers to feature new and upcoming games, creative workspaces, gaming-themed restaurants, retail shops and more.
A Major League Gaming competition underway in Dallas Texas (MLG)
MLG says that China is now the second-largest gaming market in the world, with the largest online user base in the world.
MLG broadcasts competitive gaming and runs a professional gaming league in North America. It says it has nine million users registered on its online gaming tournament system, with over 1557% growth in audience over the last four years.
MLG calls itself "the definitive property" for advertisers wanting to reach affluent young men: it says its audience is 90% male, 50% aged 16 to 34 years, with over 40% declaring a household income of more than $100,000.