Architect 10 Design has unveiled its entry in a competition to design a harbour-side tower in China's Greater Bay Area, a region that includes Hong Kong and Shenzhen.
The 268m tower, which has been designed for an undisclosed client at an undisclosed city, would be built on a 11,450 sq m site as the anchor for a forthcoming leisure and entertainment complex.
The architect is a subsidiary of French consultant Egis Group and is based in Hong Kong.
The tower would have a floor area of 184,000 sq m, and would contain offices, a hotel and serviced apartments. The offices are placed in the lower zone for easier access, the hotel occupies the middle zone and comes with restaurants, a double-volume ballroom and a public rooftop garden. The serviced apartment would be at the top, along with a viewing platform, swimming pool and clubhouse.
According to 10 Design, the entry was inspired by the local dragon dance ritual, which hopes to provoke "rain and blessings" – hence the tower's spiralling form, which "resembles a dragon ascending from the sea, thrusting up to the sky".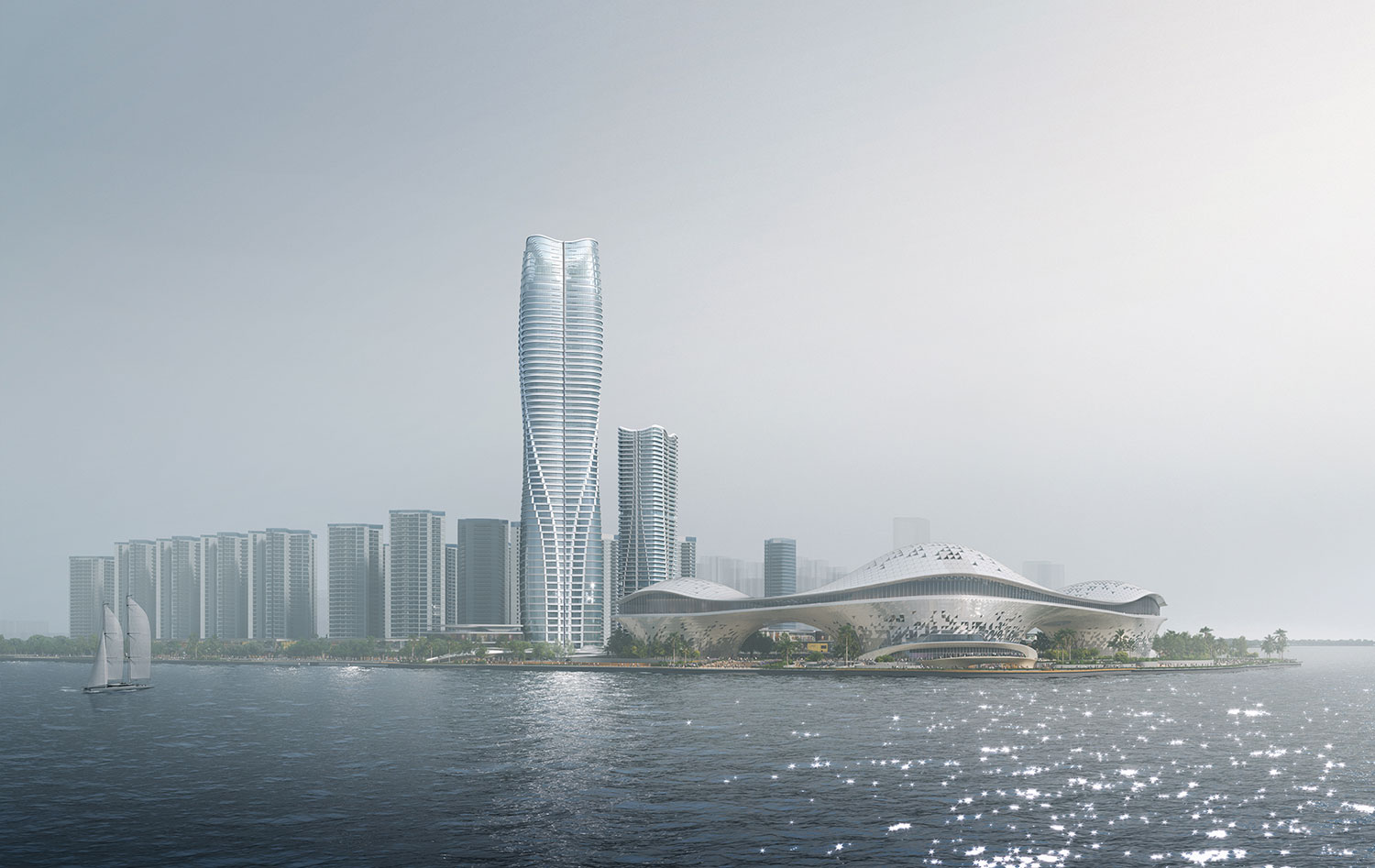 Nick Cordingley, design partner of 10 Design, commented in a press statement: "The design is a natural response to both the surrounding environment and the local culture. The dragon motif is drawn not only for its connotation of auspiciousness and agility, but also from the maritime culture specific to this location and the local communities."
The tower will have recessed corners to improve residents' sight lines, a subtle thinning in the middle section to suggest a waist, and varied aluminium cladding to add "sinuous contours".
The Chinese authorities have expressed scepticism in recent years about the value of towers. Buildings taller than 500m are banned, and the Ministry of Housing said last year that cities with populations of less than 3 million people would be discouraged from building higher than 150m, and those with more should limit themselves to 250m (see further reading).
Jason Easter, an associate partner at 10 Design, stressed that this building has struck a balance between aesthetics and constructability. He said: "By adopting a gradual chamfering plus rotating method, we were able to restrict the number of non-standard floors and secure the building form at minimum construction cost."