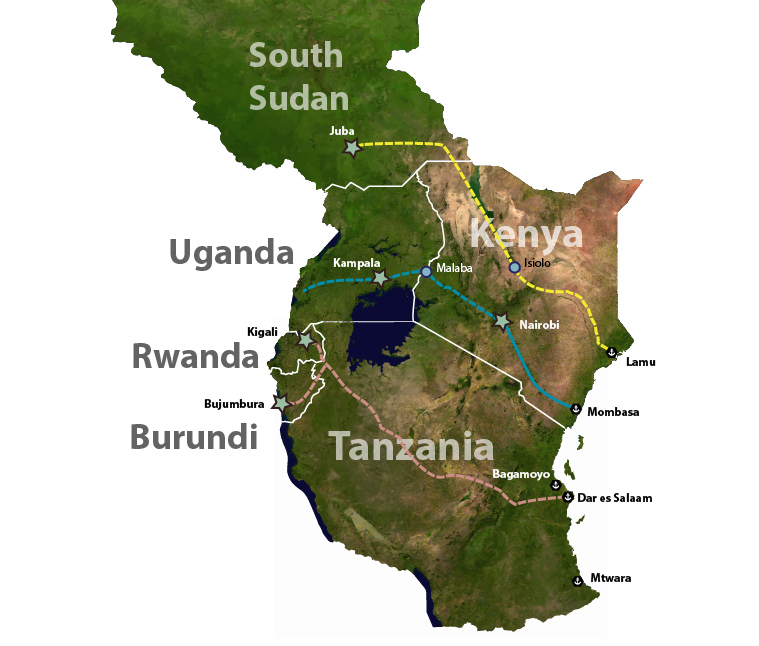 A pattern of ports and railways in east Africa's emerging transport system
The population of Africa is presently 1.2 billion and growing at a rate of 2.5% a year, more than twice that of any other continent. In two years' time, it will gain the population of the UK; in 12 years of compounded growth it will gain the population of China.
All these extra people may add dynamism to economies, but only if the increase in labour supply can be matched by an equivalent increase in economic activity; otherwise, rising population density may destabilise social and political systems – an effect already seen in Rwanda and the Democratic Republic of Congo (DRC).
This challenge has led to a different pattern of development for ports on Africa's east coast, compared to the west coast. In the west, the centres served by these ports are close by, sometimes right outside the port gate. In east Africa, by contrast, they are between 500km and 1,000km away, and most of the infrastructure needed to reach them has not yet been built. In the case of the Doraleh container terminal at Djibouti, the goal is the Ethiopian highlands and the valley of the White Nile at Khartoum, a cluster roughly equivalent to the population of Japan. In East Africa, a similar-sized population is grouped in the Great Lakes states, South Sudan and the DRC. All of these centres, with the marginal exception of the DRC, are landlocked.
Their ability to attract investment and benefit from globalisation depends, among other things, on having efficient rail, road and pipeline links to the Indian Ocean "transit states" of Kenya, Tanzania and Djibouti.
This means the new generation of east Africa's ports have been conceived to perform two jobs: first to serve their own locality, and second to provide Indian Ocean gateways for Africa's landlocked interior.
The proposition in the east, therefore, is not just for large, deep, automated ports, but also for multibillion-dollar rail links piercing deep inland and across national borders, supplemented in time by modern motorways and even pipelines. The size, expense and political complexity of such mega schemes have meant delays and reversals, while the plunging prices of oil and minerals have disrupted the calculations of mostly Chinese investors.
Nevertheless, it is happening.
If you think of it as a race to the interior, the winner is an efficient team comprising China, Ethiopia and Djibouti, which opened a $4bn, 750km electrified railway from the port at Djibouti to Ethiopia's capital Addis Ababa at the end of 2016.
Projected to finish second is Kenya, with its much longer planned railway stretching from the ancient port of Mombasa through its capital, Nairobi, and northeast to Uganda. This link is well under way within Kenya, and Uganda is pressing on with its portion.
In third place is Tanzania with its planned 2,190-km railway from the port city of Dar es Salaam inland to Rwanda, Burundi and the DRC. This railway has had trouble getting started, with signs of behind-the-scenes wrangling between Chinese lenders and Tanzania's new cost-cutting president, John Magufuli. He is pressing on, however.
So Djibouti, Mombasa and Dar es Salaam are the railway ports and, as such, seem most promising. Two others, Lamu in Kenya and Bagamoyo in Tanzania, are ambitious but lack viable railway plans and are currently in a kind of limbo as sponsors work out what role they might play in the developing local and regional economies.
Djibouti: Gateway to Ethiopia
Projected capacity: 2 million teu
Draft: 18m
Completed: expansion works are under way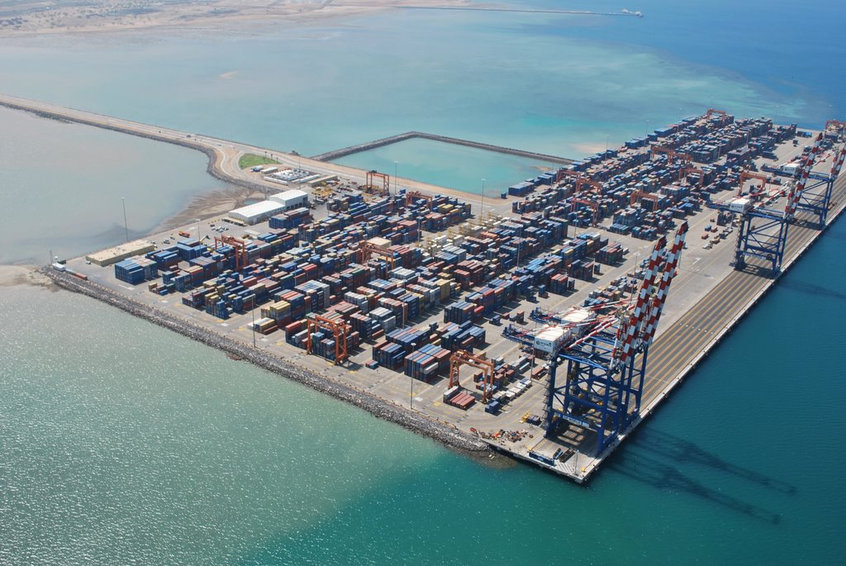 The Doraleh terminal (Odebrecht UAE)
Djibouti is a microstate of 850,000 people that competes with the Somali port of Berbera and Port Sudan on Red Sea for Ethiopia's foreign trade. Now that the Addis Ababa railway is operational, that battle is over, and 85% of Djibouti's business is with goods bound to and from Ethiopia, with China being the main partner in both directions. Between them, the port and rail system attracted more than $2bn in foreign investment in 2016, with Chinese and Turkish entities to the fore: China's Exim Bank paid 70% of the $4bn development costs of the electrified line. Â 
It means Djibouti now has the most capable rail-and-port system anywhere on Africa's east coast, from Suez to Durban.
Ethiopia's economic growth rate has been averaging more than 10% over the past 10 years, which has increased throughput at Djibouti from 1.5 million tonnes in 2010 to 5 million in 2014. This has persuaded the government to base the economic future of the country on its relationship with Ethiopia, with South Sudan potentially an important partner in the future. In turn, this has made the expansion of the handling capacity of the International Autonomous Port of Djibouti, to give it its full title, the overriding priority of the Vision Djibouti 2035 national plan. This mentions the development of a special logistics zone, a road transport hub, the building of an international airport and a cargo village.
The main event in the recent past has been the construction of the Doraleh container terminal, 5km west of the main urban centre along the Gulf of Tadjoura. This facility was opened in February 2009, and is now operated by Ports of Djibouti, a joint venture between Dubai World and China Merchant Holding International (CMHI). It is presently being expanded by the Doraleh Multi-Purpose Port, a $590m scheme that will add 23ha of container terminals, 15 berths, as well as facilities for handling general and breakbulk cargo, as well as coal and cars. The cost will be met by DP World and CMHI.
Altogether, the total container handling capacity of Djibouti on completion of this scheme, later this year, will be just short of 2 million teu.
This expansion of container services was essential because, on its own, the main port has a capacity of only 350,000 teu, and cannot handle ships of more than 8,000 teu capacity – tiddlers in the today's supersized shipping industry. The existing Doraleh container terminal claims to be "the most technologically advanced in the African continent" based on its formidable array of cranage, the centrepiece of which are eight quay cranes that can deal with Super Post Panamax class vessels: these can shift 50 tonnes in a single lift, 80 tonnes under hook and have an outreach of 65m. They are supported by a computerised system to automate logistics, tracking and payment.
The ultimate aim of this development is to make Djibouti the Singapore of Africa, although there is still some way to go to meet Singapore's 32 million teu capacity.
Mombasa, Kenya: Broke without it
Projected capacity: 2.2 million teu
Draft: 14m
Completed: 2023

Kipavu terminal: a gift from Japan (Kenya Ports Authority)
Kenya's primary infrastructure project, and the backbone of the east African economy for the next 30 years, is a $13.8bn standard gauge railway with a coastal terminus at Mombasa. The 609km first phase of this line, between Mombasa and Nairobi, has been completed by the China Road and Bridge Corporation, and will become operational in June next year. When it does, it will carry 25 million tonnes of freight a year, and will cut the travel time from 24 hours to eight.
The second phase, which runs 487km northwest to the Ugandan border at Malaba, began in October 2016. When this is commissioned – in December in 2018 if all goes to plan – it will connect with the $2.3bn Kampala line being built in Uganda by China Harbour Engineering Company (CHEC).
When these connections are made, Mombasa will be more important than ever.
Container traffic to Mombasa, meanwhile, is expanding: from 300,000 teu in 2002 to 1 million in 2014 to a forecast of more than 2.6 million in 2025. It is vital for Kenya's national accounts that it resolve the port's present administrative difficulties, including corruption among officials, and stop it becoming more of a bottleneck that it already is. The reason is that 78% of all jobs in Kenya are created by the informal economy, and so are immune to direct taxation and resistant to indirect. As a result, some 40% of government revenue is generated by import and export duties collected at ports, above all Mombasa.
To keep pace with the rise in demand – principally imports – the port is undergoing a series of rolling expansion programmes. In February 2016, a big project was completed: the second phase of the Mombasa Port Development Project (MPDP). This is a scheme intended to increase the port's container capacity by 50% by adding a second terminal at Kipevu West, two berths (one Panamax, the other Post-Panamax), and a set of modern cranes. The work was financed by a 0.2% interest, Â¥32bn ($310m) loan from Japan.
The work was carried out by the Toyo Construction Company on a 100-acre site reclaimed from the sea. The next development was agreed in August 2016, when Japan agreed to lend Kenya $211m, and give it $60m, to build the first phase of the Dongo Kundu Special Economic Zone in Mombasa, due to be complete by 2019. This will include the development of another berth, as well as the $250m Mombasa bridge-and-causeway bypass (presently being built by China Civil Engineering Construction Corporation), electricity and water services.
The long-term Japanese masterplan for Mombasa, set out in a report published in October 2015, includes, among other things, the construction of another 1.1km of container berths and the possible construction of a third container terminal at Dongo Kundu. Altogether, Kenya Ports Authority estimates that another 1.2m teu capacity will be added to the port between 2015 and 2023, bringing the entire port up to about 2.2 million containers a year.

Lamu, Kenya: Grand plans thwarted
Eventual capacity: 20 million teu
Draft: 18m
First berth: 2018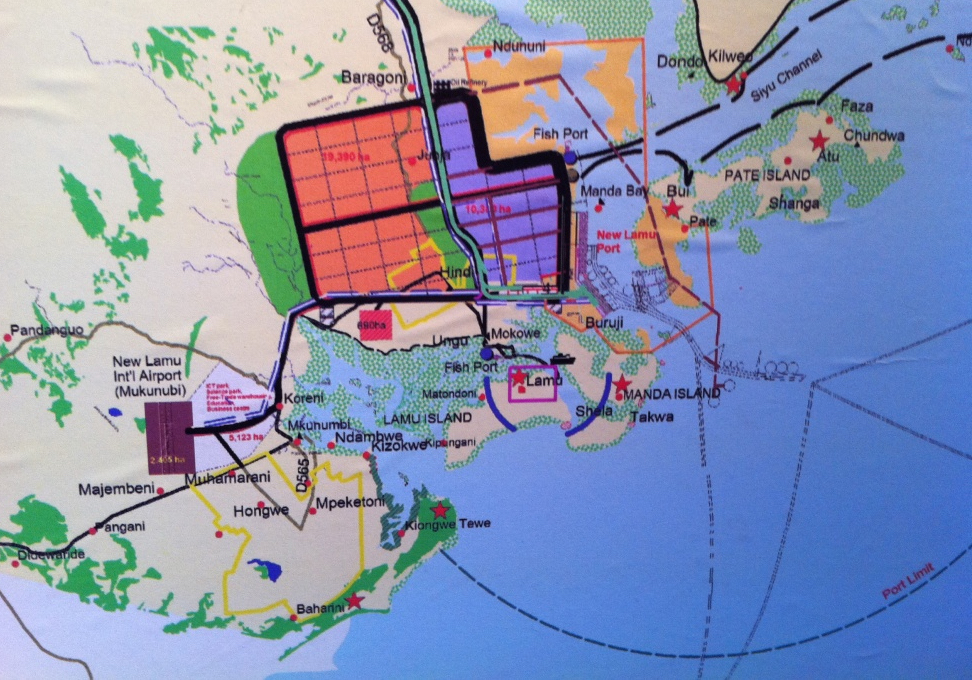 Lamu's sea and air ports would dominate the archipelago (EJA)
North of Mombasa lies the port of Lamu, staging post for a very grand plan that circumstances went on to thwart. The $23bn plan, with the ungainly name of "Lamu Port-South Sudan-Ethiopia Transport Corridor" ("Lapsset"), have been in government files since 1975, but were hurriedly brought forward in July 2011 following the granting of independence to cash-poor but oil-rich South Sudan. The plan was to build a standard-gauge railway, a motorway, two pipelines and a fibre-optic cable link between Lamu, Juba in South Sudan, and Addis Ababa in Ethiopia (see map above). Thrown into the deal were three regional airports, and a tourist resort.
The $3.1bn port project at Manda Bay in the Lamu archipelago was officially launched by former Kenyan president Mwai Kibaki in March 2012. The plan was to build a container terminal with 32 deepwater berths, with China Communication Construction Company completing the first three at a cost of around $480m.
However, the subsequent collapse of oil prices, and the relapse of South Sudan into civil war, have since relegated Lapsset to some way down the to-do lists of Nairobi and Beijing. In the intervening four-and-a-half years, all that has been built is a police station and an administrative building.
Despite this inaction, the project has proved intensely controversial, largely over local people's concerns about the environmental and cultural impact of the port complex – the Lamu archipelago, which has played a leading role in Kenyan history, is a Unesco heritage site. These fears have been exacerbated by a perceived lack of transparency on the part of the Nairobi government, and an alleged failure to follow standard project planning protocols.
As things stand, it is difficult to see the Kenyan government, or its international investors, pressing ahead with Lamu and the Lapsset corridor masterplan, at least until after the standard gauge railway has reached Uganda, the price of oil has risen and South Sudan has returned to peace.
But the Lamu project is not quite dead. A consortium of investors led by the Development Bank of South Africa agreed in October 2016 to invest $1.9bn in the plan. A spokesperson for the South African government said the money was to go on building three berths at Lamu and a modern road to Isiolo, the town in central Kenya that will be the main waypoint for the Lapsset corridor. According to reports in the Kenyan press, work on a two-year dredging programme began in the middle of October and the first berth is expected to be ready in 2018.
It was also announced recently that Lapsset was one of 16 projects being considered by a group of state and non-state investors acting under the umbrella of the OECD, who have amassed a $20bn fund. So, substantial progress for Lamu (and Lapsset) in the 2020s is not out of the question.
Dar es Salaam, Tanzania: Crucial, but cramped
Projected capacity: 1.2 million teu
Draft: 14m

Completed: first berth by 2020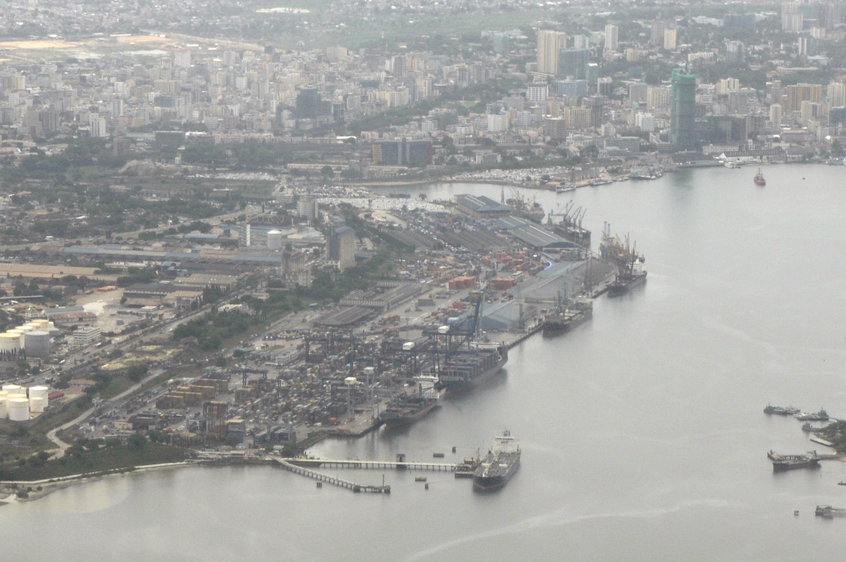 Not the ideal site for a modern port (Chen Hualin/Creative Commons)
The World Bank estimates that the cost of taking a container from China to Tanzania is 60% higher than taking it from China to Brazil, even though Brazil is on the wrong side of South America (from the point of view of China). Much of the blame for this is borne by the poor quality of the infrastructure at the port of Dar es Salaam.
The issue is partly one of physical size: vessels with a draft greater than 9.4m and a length over 200m can only access the port at high tide and its four berths are served by just three 35-tonne ship-to-shore gantry cranes.
Then there is the congestion in the city itself, the low capacity of train lines, tortuous bureaucracy and corruption within the port administration, for which heads have recently rolled. The port is a bottleneck for the entire region. If it were to match the efficiency of Mombasa, the Tanzanian economy would, according to the World Bank, gain almost $1.8bn a year.
There is a plan under way to double capacity at the port. This is known as the Dar es Salaam Maritime Gateway Project. The $690m first phase was drawn up last year, and is now being overseen and part funded by the Tanzania Port Authority (TPA) and the World Bank, together with the UK's Department for International Development and a consultancy known as Trademark East Africa.
Work includes dredging the access channel and turning basin to make the port available to ships with a draft of 14m. A container terminal will be built, railway linkages inside the port will be improved, berths modernised and two additional ones built. Leading out of the port, three roads – Kilwa, Mandela, and Nyerere – will be upgraded to six-lane motorways. If all of this goes according to plan, container capacity will be doubled to around 1.2 million teu, dwell time will be cut from a painful 10-day period to a mediocre five.
The problem is that if the wider regional economy grows at its current rate, then this modernisation won't be enough. There is a second phase to the expansion scheme, but as yet no details have been announced. Whatever they turn out to be, the government will still have to deal with the fundamental issue of lack of space in the present port site.
This they are beginning to do. In February 2017 the government announced it would fast-track the development of a 500-hectare "inland container depot", a place to store containers away from the cramped port site, at the small town of Ruvu in Pwani Region.
An inland satellite of the port at Ruvu may reduce the amount of trucks snarling through Dar to get to the docks. Â 
But what about from Ruvu onward? Here we come to the main wrinkle concerning the future of the port: its rail link to the interior of the country, and the continent.
Like its neighbour to the north, Kenya, Tanzania has its own plan for a standard gauge railway megaproject, costed at around £9bn, running more than 2,000km from Dar es Salaam to Isaka in the north of the country, then onward to Rwanda, Burundi and the DRC (see map above).
But there are signs of a rift between the new government of President John Magufuli and Chinese entities who had been signed on to build the railway.
Under a previous administration, in June 2015, Tanzania signed accords with a consortium of Chinese firms led by China Railway Materials to build it. But after Magufuli came to office in November 2015 those accords were dropped.
Nevertheless, in July 2016 the Export-Import Bank of China (Exim) agreed a £7.6bn loan for the railway. Magufuli, however, was reported in February 2017 to have awarded the construction of a section of the railway to a Turkish-Portuguese joint venture, which raises questions about the Exim Bank loan, since Chinese infrastructure loans are usually conditional upon a Chinese firm carrying out the work. Observers will be watching to see how this plays out.
Meanwhile, there is only so far Dar es Salaam can expand, so other ports will have to take the strain.
Bagamoyo, Tanzania: The Shenzhen of Africa?
Eventual capacity: 20 million teu
Draft: 15m
Completed: unknown. The original data was 2017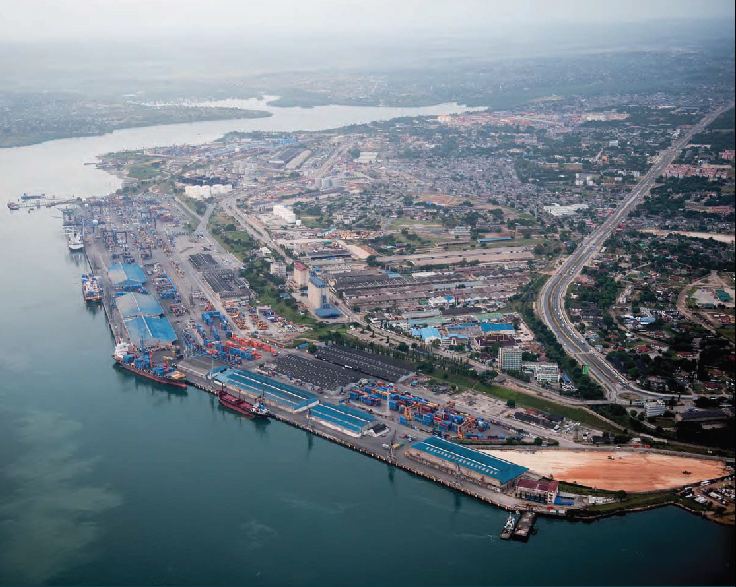 The African Development Bank's rendering of the completed Bagamoyo scheme
The $11bn Bagamoyo megaport with its new town and free industrial zone is another scheme born in the optimistic beginnings of the decade, when rising oil and commodity prices seemed to set Tanzania with its offshore gas discoveries on a sure path to rapid growth. It is now in a state of limbo.
The project was announced in early 2013 after a visit to Tanzania by Chinese President Xi Jinping, during the presidency of Jakaya Kikwete.
Conceived as a pressure valve for the port of Dar es Salaam, where the volume of cargo handled had jumped by 20% in the previous seven months alone, the scheme was to have delivered an ultra-modern 800ha port, together with rail and road links and a 1,700ha industrial park. The first phase consisted of a 1km quay with two 300m long, 15m deep container berths.
With support from Hong Kong conglomerate China Merchant Holdings (CMHI) and the Sultanate of Oman, work began in October 2015 and the first phase was to have been complete in 2017.
But confusion descended when the scheme was abruptly suspended in January 2016 by the new president, John Magufuli, who campaigned on a promise to cut waste and corruption. And then the cancellation was itself cancelled by the Ministry of Transport, which announced that ground would be broken in July that year. But in July it was announced by Grace Lemunge, investment promotion manager of the newly formed Bagamoyo Export Processing Zone Authority, that work had been delayed by the need to compensate land owners, only one third of whom had been dealt with. She said, however, that a task force comprising government ministers and CMHI had been convened to get the project moving ahead.
China is still keen. In February 2017 the Chinese ambassador to Tanzania, Lu Youqing, said the project would turn Bagamoyo into Shenzhen, the Chinese city that spearheaded that country's rapid urban expansion. CMHI, he noted, had been the original developer of Shenzhen. To that end, said Dr Lu, parties were working to complete a masterplan and design for the special economic zone.
Some question the viability of Bagamoyo. Former World Bank Lead transport specialist Anil Bhandari told IHS Fairplay that the port project was not sustainable under its current structure and could only attract business if it were developed as a regional maritime initiative. Bhandari noted that Tanzania and Kenya are both targeting the same inland markets of Uganda, Rwanda, Burundi, and the DRC, which was "not viable in the long term".
On the other hand, a report published in 2015 by Dutch shipping consultancy Dynamar noted that the East Africa's throughput of containers was 3.2 million teu in 2014. If it were to achieve a compound annual growth of 11%, "African teu volume would grow to 42 million … over a period of 25 years". That growth rate is actually less than the 13% Mombasa achieved in 2014, and that is before we factor in the connectivity multipliers that a modern rail network may have on Africa's entrepreneurial population. If that is true, the notion of a Chinese-style megaport at Bagamoyo (or elsewhere) is not so outlandish.
Read more reports in this series: