4 July 2013
US President Barack Obama has pledged to double access to power in sub-Saharan Africa by committing more than $7bn in financial support over the next five years in what may be a belated attempt to catch up with China's massive investment in the region.
His aim is to help countries build power generation and transmission infrastructure and expand the reach of mini-grid and off-grid power sources.
With an initial set of six partner countries in its first phase, the initiative, called Power Africa, will add more than 10,000MW of cleaner, more efficient electricity generation capacity, the White House claims.
The initiative includes $9bn of private sector investment as well.
President Obama called it a "win-win" for Africa and America.
"It's a win for Africans – families get to electrify their homes, businesses can run their plants, investors can say if we locate in an African country, that they're going to be able to power up in a reliable way," he said to an audience at Ubungo Plaza, Symbion Power Plant
in Tanzania on 2 July. "All this will make economies grow."
According to the International Energy Agency, sub-Saharan Africa will require more than $300bn in investment to achieve universal electricity access by 2030.
More than two-thirds of the population of sub-Saharan Africa is without electricity, and more than 85% of people living in rural areas lack access.
The plan aims to bring power to at least 20 million new households and businesses.
In the first phase the partner countries are Ethiopia, Ghana, Kenya, Liberia, Nigeria, and Tanzania.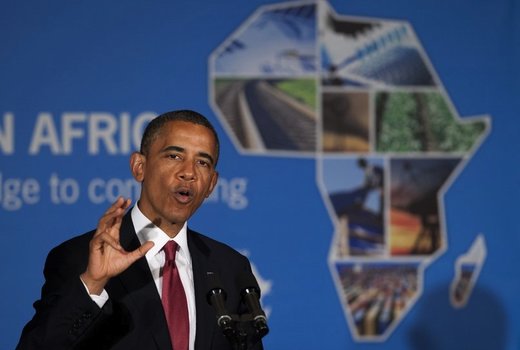 US President Barack Obama in Tanzania on 1 July during a three-nation Africa tour (SAUL LOEB/AFP/Getty Images)
Earlier this year the US Government Accountability Office produced a report showing that China's heavy investment in Sub-Saharan Africa over the last 13 years has given it a distinct advantage.
China's exports to the region now nearly triple that of the US.
With this investment, the president may be hoping to catch up.
"It's a win for the United States," he said, "because the investments made here, including in cleaner energy, mean more exports for the US and more jobs in the US."
Details
Among the headline components of the $7bn, the US Export-Import Bank will make up to $5bn available to support US exports for the development of power projects in the countries. 
The Overseas Private Investment Corporation (OPIC) will commit up to $1.5 billion in financing and insurance to energy projects in sub-Saharan Africa.
The Millennium Challenge Corporation (MCC) will invest up to $1bn through investments in energy infrastructure, policy and regulatory reforms and institutional capacity building, and USAID will provide $285m in technical assistance, grants and risk mitigation.
The Power Africa deal will also attract private sector investments worth more than $9bn, the White House said, leading to 8,000MW of new electricity generation.
Examples of private sector commitments to-date include:
General Electric, Heirs Holdings, Symbion Power, Aldwych International, Harith General Partners, and Husk Power Systems are investing or planning to invest in the region, according to the White House.
More here.