US business magazine Fast Company has named Danish architect Henning Larsen as one of the world's most innovative companies for using ancient building materials with a modern twist.
One of the projects that impressed the judges was a school in the town of Rønde, on the east Jutland peninsula northeast of Aarhus.
This was a 250 sq m extension to Feldballe School, built to house classrooms and laboratories. The roof is fitted with solar panels and the walls are made of compacted straw fitted into a wood frame and coated with a clay-based plaster.
Henning Larsen worked with a company called EcoCocon to produce the wall components. Jakob Strømann-Andersen, director of sustainability and innovation at Henning Larsen, commented: "It was super important for us that it wasn't some kind of barefoot architecture. We want to turn [straw] from a hippie material into an industrial building product."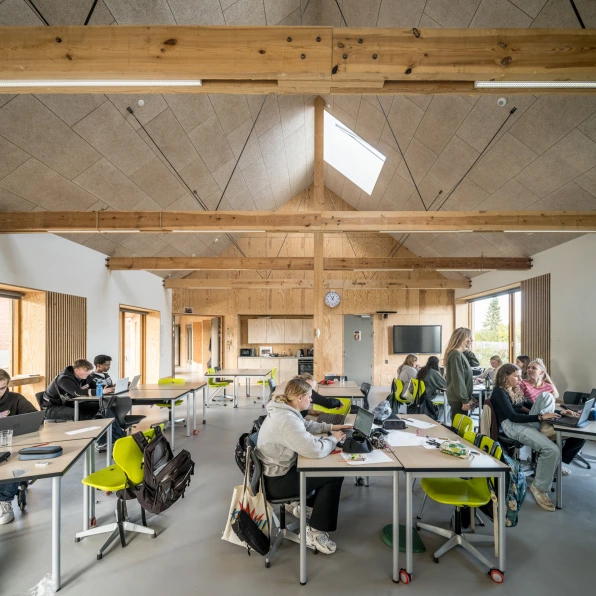 The use of straw has the drawback that walls have to be thicker than would be the case with brick, but that effect would be less noticeable on a larger building.
Even more unusually, the ventilation system uses eelgrass, a common marine plant, which allows the building to be passively heated and ventilated, thereby reducing its operational and embodied energy.
The eelgrass forms louvres that open and close automatically, and its high salt content offers protection from mould and fire.
The extension was designed for ease of assembly and disassembly. All its elements were loaded on one truck and bolted together on site, a process that Strømann-Andersen likened to building with Lego.
According to Fast Company, the building's carbon emissions are expected to be about half the level allowed under Denmark's building code. The magazine commented that this shows "how biomaterials can help the construction industry hit environmental targets without sacrificing aesthetics".
Strømann-Andersen, added: "Being on Fast Company's list of innovative companies is a fantastic acknowledgment. To me it feels like a great testament to the past 15 years; we have come a long way and have continuously sought to develop innovative visions and solutions within the field of sustainable design."