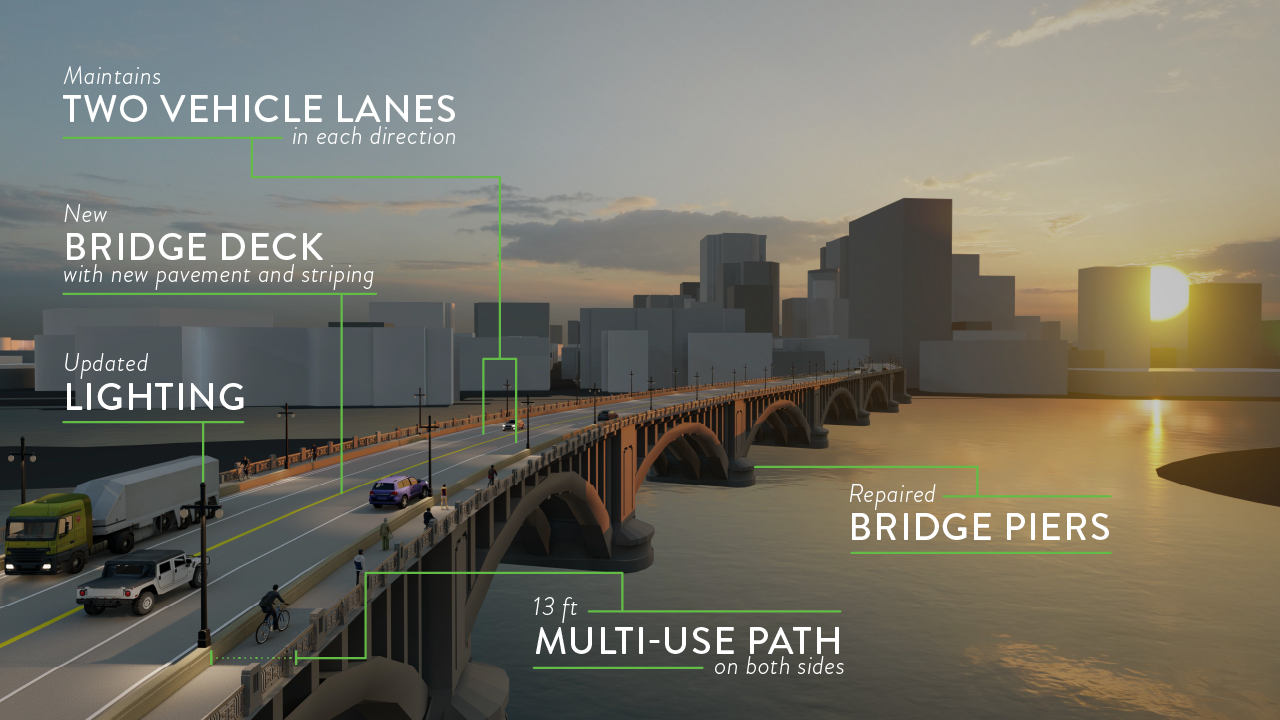 Motorists in Minneapolis can start counting the weeks before their landmark Third Avenue Bridge reopens in November after a major refurbishment, and they will be hoping that a bridge integration modelling (BrIM) system, used by Cowi for detailed sequencing of work, will have kept the job on schedule.
The 102-year-old bridge over the Mississippi, one of the main gateways into Minneapolis, is the last major reinforced-concrete Melan arch bridge in the Twin Cities and is protected for its Classic Revivalist architectural features and its elegant S-curve alignment, which allowed its piers to sit on the firmest limestone bedrock under the currents.
Owing to deterioration, the bridge was partially closed for a $129m refurbishment in May 2020, followed by complete closure in January 2021, so main contractor Ames Construction and its construction engineer Finley Engineering group could get on with replacing the bridge deck and updating spandrels, pilasters, lighting and railings.
Cowi, the Denmark-headquartered engineering consultancy, was responsible for the staged construction analysis, design of the temporary falsework, production of the fabrication drawings for the concrete elements, geometry control for casting, and development of the 3D BrIM, used to visualise the step-by-step construction phases proposed to create the complex construction sequencing and scheduling.
"The unique aspect of the Third Avenue Bridge is its intricate demolition and reconstruction sequence performed on the existing structure," said Cowi project manager Ivan Liu in a press release.
"Due to the variety of construction limitations from bridge access issues, structural capacity concerns, and equipment loading, it led to a multi-phase construction sequence for its complex bridge geometry."
Whether to restore their commute or to simplify the trip to see the Minnesota Vikings play, Minneapolitans will be glad to have their bridge back after the third upgrade in its history, designed to extend its life for another 50 years.
How some feel about the bridge was captured in a "six-word story" competition held by authorities to channel anticipation of its reopening. Among the winning entries were "Curving arches mirrored in liquid light", by Daniel G., and "Stroll from the past into now", by Carol S.