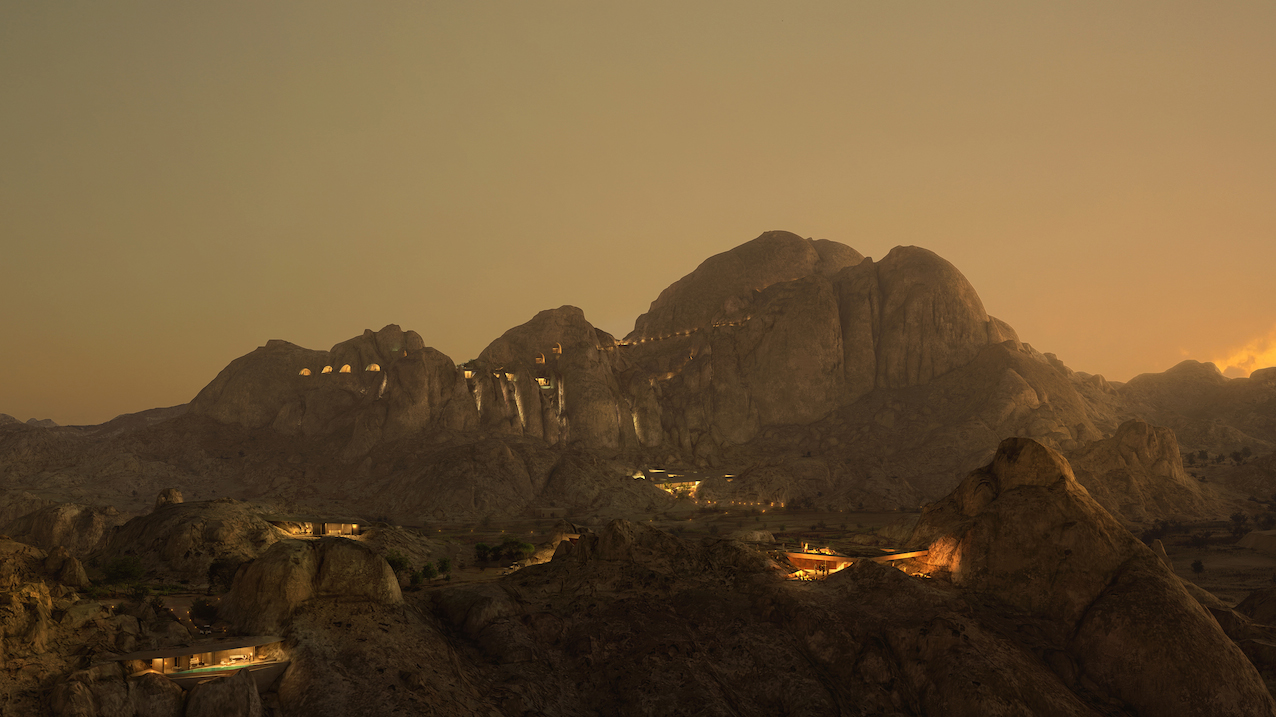 The developer behind Saudi Arabia's vast Red Sea tourism scheme has unveiled designs for its first inland destination, a 60-key resort with hotel rooms built inside a mountain and villas embedded into crevices on its side.
Designed by Oppenheim Architecture, the Desert Rock resort aims to honour and respect the striking desert landscape.
"By utilising natural materials and integrating the resort into the rock, guests can connect physically with the destination and experience Saudi Arabia's stunning, natural beauty," said Oppenheim founder Chad Oppenheim.
Upon completion in 2030, the wider Red Sea Project on Saudi Arabia's west coast will comprise 50 resorts, some 8,000 hotel rooms and 1,000 residential properties across 22 islands and six sites, of which Desert Rock is the farthest inland.
"We wanted to create a destination that allows guests to experience Saudi Arabia's untouched beauty," said John Pagano, chief executive of the Red Sea Development Company (TRSDC), the developer behind the Red Sea Project.
Approached through a valley hidden among mountains, the hotel will have 48 villas and 12 hotel rooms inside the mountain, with architecture integrated into the rock to preserve its silhouette.
Desert Rock will be designed to achieve the highest LEED certification level. Water retention and distribution systems will be used throughout the site, with rainwater harvested.
Rock excavated from the site will be used to build interior and exterior walls and floors, while ground stone and sand will be used for concrete, the main building material.
Site preparation works have commenced, and construction began in July 2021. TRSDC says work is on track to welcome the first guests by the end of 2022, when the first hotels will open.
Phase One of the Red Sea Project, which includes 16 hotels, will complete by 2023.
Images courtesy of TRSDC/Oppenheim Architecture