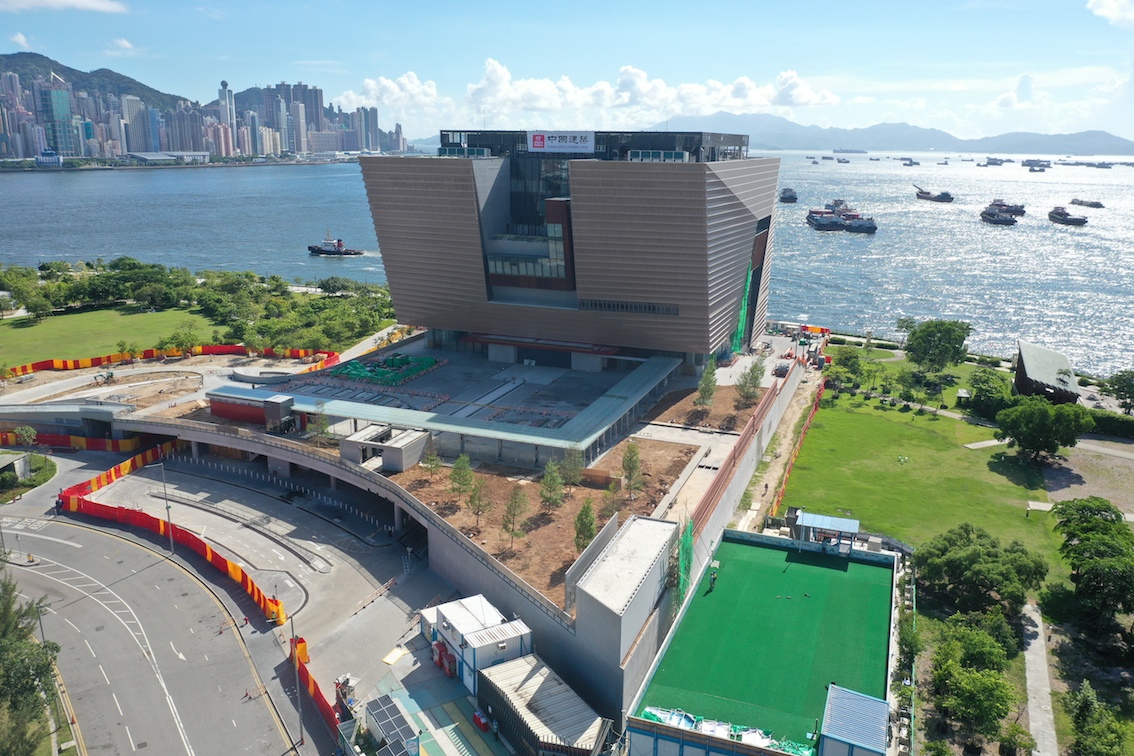 Mr. Wang Yong is assistant general manager of China State Construction Engineering (Hong Kong) Co. Ltd., and senior site manager and project leader of the Hong Kong Palace Museum project.
Located in the West Kowloon Cultural District, the seven-storey Hong Kong Palace Museum (HKPM) is a remarkable building, wide at the top and narrow at the bottom, shaped to resemble an ancient Chinese cauldron called "Fang Ding (方鼎)" – a vessel with a square body and four legs – representing strength, power, respect and heritage.
Designed by Rocco Yim and constructed by the China State Construction Engineering (Hong Kong) Limited (CSHK), various details of the museum building echo with those of the Palace Museum in Beijing. To imitate ancient city walls, large parts of the museum's exterior walls are covered with fair-faced concrete along with facade cladding. The unique aluminium ceiling in the atriums extends from the ground to the four-storey exhibition hall, and the atriums connect the different floors of the museum vertically, referencing the horizontal spatial configuration of the Forbidden City's central axis.
With a 17,000-sq-m footprint and a total floor area of approximately 44,000 sq m, the museum has nine galleries, a 400-seat auditorium, activity rooms, restaurants, shops, and offices. It is due to open in July 2022 after five years in the making. Over 900 works of art to be displayed are all gems of the Palace Museum collection. After its opening, HKPM will create a dynamic and innovative platform to inspire and engage the community, encourage dialogue and partnership, and foster public awareness, understanding and appreciation of Chinese art and culture.
In this challenging project, Building Information Modelling (BIM) technology was implemented at all stages, from architectural design analysis, detailed design development, to construction and operation.
The unique exterior facade is composed of 4,022 pieces of decorative aluminium panels and metal meshes, with a special lighting effect design and a top-class fair-faced concrete finish as a backdrop reflector. BIM technology helped to produce shop drawings for each panel, increasing the precision of the drawings and manufacturing of components, and avoiding unnecessary abortive errors.
With the use of Revit 3D modelling, the CSHK project team optimised wall designs through clash detection analysis, identified about 110 potential problems and resolved them prior to fabrication, preventing any unfitted panels to be delivered to the construction site.
The team also used Tekla Structures, a powerful 3D drawing software, to produce a complete drawing set for each supporting structure module in just 10 hours, compared to the traditional computer-aided design (CAD) drawing that takes almost one week. This helps to improve drawing efficiency significantly, providing faster detailed designing of connecting parts, greater installation speed, and better quality.
The atrium of the museum houses a breath-taking column-free exhibition hall, which is constructed as a tall space uniquely formed by very well-designed walling and suspended ceiling systems. The atrium ceiling comprises 6,800 three-dimensional, curved, and perforated aluminium tiles, with maintainability and accessibility having been taken into consideration.
Another factor to be taken into consideration is compliance. The museum has stringent design requirements for various systems, such as electromechanical, lighting, temperature and humidity control, fire alert, vibration monitoring, security and emergency support. The CSHK project team has followed all the rules and fulfilled all the requirements, with the help of 3D modelling and BIM technology.
In the operation, through more than 50,000 clash detection analyses, the technology also helped the team to resolve numerous technical issues, reducing potential design defects by more than 40%. This means over 1,000 combined services drawings (CSD) and combined builder's work drawings (CBWD) are saved, shortening drawing coordination and production time by nearly 20%, significantly improving overall accuracy, efficiency and productivity of the project.
To make the appearance of the building more attractive and natural, on an exterior wall area of about 11,000 sq m, top-class fair-faced concrete is used extensively for columns and walls. Wall sealing joints are sealed seamlessly, and surface flatness, cleanliness, and colour uniformity are maintained. The CSHK project team had conducted a series of trials to test over 20 concrete samples, created eight self-checking systems, and used a working procedure with more than 40 steps to monitor surface appearance and to prevent concrete from cracking.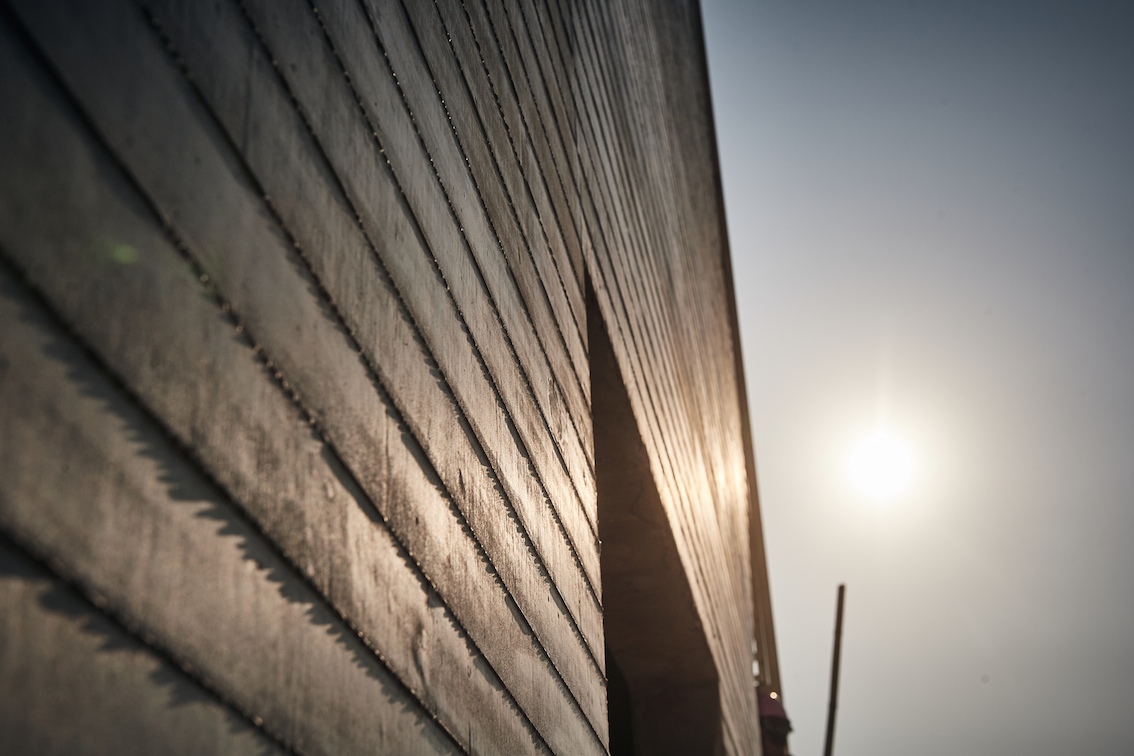 To create a sense of welcome and add a feeling of elegance, glass-fibre reinforced concrete (GRC) is used for exterior and interior walls, while glass-fibre reinforced gypsum (GRG) is used for the atriums and the body of the entrance lobby. With the utilisation of nearly 4,000 pieces of GRC vertical fins externally and internally, each with a length of 3m or more and in perfect colour matching, the atrium walling is a splendid beauty to be admired.
Wall stones for the atriums are of American white granite, sourced and imported from Vermont, and slab stones are quarried in Angola. Several types of stone surface finishes, including honed, polished, and bush-hammered treatments, are used to enrich the material texture, providing a variety of marvellous looks when viewed under different lighting conditions.
Located in the centre of the museum building, the height of the curtain wall ranges from 4 to 10 meters. It has a distinctive striped pattern with vertical and inclined shapes, and natural gradient iron decorative panels are placed around the glass curtain walls, fulfilling the architectural and aesthetic intent.
A strong professional team
To keep pace with the market and construction industry, CSHK has developed a smart construction site management platform called C-SMART and had put it into operation in the project. The C-SMART system uses IoT and AI technology to gather all project information onto one platform, allowing the project team to grasp the situation of the entire construction site in real time, helping managers make quick and accurate decisions.
The construction of the HKPM began in April 2019 and the museum building topped out in June 2020. Over the past three years, the construction of the HKPM building has received wide recognition. It has won over a dozen awards in various areas, such as engineering, safety, and environmental protection. The SCHK team is tremendously excited and looks forward to the grand opening of this magnificent museum soon.