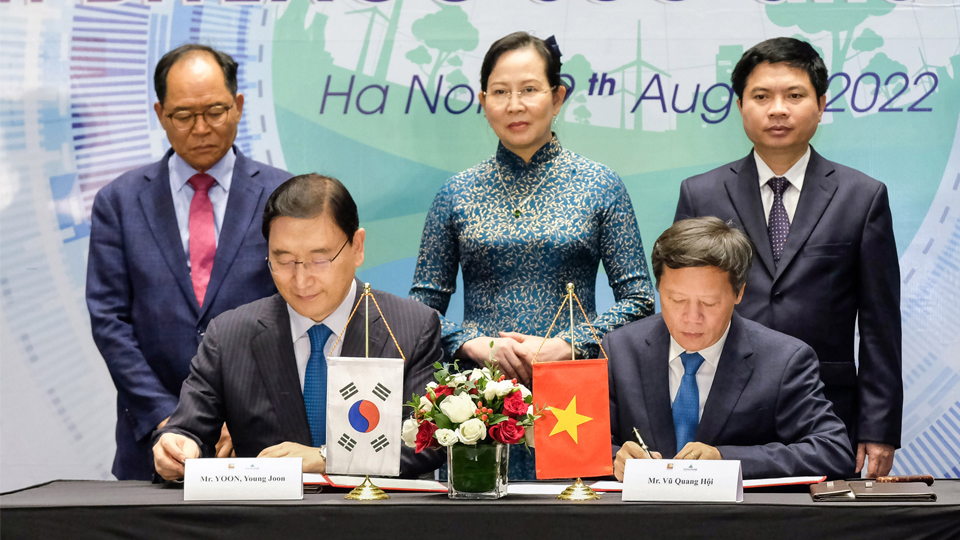 Korea's Hyundai Engineering & Construction has signed a memorandum of understanding with Vietnamese conglomerate Bitexco to develop a substantial new industrial and residential district in Vietnam's Ha Nam Province, about 50km south of the capital, Hanoi.
Hyundai will design, build and operate a 660ha high-tech industrial district, including research and development centres, offices, shops and warehouses.
It will also build an 860ha downtown district that will be primarily residential, and will include the latest mobility solutions, robots and digital platforms.
Jointly developed by the provincial government, the project is part of a plan to develop a "capital area" in each of the nine provinces surrounding Hanoi.
The goal is to create an economic powerhouse three times bigger than Hanoi is now, where almost 23 million people will live by 2030.
Bitexco started as a textile company in northern Vietnam in 1985. It has since evolved into a real estate, investment and trade group. It also develops hydropower and solar schemes, as well as transport infrastructure.
The signing of the Ha Nam Eco-Smart Urban Living Tomorrow City was held on Monday at the Marriott Hotel in Hanoi. It was attended by Yoon Young-joon, Hyundai's president, and Bitexco chairman Vu Quang Hoi, as well as diplomats and politicians.
Speaking at the ceremony, Yoon commented that his company's strategic collaboration with Bitexco would "contribute to the realisation of a people-centred future city where environment and technology coexist".
He said: "Overseas smart city development projects will be the cornerstone of Hyundai E&C. We will strengthen our position as a leader in Team Korea to expand K-Smart Infrastructure exports and accelerate the smart city construction project."