4 September 2013
After a five-year interruption, Japan has resumed trial runs for the world's fastest train, a magnetic-levitation (maglev) vehicle capable of running at speeds of up to 500km/h (310 miles per hour).
The first phase of its planned new line will cut the 286-km journey from Tokyo to the city of Nagoya down to as little as 40 minutes, but Bloomberg reports that it won't be ready until 2027.
To make the line straight enough for the high speeds, Central Japan Railway Company (JR Central), the private rail operator behind the scheme, has to dig 248km of tunnels, including under Tokyo and under mountains, making it a technically challenging and expensive project.
The first phase will cost $52bn, but unlike other places contemplating expensive high-speed rail lines, such as the UK and California, Japan is immune to bitter disputes over costs versus benefits because JR Central is funding the project itself.
By 2045 the line is expected to extend to Osaka.
The project to build the world's first major commercial-scale maglev line has been underway for some time.
JR Central resumed trials on 29 August this year after the company spent five years building a 24-km extension of a test track, Bloomberg reports.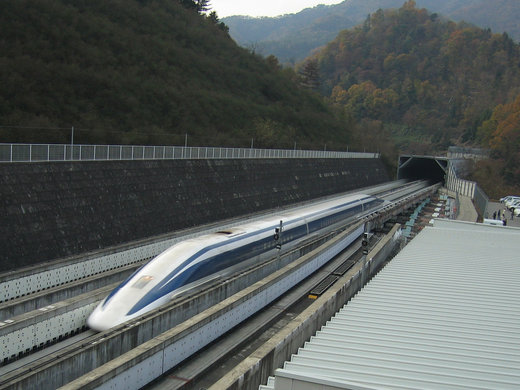 Japan's first maglev train, photographed in 2005 (yosemite/Wikimedia Commons)
The business case for the new service looks solid because, even though Japan's population is falling, Tokyo's is growing as more people move to the capital. The greater Tokyo region's population exceeds 35 million, making it the world's largest metropolis.
When extended to Osaka, the maglev line would bring a combined urban population of 64 million people within commuting distance, according to JR Central, whose bullet trains now travel at 270km/h.
Ryota Himeno, an analyst at Barclays Securities Japan Ltd., told Bloomberg: "Tokyo is becoming more expensive and crowded, and so companies might move some operations to Osaka once it opens. It all depends on the frequency and capacity of the maglev trains."
JR Central, whose bullet trains are reported to have carried more passengers last year than any airline in the world, predicts that net income will rise 11% this fiscal year. It has made a profit every year since it was privatised and listed on the Tokyo Stock Exchange in 1997.
"JR Central's bullet train is a cash cow," said Shinichi Yamazaki, analyst at Okasan Securities Group Inc., told Bloomberg. "They have access to enough money, including loans, to pay for the project. They could even build it faster, but looking at their finances, it's better to aim for 2027."
In maglev trains, powerful magnetic fields levitate and propel the cars along electrified rails. They can go so fast because there is no metal-on-metal friction.
Worldwide, only two maglev lines are operating, neither on a major commercial scale. One in Shanghai carries passengers at 431km/h a short stretch from Pudong International Airport to the outskirts of the city's financial district, while the other, operates on a short track in Nagoya, Japan at a low-speed of 100km/h.