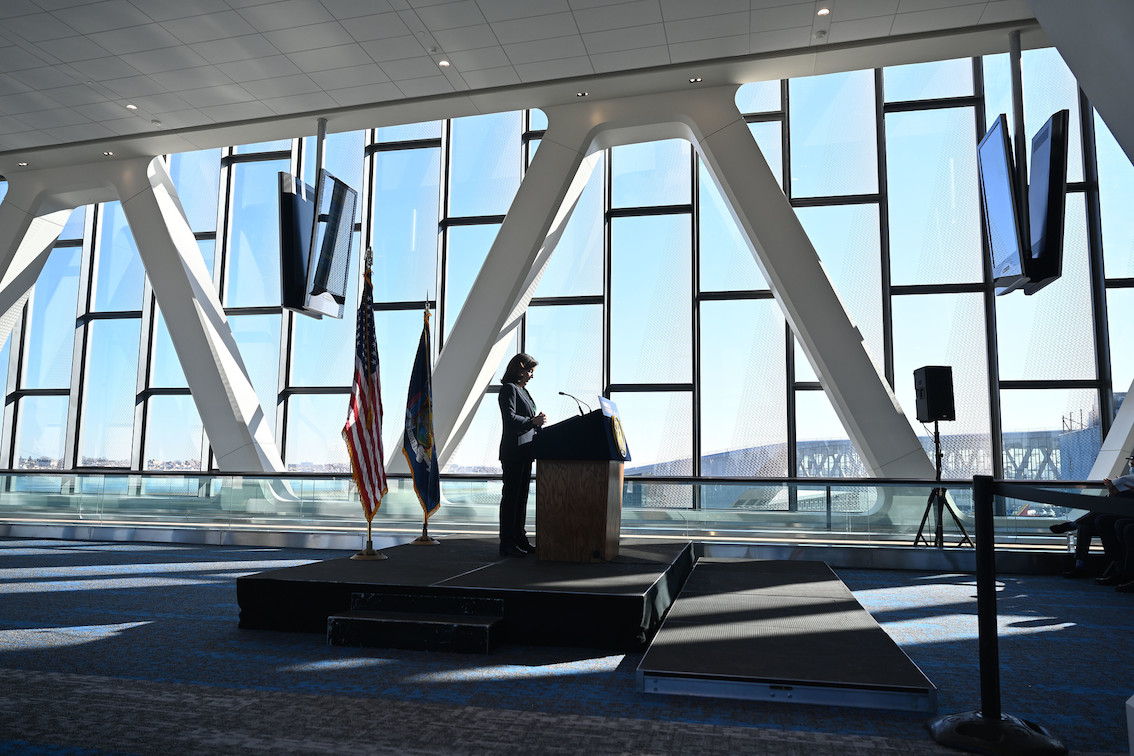 The multi-billion-dollar transformation of New York City's LaGuardia airport was marked yesterday with the opening of the new Terminal B's western skybridge, providing relief for travellers struggling to find their way through the complex facility.
"So you no longer have to walk through the old central terminal building to get to your gates," New York State Governor Kathy Hochul said in a speech marking the opening.
It follows Terminal B receiving the Unesco Prix Versailles award for 2021 in December for best new airport in the world. "We have literally gone from worst to best and I love it," Hochul remarked.
Skanska USA and Walsh are Terminal B's design-build joint venture, with design partners HOK and WSP.
Offering passengers views of the Manhattan skyline, the western skybridge is the second skybridge connecting the Arrivals and Departures Hall to two island concourses. The first, serving the Eastern Concourse, opened in May last year. They make LaGuardia the world's first airport to have two pedestrian skybridges.
The new western skybridge stretches 147m at a height of 18m over active airliner taxi lanes. It is comprised of 2,500 tons of structural steel.
"These skybridges serve as an incredible first impression of New York for visitors and residents returning home," said Richard Kennedy, President and CEO, Skanska USA.
The Skanska-Walsh design-build JV was selected in 2015 by the Port Authority of New York and New Jersey to deliver the skybridges as part of the ongoing $8bn transformation of LaGuardia.
Last month, Skanska celebrated the opening of the second phase of Terminal B's 20,253-sq-m Western Concourse, featuring 17m-high ceilings and abundant natural light.
Skanska said that with this phase complete, including the opening of four new gates, all remaining gates of the original 1960s-era Central Terminal Building have closed, meaning guests no longer have to traverse temporary gates or passageways.
The last remaining component of the Central Terminal Building is scheduled for demolition this spring.
Frank Scremin, CEO, LaGuardia Gateway Partners, said: "With the completion of this final major construction milestone, passengers traveling out of the western concourse now have a direct, seamless journey from the curb to their gate."