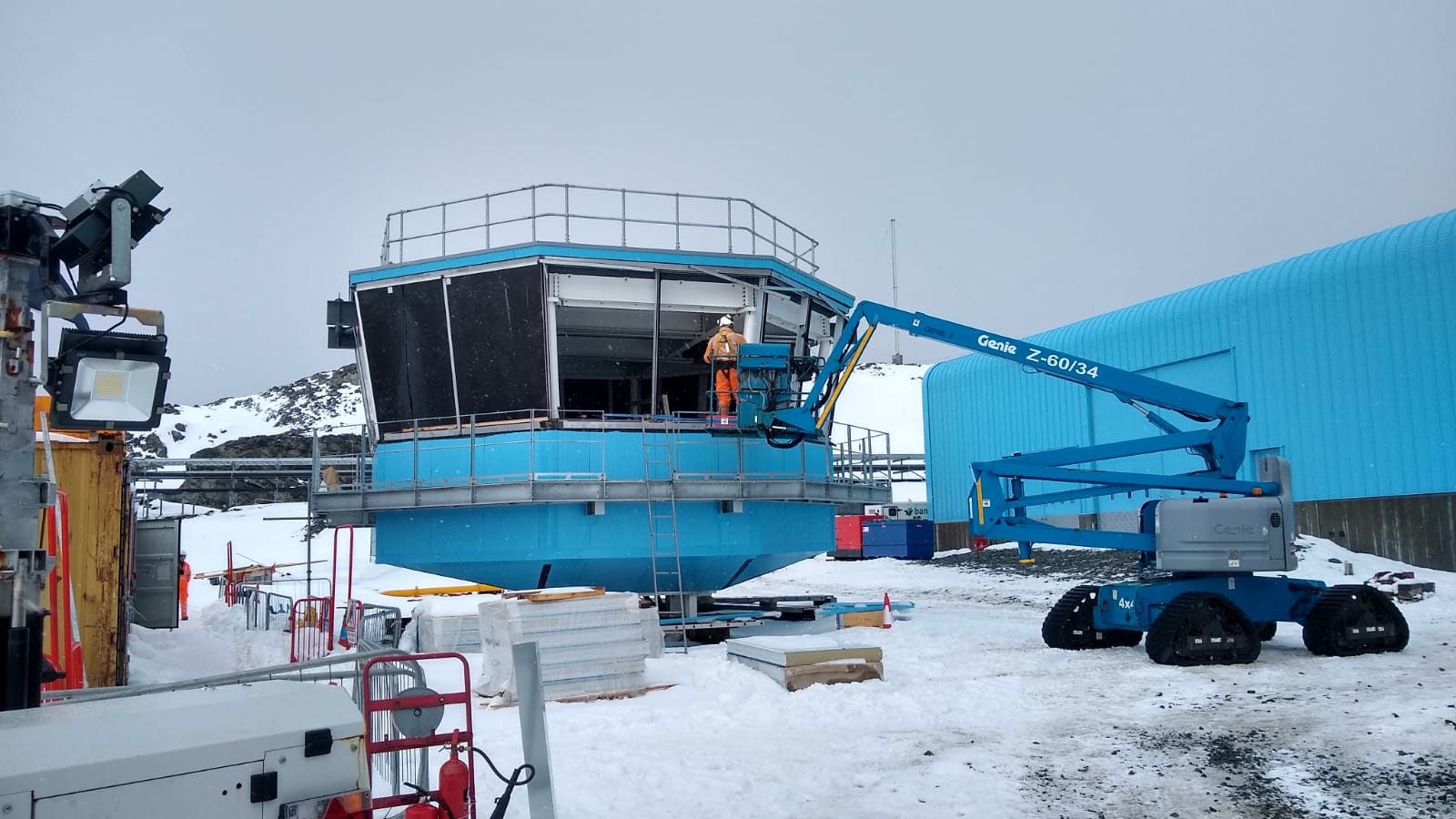 A far-from-home construction team has managed to make a major new research building at the UK's Antarctic Rothera Research Station weathertight before winter descends on the Earth's coldest continent.
In its fourth summertime construction season, contractor BAM, with technical advisor Ramboll and designer Sweco, managed to finish the cladding and install an operations tower on the British Antarctic Survey's new Discovery Building before making the long journey back to springtime Europe.
The team of around 54 people battled harsh conditions to complete this milestone, British Antarctic Survey said. They'll return to the station on Adelaide Island in November this year for the penultimate building season, with completion scheduled for 2025.
Past fame and future challenges
Ninety metres long and with a total area of 4,500 square metres, the two-storey Discovery Building will replace several buildings at the end of their lives and will bring scientific and operations functions together under one roof.
Rothera is the UK's largest Antarctic research hub. Scientists there study climate, biodiversity, and ocean science.
The new building is named after the Royal Research Ship (RRS) Discovery, which made its first scientific research expedition from 1901 to 1904, commanded by Captain Robert Falcon Scott with famous explorers Ernest Shackleton, Edward Wilson, and Frank Wild on board.
The building's design looks to the future with British Antarctic Survey's 2040 net zero ambitions in mind.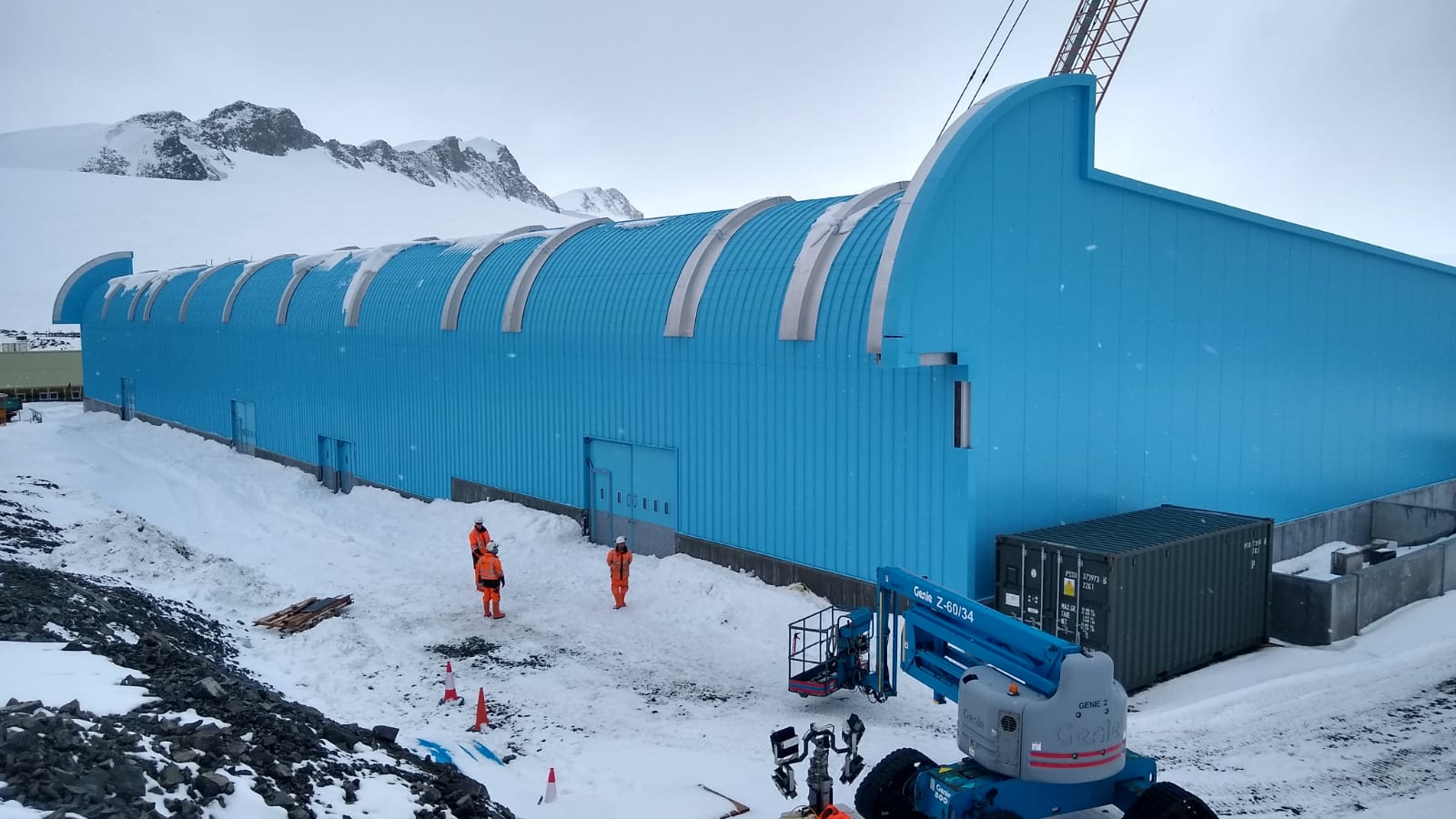 Its combined heat and power plant should cut the station's carbon emissions by 25%. This, along with photovoltaic solar panels, a thermally efficient building envelope and triple glazing, will make the building an exemplar for energy efficiency in the extreme setting.
One chance to get it right
Other features include a wind deflector – the largest of its kind in Antarctica – to prevent thousands of tonnes of snow accumulating around the building, and an octagonal operations tower to provide 360-degree views of the runway, wharf and station buildings.
The project team includes construction partner BAM, design consultants Sweco and Hugh Broughton Architects providing delivery design. Ramboll is acting as technical advisors, with Norr Architects providing concept design, OFR providing fire consultancy, and Turner & Townsend providing cost and commercial advice.
Work began on the new building in 2019. Construction phases must be planned meticulously because all materials have to be shipped from the UK. Every nut and bolt must be accounted for as the nearest builders' merchant is thousands of miles away.
The construction team practiced full-scale assembly of the 45-tonne steel frames in Southampton to identify unexpected challenges or additional pieces of equipment needed whilst still in the UK.
Ahead of the 2020-21 construction season amid the covid pandemic, the crew had to quarantine for two weeks before travelling by ship to Antarctica.
Collaborative approach to design and construction
"Reaching this milestone safely on such a complex construction project in such an extreme environment is testament to the dedication and motivation of the highly skilled project teams within BAM, BAS, Ramboll and Sweco and our supply chain partners," said Graham Hopper, project director at BAM.
Architect Hugh Broughton said: "The works completed this season demonstrate the benefits of a collaborative approach to design and construction and are a testament to the skill and perseverance of a committed team, working on the project in Antarctica and in the UK."
Inside the Discovery Centre
When complete, the new building will make work and life easier for British Antarctic Survey's staff at Rothera, who number around 100 in summer and 20 in winter.
Its plant room and energy centre will recover heat and distribute power and water to the station, as well as housing fire suppression pumps.
A new central store will consolidate equipment and cargo for more effective stock control and management, with reduced manual handling.
New workshops, operations hub, and offices will help scientists prepare for field expeditions, while a new communications tower will maintain better contact with aircraft and groups in the field.
Its medical centre is designed to modern healthcare standards. Improved training facilities include a climbing wall for expedition teams and an education centre.
Enhanced wellbeing areas include a gym, breakout areas, a music centre, and an arts and crafts facility.
An end-to-end corridor through the building cuts the need to access different parts of the building from outside, thus minimising heat loss.
A central store in the middle of the building provides easier access for building users.
Health and safety features include transparent glazed screens between spaces to increase visibility, and distinct colours to quickly identify sections of the building.
Modular design so the building can be adapted for future needs
Elen Jones, director of the British Antarctic Survey's infrastructure modernisation programme, called the building's enclosure this season a "major milestone".
It was, she said, a "testament to our collaborative approach to infrastructure project delivery in Antarctica".