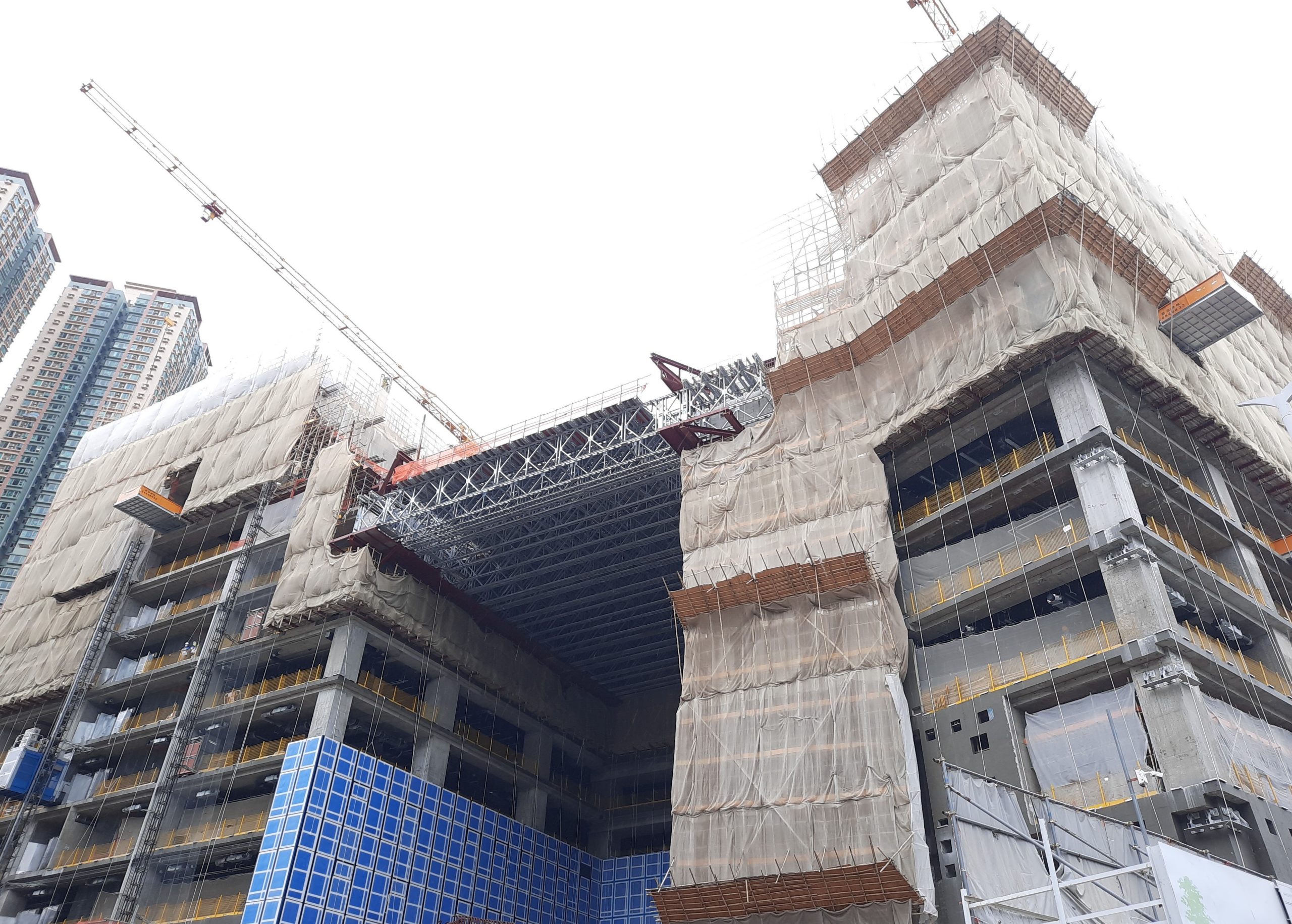 Contractors building Hong Kong's new twin-tower Immigration Headquarters credit a new, heavy-duty panel girder system from Altrad RMD Kwikform for allowing them to build an 8th floor sky bridge in eight days.
Altrad says the said the R800 system, launched in March, can be used for simply supported, continuous/multi-span, cantilever or launched falsework, plus vehicle, pedestrian and service bridging. The company said it handles challenging terrain and build geometries with ease.
Tested by Hong Kong authorities before being deployed, the R800 system allowed builders to avoid extensive falsework, onsite welding and large structural beams. The project is the first in the world to use it.
Located between Po Yap Road and Chi Shin Street in Tseung Kwan O, the Immigration Headquarters will cover a total floor area of 139,327sq m and provide offices and frontline immigration services.
It consists of a 17-storey main tower and a 16-storey security tower with a single storey basement car park. The two towers will be connected by two sky bridges on the 8th and 14th floors.
Main contractor Hip Hing and subcontractor Hop Hing were able to erect the 8th-floor sky bridge in eight days, Altrad said in a press release. The 14th-floor bridge is being built now.
The R800 enables long lattice girders to be assembled quickly, leaving clear working room below. It allows forged girder connections, engineered to be equal in strength to the parts they connect to.
Speaking for subcontractor Hop Hing, which installed the system, Kingston Tiu said it "made a huge difference" by speeding up the work.
"We didn't want to use falsework all the way up, and we wanted to make sure that the area below was kept clear for storage and other activities," he said. "We also wanted a structure that spanned between the two tower blocks. The R800 system was perfect for this project and really helped us to accelerate construction work."
He added: "Because the R800 system pins together, there was no requirement for welding or hot works on site, dramatically reducing the amount of time needed to assemble the system – another big benefit for us."
If R800 had not been used, large structural beams would have been required, which would have taken longer to install, said Altrad.
In terms of method, Hop Hing installed the end sections of the truss on the upper level and then hoisted up the central span from the 3rd floor, connecting the R800 in final position with four pins.