11 December 2013
By committing to more stadiums than strictly necessary for the 2014 World Cup, has Brazil bitten off more than it can chew? David Rogers reviews progress to date, and describes the delayed and not-so delayed venues
News stories about the frantic scramble to get stadiums built in time for the World Cup are part of the normal run-up to every tournament, as are reports from "sources" claiming that contingency plans are being drawn up to hold the game in another country.
And in every case, when the time comes for the hosts to play the opening fixture, the teams always trot out onto perfect pitches in completed grounds.
However, next year's finals in Brazil have attracted more adverse publicity than any other and, although nobody is saying that grounds won't be done in time for Brazil v Croatia on 12 June, it certain that the Brazilian Football Confederation will not complete all its stadia by 31 December deadline set by FIFA.
Quite how many will be delayed is the subject of some controversy.
It seems that six will not be handed over on the date set, but the Brazilian government is claiming that only three are seriously behind.
Aldo Rebelo, Brazil's sports minister, was widely quoted as saying: "In every wedding that I attended the bride was late. I've never seen a bride arrive on time. But I've never seen a wedding not happen because of that."
Last year many Brazilian cities saw public demonstrations against the cost of hosting the event.
Protesters were angry that so much public money was being spent on grounds rather than the country's health and education systems.
The anger was increased by the likelihood that, as has been the case with the 2010 tournament in South Africa, many ground will become white elephants once the games are over.
The total cost of staging the event is now put at £15 billion. The cost of building and refurbishing the venues has risen from an estimate of £2.3 billion in 2010, to $3 billion last December and is now put at $3.5 billion according to data published on the government's World Cup website.
Although it's possible to accommodate a World Cup in eight venues – one for each of the groups – Brazil opted to build and refurbish 12.
Some cities, such as Manaus in Amazonia, opted to build stadiums purely to gain exposure during the tournament, with no prospect of using them for regular football once their four group games have been played.
This ambitious programme has suffered construction delays and rising costs.
In a number of cases, the stadium projects were to form the centrepieces of wide-scale urban regeneration projects, involving hotels, offices and public transport systems.
In many cases, these plans have been scaled back to contain costs and ensure that the stadiums are completed in time for their safety certification. In several cities, public transportation projects have been cancelled.
The latest setback to the work occurred on 27 November when a crane collapse at the Itaquerão stadium in São Paulo killed two workers and damaged stands.
Workers have now been killed at three stadiums in Brazil, although these deaths have been overshadowed by horror stories from Qatar, which is scheduled to host the 2022 World Cup.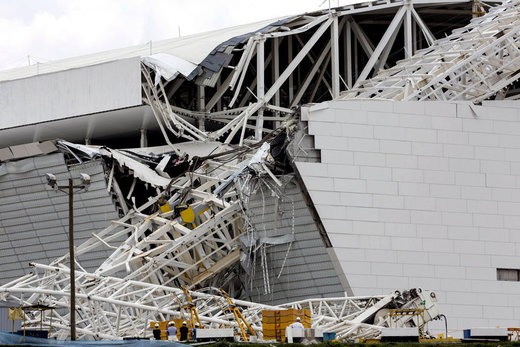 Workers examine damage at Sao Paulo's Itaquerao stadium after a crane collapse killed two people on November 27. The stadium will host the opening match of the World Cup (Miguel Schincariol/AFP/Getty Images)
The stadiums that are finished:
The Maracanã
Rio de Janeiro (76,000 seats). The cost was estimated at $215 million in December 2009, $310 million in June 2010) and $530 million in May 2011. The stadium, which is a partial rebuild, hosted its first game in April. This is the largest stadium in Brazil. It was designed by the Public Works Department of Rio de Janeiro city council, Fernandes Arquitetos Associados and Schlaich Bergermann und Partner, and built by Andrade Gutierrez and Odebrecht. 
National Stadium
Brasilia (71,400 seats). New build. Cost: $600 million. This ground will be the most expensive of the 2014 World Cup. It is being funded by public money and its future use is uncertain as no major soccer team is based in the capital city. It was designed by Castro Mello Arquitetos and built by Andrade Gutierreza and Via Engenharia. Oscar Niemeyer, who designed Brasilia, waived his a legal right to be consulted on the design. 
Mineirão 
Belo Horizonte (67,000 seats). Refurbishment. Cost: $288 million. This is the second largest stadium in Brazil and will host one of the semi-final matches. It was designed by Gustavo Penna e Associados and GMP and will be built by Construcap, Egesa and Hap.
Castelão Stadium
Fortaleza (67,000 seats). Refurbishment. Cost $225 million. This is a modernisation of a ground that was opened in 1973, and was the first World Cup stadium to be completed. The reconstruction involved building a larger roof, an underground car park with 4,200 spaces, and a new lower tier. It was designed by Vigliecca & Associados and built by Galvao Engenharia and Andrade Mendonça.

Arena Pernambuco
Recife (46,000). Cost $210 million. New build. Despite the relatively small size of the stadium, this is probably the most ambitious of all the World Cup projects. The state government of Pernambuco signed a private finance deal with Odebrecht to build a huge mixed-use development called City of the Cup. It will include residential and business towers, hotel, shopping centre and a solar power plant. The design was by Fernandes Arquitetos Associados and the builder is Odebrecht.
Fonte Nova
Salvador (55,000). Cost $340 million. Refurbishment of a 1951 ground. Salvador has two teams, Bahia and Vitoria, with two of the most passionate sets of fans in Brazil, so the ground is certain to be well used after the tournament. It was designed by Setepla and Schulitz + Partner; the builder are Odebrecht and OAS.
Stadiums that have been delayed:
Itaquerão Stadium 
São Paulo (48,000 to be raised to 65,000 with temporary seating). New build. The original cost of this ground was put at $152 million but that rose to more than $350 million after it was decided to hold the opening ceremony there. On 27 November, a crane collapsed, killing two workers and wrecking a section of stand. Even before the tragedy, work was not expected to finish by Fifa's end-of-2013 deadline. One UK newspaper quoted Marc Prado, a civil engineer on the project, as saying: "I still believe we'll be finished and ready for the test events in March." Sepp Blatter, the president of Fifa, said at the beginning December that he expected the stadium to be ready in April. It was designed by Coutinho Diegues Cordeiro Arquitetos and built by Odebrecht.
Pantanal Stadium 
Cuiabá (43,600 seats). New build. Cost: $260 million. Known as "the big green", it is hoped that publicity surrounding its four matches will act as a catalyst for eco tourism. It was designed by GCP and is being built by Mendes Junior and Santa Barbara (in March 2013, Santa Barbara filed for bankruptcy). 
Baixada Stadium 
Curitiba (42,000 attendants). Cost: $77 million. This is a refurbishment of a ground that was also used in the 1950 World Cup is the smallest and cheapest stadium. It will host four group games. Work on this ground was delayed in October when a judge ruled that workers' safety was at risk. It was designed by Carlos Arcos and is still being built by CYD, Schlaich Bergermann und Partner.
Arena Amazonia
Manaus (44,000). Cost $230 million. New build. A recent video shown by the BBC reveals that this ground is still a long way from handover. Delays aside, this is one of the most controversial of the World Cup grounds, as Amazonia has no footballing tradition – its best known soccer club, Nacional, plays in Brazil's fourth division. The city of Manaus, which is paying for the work, is regarding it as a way of marketing the city, despite the fact that it will hold only group stage matches (including those of England). It was designed by GMP and is being built by Andrade Gutierrez.
Beira-Rio 
Porto Alegre (56,000). Cost $125 million. Refurbishment of 1965 structure, including a rainwater recycling scheme with a capacity of 6 million litres. The stadium is officially called the Estádio José Pinheiro Borda, but is universally referred to a the Beira-Rio (the "Riverside"). It is one of two that is privately owned. It was designed by Hype Studio and Santini e Rocha Arquitetos and built by Simom Engenharia.
Arena das Dunas
Natal (32,000). Cost $172 million (although reports have suggested a final cost as high as $500 million). New build. This scheme was planned as a large mixed-use design involving the reconstruction of the entire city council, and the inclusion of a complex of hotels and offices. Today, completion of the stadium alone would make everybody happy. The scheme has suffered delays from an early stage: in March 2010, the government was still thinking how to conduct the bidding, then in November of that year the first tender had no bidders. It was only in March 2011 that the OAS was appointed contractor. The design was by Populous.