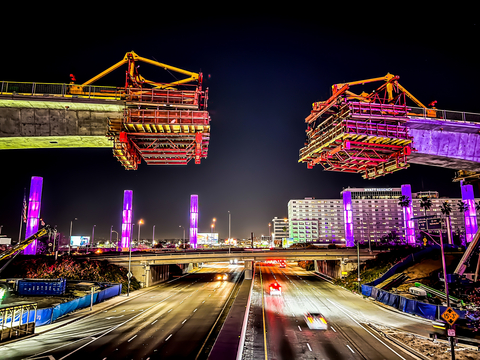 The guideway structure of Los Angeles International Airport's Automated People Mover has been complete. The work is being undertaken by a consortium that includes Balfour Beatty, Dragados, Flatiron and Fluor.
The $4.9bn mover is an electric train that stops at six stations: three inside the Central Terminal area and three outside. Altogether, it covers 3.6km and runs between Terminal 4 and the West Central Terminal, where there is an interchange with light rail stations, as well as offsite parking and car rental facilities.
Sam Choy, project director for the Linxs consortium, said: "The completion of the guideway structure is a remarkable milestone for the project as we are one step closer to realising a new transportation experience at one of the world's busiest airports.
"We will soon leverage this accomplishment with train car testing later this year."
Eric Garcetti, Los Angeles' mayor, said: "The Automated People Mover will be so much more than another way to get to LAX. It is the piece of the puzzle that will end the congestion that has been plaguing our airport for decades."
Justin Erbacci, chief executive Los Angeles World Airports, the client for the scheme, said: "Over the last two-and-a-half years, we have seen the guideway rise up from its foundation to become a fully completed track, providing us a glimpse at what will provide time-guaranteed access to the airport, ensuring greater mobility for all of those coming to and from LAX."
The mover is due to be fully completed in 2023.